San Andrés and Providencia are reputed to be some of Colombia's finest coastal destinations. Oli Pritchard discovers some of the highs and lows that these two ocean pearls have to offer.
---
"You're not in Colombia anymore", claims our airport pick-up in San Andrés. "This is the Caribbean culture, the true island culture."
It's hard to agree with him at first – as we drive pass Juan Valdez and uninspiring pasta restaurants. Once you're clear of that, though, the islands can be what you want them to be. Well, if you have time and money enough to make that work, that is. It's not easy to find traditional culture at times, but it is there. Not every beach is a crystal clear paradise, but some are. 
Of the two main islands, Providencia is the most traditional, with easy access to island food and a lack of overbuilding. San Andrés is brasher, more clearly orientated for families and with more comforts easily at hand. The centre of the town of San Andrés is aimed at a particularly horrible type of holidaymaker, basically consisting of a giant mall by the sea where everything is geared towards allowing you to feel like you are in Medellín or Bogotá, only with a beach.
There is widespread resentment from the local islanders (Raizales) about this, and it is easy to see why. Very little of the tourism money obviously makes its way south from the departmental capital and there's an aggressive campaign to replace their culture with that of mainland Colombia.
There are a few myths about the islands which I should dispel before we go any further. Number one, the beaches are not that good. A few are good, but it's really not a stunning paradise island at every turn. The main beach in the centre of the city is a real dump, and only a couple have genuinely clear water. Second, they aren't small islands at all. It takes an hour to make a full circuit of San Andrés by bus. Some distances are walkable, but plenty aren't really feasible. Third, Spanish is clearly the leading language, especially in the city.
Transportation is a big issue on both islands. There are a number of buses on San Andrés, mostly running the outer ring road but occasionally popping through the middle to cut a corner. It's COP$2,200 anywhere – which might surprise a few mainlanders. Providencia has only moto taxis, but those aren't even that reliable, especially late at night. Getting a phone number will save time, but again you might find yourself waiting. There are golf buggies and motos to be rented, but they're expensive – COP$50,000 a day is the cheapest you can expect, maybe COP$40,000 if you can fill out a big golf buggy. Getting between the two islands is also costly, running at COP$300,000 (almost the cost of flying from Bogotá) return for the catamaran and more for a flight.
Although it's easier to get an ajiaco in San Andrés town than any kind of islander food, outside of that shitpit there's largely good eating to be had. Rondon is the local speciality, a seafood soup, although it's worth checking ahead to order in advance. Conch balls are another local favourite, as are crab patties, usually excellent value for the amount of crabmeat one gets.
Generally speaking, all seafood is good quality and cooked well, including more exotic species such as lobster. Most exciting of all is lionfish. There's a pan-Caribbean push to get lionfish on the menu, even as far as Bogotá. Providencia has four locations that serve the aggressive predator – two in SouthWest Bay and two in Freshwater. It's a delicious fish, soft to the touch yet with a delightfully chewy texture. The taste itself is fairly bland, but the seasoning should sort that out.
If you're around for a while, it's worth thinking about cooking to take the edge off the cost a bit, or searching for lower priced places towards the south central of San Andrés town.
There are essentially three kinds of accommodation: all inclusives, midrange hotels, or guesthouses. The latter are sometimes very small indeed, almost always run by islanders and pretty laid back. Location wise, they can be poor – remember that transportation can be an issue. Midrange hotels seem to be better located and include a pool most of the time.
Scuba is a big draw on the islands, and by far the best in Colombia, excepting Malpelo. You won't be disappointed out here, although if the sea is rough there will be limited visibility. Many of the dive sites have to be treated very carefully – massive boat traffic and inexperienced divers cocking things up put a great deal of stress on the reefs. However, the corals remain in good shape and life is plentiful. Large rays are not uncommon – we saw a southern stingray topping a good two metre wingspan. Plenty of eels too.
We went with San Andrés Divers on the seafront road, although a number of shops seemed good. There were concerns expressed about pirate operations, so be careful and do your due diligence. Providencia is home to the excellent Felipe Divers. Felipe is somewhat of a character and was the first operator on the island. His crew were excellent from start to finish. It's all about reef sharks out there – and plenty of them. The boys will take spearguns and take out any lionfish they see, often tossing them to the sharks to try and encourage them to develop a taste for the invading species.
San Andrés
The northern part of San Andrés, with the airport slap bang in the middle, is the most built up, and it's largely ghastly. That's where you'll find the Juan Valdez and an El Corral, alongside plenty of bandeja paisas and the usual tepid fare one would expect. Worse yet, most of the centre is given over to a seemingly endless parade of identikit duty-free style shops. Addresses matter – check the address and what's nearby. To the west of the airport is Sarie Bay, which is cheaper but somewhat sketchy and a fair walk to anything of note. Closer to the beaches, prices increase and all-inclusives dominate.
It's worth considering anything 15 minutes walk south, as that area is safe, a pretty nice walk down the malecon, and crucially quiet. There is a baffling lack of bars in the town itself – the expectation is that you will be drinking in some godawful sterile all inclusive nightmare of a hotel. Restaurants get better running south, including the all famous Regatta. Miss Celia is more laid back, with a charming rustic interior, but crackingly good fish and seafood. There are even a couple of bars a bit south, not by the sea, but at least outside to enjoy the warm air and cool breeze.
If the centre sounds horrendous, and it is, not to fear, there's an escape route from the centre in the form of San Luis. We wind down the coast a few kilometres, and find ourselves a world away in terms of culture. Much more islander, this is closer to what I had expected. The beaches down here aren't anything spectacular, but they are at least largely deserted. Some reggae bars are knocking about too. There's not much in big tourism on this side of the island – Rocky Cay is the big attraction. It's walkable from the beach, about 100m out across no more than chest high water. There's nothing there though, apart from rocks and a rusting hulk of a ship – it's an apt name.
The western coast is the real big hitter in terms of tourist attractions. Heading out from the north, you'll come across Morgan's Cave first. The cave itself is rather drab, but a lot of effort has been put into adding bits on and creating a mini pirate (and coconut) museum. Next door is an open-air cultural museum which looked great but was sadly closed when we arrived. It's nice to think that there might be an attempt to preserve at least some of the islander culture.
A little further on and you'll come to West View and further still, La Piscinita. There are no beaches on this side of the island, just rocks which drop off to the sea. Forget sunbathing or mucking around with beach balls, this is all about enjoying the crystal clear water and superb visibility. Strap on your snorkel (also rentable) and jump in. It's about a three metre jump, and West View have even built a flume to really send you in with a bang. Once in the water, you'll see fish aplenty and the views to the wall of the island are also spectacular.
Both locations charge COP$4,000 for entry, which goes towards a co-operative that maintains the site and keeps it clean, as well as letting local people benefit from tourism. Piscinita were being difficult about people bringing in water, which rubbed a few tourists up the wrong way. West View features an operation called AquaNautas, which is basically a modern version of those old style diving suits. Pop on your plastic protector and you drop down to around six metres. They are a little shady, basically running a photo taking operation and feeding fish, but it's still a good option for anyone who can't swim and wants share the joy of the underwater world.
Finally, you'll come across the Hoyo Soplador. This natural phenomenon sends a geyser-like plume of vapour into the air about once every minute, and water with it every now and again. Stand right over the hole for the full effect…but you will get wetter than an otter's pocket. It's also a great place for coco locos (does exactly what it says on the tin – rum-filled coconuts that might send you crazy) at sundown and the little shops are surprisingly reasonable with their prices – useful for picking up sea shoes and snorkels for the other sites.
Out to sea, there's the spectacular Johnny Cay, which is a little palm-fringed island across from the main beach. We couldn't get out there, due to inclement weather. We did get to Haynes Cay/Acuario, which was somewhat disappointing. It's a small spit of land with hundreds upon hundreds of tourists crowded like hogs in a sty around the few resources there are. The worst kind of tourists, too. The main attraction is getting the mask on and looking for fish, of which there are not that many, probably related to the vast crowds. Still, there are stingrays to be seen, which are often mis-sold as manta rays, and locals will happily herd them up and present them to giggling bobble-headed tourists. If you're into animal care and not mistreatment, stay away.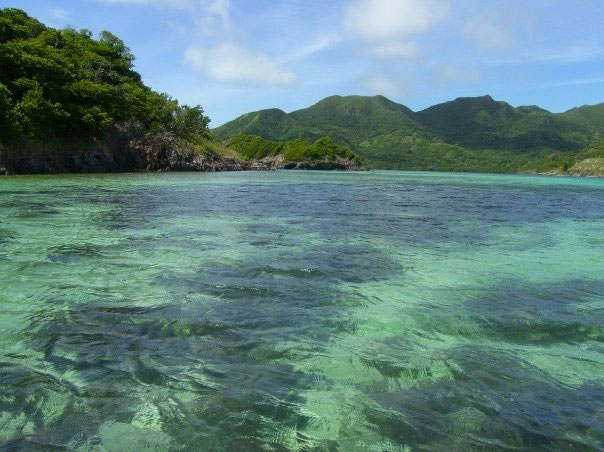 Providencia
Providencia is the New Zealand to San Andrés' Australia. Quiet, laid back and with jaw-dropping scenery. Here, there are finally paradise-island beaches – although the finest of the lot is in Santa Catalina. Like San Andrés, getting around can be a pain, so choose your base wisely. I'd recommend staying around Freshwater Bay, although closer to Manchaneel Bay would be more out-of-the-way. Santa Catalina shouldn't be discounted – quiet, hardly developed, and the most picturesque part of the archipelago. However, it's also further away from everything except the 'big' town.
Freshwater Bay is where you'll find most of the tourist services, but don't fear – it's a couple of restaurants, five hotels, two dive shops and a minimarket. Hardly the Babylon-on-Sea of the big brother across the way. The beach is OK although small, but 15 minutes walk down the road delivers you to Southeast Bay, which is huge. It's big enough to support a few restaurants and bars for sundowners without feeling like you're in some kind of resort. The sea is gentle but still not quite crystalline.
At the Southeast corner of the island you'll find Manchaneel Bay. It's a tidy step down from the road, but probably the quietest of the beaches. Wander off westwards and you'll have that section all to yourselves. Back in the main part of the beach, Roland's Roots Reggae bar dominates the vibe, with loud music and cheap seafood. Don't be fooled by the ramshackle look – Roland served up one of the best lobsters I've had in Colombia at just a tickle over COP$40,000.
Santa Catalina is even more picturesque than its neighbour, and the bridge twixt the two is made for photography, even if you're not a vapidly grinning selfie merchant. A walk around what serves as the waterfront takes you up a nice hill where you'll see an obligatory Virgin and some cannons before coming down to the hidden gem of Fort Beach. Tiny it may be, but it has that all-elusive perfect clear sea, tailor-made for snorkelling. Also, another cannon. Can't really go wrong with cannons.
The key though, is the Cay. There's only the one that you can get out to, but it knocks everything else into a cocked hat. Crab Cay, they call it, and everyone wil take you out there. Again, you're paying at every step, but it delivers and then some. There's no beach, just pontoons into the water. But what water it is. This is the real seven colours, right here. An extensive reef around to the east and very little boat traffic produces a calmness that means you can see for metres with no trouble at all. Snorkelling threw up jacks, small rays, barracuda, starfish, goatfish, boxfish and more parrotfish than you could shake a stick at (but why would you want to?). A circuit around the island will take 20 minutes swimming or so. It's everything the San Andrés sites want to be, but even better. Head up to the top of that hill, scattering iguana as you go, and you'll be rewarded with superb views.
---