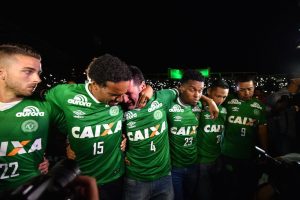 It has been one year since Brazil's Chapecoense team boarded a plane destined for Colombia that crashed, killing nearly everyone on board in one of football's biggest tragedies. 
The squad, who were relatively unknown internationally, had been dubbed as overachievers and were headed for Medellín to play Atlético Nacional in the first leg of the Copa Sudamericana. It would have been their first ever continental final after a terrific season.
But the Lamia Flight 2933, which had left from Santa Cruz de la Sierra, Bolivia on November 28, 2016, crashed into a mountainside just outside of Colombia's second biggest city, killing 71 people on board.
Six people survived, including two defenders, a reserve goalkeeper, two of the club's coaching staff and a journalist. The entire team – bar three players – was killed.
So one year on from the tragedy, what do we know? An official report from the investigation is yet to be released, with Bolivian authorities extending the deadline for the inquiry, El Tiempo reported this week. Due to the 'complexity of the case', the deadline has been extended for a further six months.
Extraordinarily, the air traffic controller for the flight, Yaneth Molina, has since released a book about the incident, 'Yo También Sobreviví' (I Also Survived), ahead of the official report. In the book she recounts how she dealt with the incident, being labelled as guilty – her innocence has since been proved – and the threats she faced.
It has also been established that the accident was down to human error. Colombian aviation authorities have said that the plane, operated by Bolivian company LaMia, crashed due to the fault of the pilot and a failure to refuel the aircraft.
Colombia's Secretary for Air Safety, Freddy Bonilla, said that the airline had also accepted 'unacceptable' conditions presented in the flight plan. The plane lacked sufficient fuel for the journey and had been carrying too much weight – by nearly 400KG, according to Bonilla.
Gustavo Vargas Gamboa, the director of LaMia, as well as the former air traffic supervisor of the Administration of Airports and Services to Air Navigation in Santa Cruz, Joons Miguel Teodovich, have both subsequently been jailed.
The son of Vargas Gamboa, Gustavo Vargas Villegas, has also been jailed. One year on, on Tuesday, fans gathered at the Chapecoense stadium to pay their respects. A vigil was held yesterday displaying pictures of all those who died in the crash. Families of those who died in the crash have complained that they still have not been paid damages.
Though some are being held to account for the tragedy, in terms of concrete answers, an official explanation is yet to be given. For the families of the dead, there is still a long way to go.