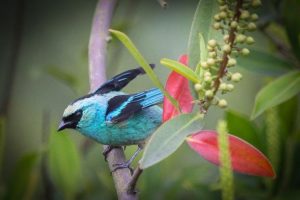 At Chicaque Nature Reserve, fresh air, nature, and birds provide a welcome escape from the city, writes Laura Brown
---
Chicaque Natural Park, just south of the capital, is a private reserve set in a cloud forest about 2,700 metres above sea level. It's a tranquil setting offering hiking trails, waterfalls and amazing views, and is a great place to kick back and relax while catching deep breaths of crisp, fresh air.
It's hard to imagine when you're in the thick of smog-fuelled city life, fighting your way through the TransMilenio or dodging your way along the pavement, but Chicaque is just one of many nature-filled escapes that are within easy reach of Bogotá. It is a great option for a day trip or a weekend getaway.
I was invited to join a two-day hiking tour through the cloud forest, with birdwatching as the main focus.
If you don't want to be tied down to a tour, it's pretty easy to do under your own steam, especially if you speak Spanish. You can use public transport to get there, and once you're in the forest, the clear signposts and well-maintained pathways make it easy to find your way around.
Our first stop, upon arriving at the nature reserve, was at the Arboloco restaurant for coffee and snacks. The restaurant does excellent fresh fruit juices, as well as great traditional Colombian breakfast options such as changua and arepas.
The main attraction of the restaurant, however, is being able to sit by the windows and watch the hummingbirds flit around the feeders just outside.
Rested and refreshed, we set off for the hike down into the valley. I hadn't been hiking for some time and was worried I might not be able to keep up with the group, but the trail we took wasn't too hard and I managed just fine.
The fact that we were looking for birds may also have made the trek itself seem less strenuous, as we inched along with frequent stops to admire the flora and fauna.
There are about 20km of hiking trails in Chicaque, with varying levels of difficulty. While it is possible to hike down into the valley and back up on the same day, there is also a lot to be said for taking your time on the walk and overnighting in the eco-lodge at the centre of the forest.
Being the only novice birdwatcher in the group, the one without binoculars or an abundance of knowledge on the species we were looking at, did not in any way hinder my enjoyment of the trip.
The bilingual guides were extremely knowledgeable and patient, taking time to explain everything we were looking at, and the other members of the group were also keen to share their expertise and experience, as well as offering to lend their binoculars.
There are a number of species to see in the park, and on the trip we saw over 60 different types of birds – some more common and easy to see, others needing more of a trained eye to make out as they flitted about in the leaves.
My favourites were the toucanets, which were quite difficult to spot as their emerald green feathers provided excellent camouflage. That made them all the more exciting, especially considering they look like nothing I've ever seen in the wild.
There were lots of hummingbirds, including the endemic Black Inca, several tanagers in different colours, and the Andean Guan with his unusual looking crest offered another treat.
At the end of the day's hike, we arrived tired at the refuge, where we were well looked after. The wooden lodge has a central open fire and provides guests meals and a place to stay for the night.
There's something about fresh air and nature that makes a person sleep really well. I had the best night's sleep I've had in a long time out in the cloud forest and woke up feeling totally refreshed and ready to continue the second day's hiking and birdwatching.
Day two was similar to the previous day, and included more walking and looking for birds. We spotted several woodcreepers and woodpeckers, listened to the song of the Chestnut Crowned Antpitta, and learnt about different plants and their traditional healing qualities.
Cloud forests are by definition cloudy, and the moist environment gives a very specific biodiversity that is ideal for certain species of orchid, as well as all kinds of ferns and mosses.
Secretly, my main goal for the trip was to spot a sloth as I know that there is one living in the forest. Sadly I was not lucky enough to see it, but at least it gives me another good reason to go back.
If you go:
Entrance to the park costs about COP$15,000 depending on whether it is high or low season.
Chicaque is 30 minutes south of Bogotá, but keep in mind that it could take you about an hour to cross the city, depending on where you set out from, so travel time will more realistically be about one-and-a-half to two hours.
Chicaque provide a bus service from Terreros Station, check their website (www.chicaque.com) or call 317 432 1979 for more information.
You can get there by bus, though you may need some Spanish language skills to avoid getting lost. Take the Transmileneo to San Mateo and then get a bus to Soacha or Soacha Ciudad Latina. Make sure you tell the driver when you get on that you want to get off at the park. It's worth going right up to the entrance, as it's a tidy step from the main road.
For adventure seekers, activities in the park include horseriding, ziplining, and tree canopying.
There are various accommodation options:
Camping costs about COP$15,000 per person per night
Beds in the refuge or cabin will set you back between COP$100,000 and COP$250,000 per person, including three cooked meals
If you're looking for a completely different experience, check out the tree house, which costs around COP$400,000 for two people sharing
Prices vary depending on the size of your group and whether it is high or low season – check the price-list online for details
Temperatures can vary, so it is best to wear clothes that you can add or remove layers, and good walking shoes are also recommended.
---
Laura visited Chicaque as a guest of AndesEcotours. Check out www.andesecotours.com for more information and tours. Photos: Chantelle du Plessis.