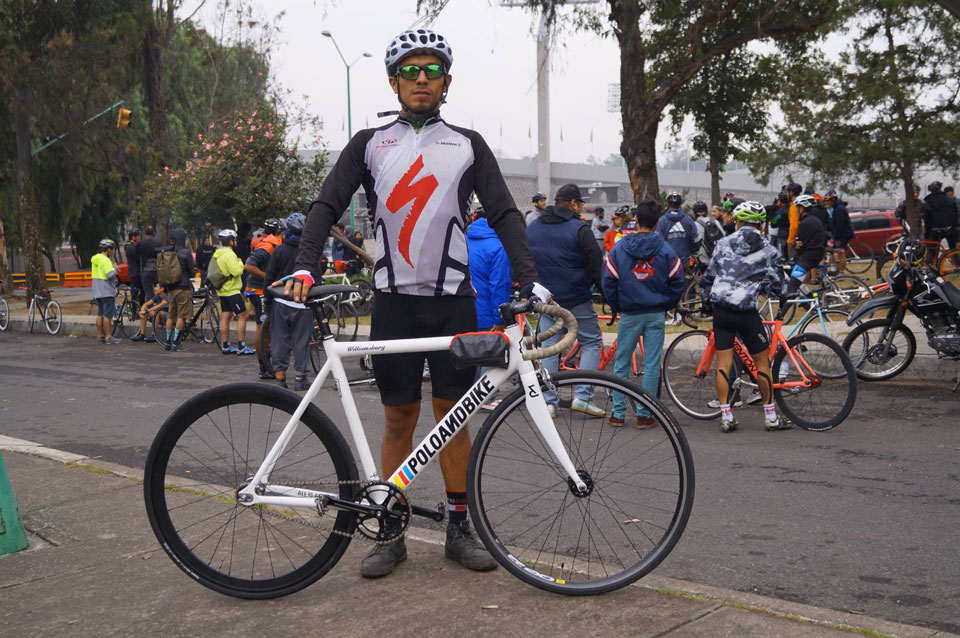 Oli Pritchard speaks to the founder of the Cielos Infernales track race Brian Wagner.
---
The infernal heaven. A fitting description for the race billed as the world's toughest in its discipline. Nairo Quintana might have to struggle through a series of slogs up Alps and Pyrenees, but at least he gets to use brakes. For the riders of the Cielos Infernales, which happens on the outskirts of Bogotá, Saturday December 10, there is no such respite, nor the ability to coast down the descents. They are only allowed to use fixed-wheel bicycles, normally restricted to hipster doofuses (including your writer) and velodromes. It might sound like madness dreamt up by the devil himself, and founder 'Safa' Brian Wagner, a messenger and former semi-pro rider based in Mexico City, certainly shares certain elements in common with Lucifer. This hellish march is, however, designed for and by humans. Fucking tough humans, pushing the limits of superhumanity, but humans nonetheless.
With a course that takes in no fewer than three heavy climbs and some violently jagged profiles along the way, this is not going to be easy. It's not meant to be. Wagner explains the idea; "This is a completely different kind of event. You've got loads of alleycats all over the world, and criteriums are becoming a big thing now. This isn't the same, you know. It's not about riding around and being fast for a couple of minutes. People do enjoy riding big climbs on a track bike. Some people can't afford a road bike. That's where I came from, not having much money but wanting to get out on big climbs." He's a laconic speaker who exudes a certain tightly coiled energy. "I went out riding with a guy who told me he didn't believe I was posting these times on a track bike. After a little while, I just dropped him, even on his road bike. As long as it doesn't get too steep you can climb really fast on a track bike."
"Anyone can put on a race for road bikes, and there's so many already. It doesn't really equalise things, especially if you've got some kids with older, heavier steel road bikes. Someone with a bike three kilos lighter is going to have a big advantage, that's just basic science. If you put everyone on a stripped down bike, you're really going to see who's a good climber."
Wagner decided to come to Colombia after an invite from local riders piqued his interest. "Obviously Colombia is a super-renowned place for climbers, so that excited me. I've never been, so I'm really looking forward to arriving. I wish I was in better shape to do some riding myself, but I'm still getting back from knee surgery. Bogotá looks really beautiful and all around the city too. I'm also looking forward to meeting a new bunch of riders, seeing how the local community deals with cycling in such a big city, dealing with the problems you get."
It sounds to me like a throwback to the first days of bicycle racing. Brian confirms this, "Yeah, in the first event I said it was like a stage of a Grand Tour. It's been in the back of my mind, but I didn't plan it like that, it's just that I ride track bikes a lot. I have thought about it though, that it's like the beginning days of the Tour, where it was only track bikes and you had to support yourself, with tubes and that. So it is similar, especially that it's not just about being a fast rider. You have to be able to hang in there for five or six hours and fix your own shit if something goes wrong. It's a long race, just 'cause you get a flat doesn't mean you're out"
Mexico saw the first Cielos Infernales last year, and Brian's excited about the possibilities on this side of the Darien Gap. "We had about 50 riders [last year]. It's manageable and it splits quite fast. You run a risk at the start that the cops might come past and ask you what's going on, but it's not normally a problem. Generally they're just trying to get money out of you and telling you they'll help you," he says with a chuckle. "It's in the rules that you have to obey the rules of the road, so it's not really illegal. It's a grey area, I guess."
Wagner tells me that the "first guy came in around four hours. It was a short race, only about 120km. In Bogotá I'm guessing they should finish in about five hours, if everything goes smoothly for the guys at the front of the race. Colombia is longer, but there are flat sections. In Mexico there was only about 10km of flat."
The winner from last year is looking to defend his crown. Wagner tells me, "He's coming down for sure. The guy who finished third as well. A lot of people who did well are coming down." With people coming in from as far away as Spain, it's going to be international.
The course is by no means consistent, with those large flat sections as well as steep climbing. Wagner admits that he's not sure how this will affect the riders exactly. "I've never had to race one of these, so I don't really know. Everyone asks me what to do, when to change over. I don't really know – everyone wants to know what gear to use, but everyone has different legs. It's kind of silly to ask other people, you've got to look at the course and think about it for yourself."
He does have a few suggestions though "Some guys are going to have double-sided hubs, fixed-fixed. What I would do is have a small gear just for climbing, and then I'd change it once, in between the first climb and the start of the second. Because that's mostly a long downhill and then a flat. You've got to figure it out. You can change a wheel in four minutes, even two if you really nailed it and you could make up ten minutes on someone with a nice big gear. People did that [in Mexico] after the last checkpoint. It makes it more interesting, you're still stuck on one gear, you can't change on the fly." He's also got some advice for getting around the brakeless issue. "I'd also have an old shoe for braking, just to put it on the back wheel. You can do other things, stick a bit of car tyre on a shoe so you don't just burn through it. I'm all for braking devices, with your shoe and stuff."
Riders with brakes on their fixies aren't eligible to win the race, nor to stand on the podium. It's kept that way to keep the race pure, but it's certainly not a case of 'brakes are for flakes' or a macho obsession. Indeed, Wagner makes it clear that "you can use a brake, and most people should. It's only to get on the podium to not have brakes and maybe in the future there'll be two podiums. But mainly, just try and be sensible. If you're not in top shape, just try and finish – don't try to keep up with anyone and obviously think about your safety. It's not easy descending these big descents if you're not used to it. If you haven't done it before, put a brake on it – you won't win any prizes from hospital!"
There have been a few local grumbles about the brakes but Wagner is clear that it's possible. "I know I can do that course brakeless. It's not supposed to be a participation event, where anyone can just do it. If you want to do it brakeless, you should have experience of riding big hills like this brakeless. It's supposed to be challenging, to be extreme. I'm always inclusive, anyone's welcome to come but don't expect me to water it down for the general public. I want it to be the world's toughest track bike race, I want the toughest guy to win."
If you dare put yourself through hell, look at their Facebook page for more information. I might yet join you.
---