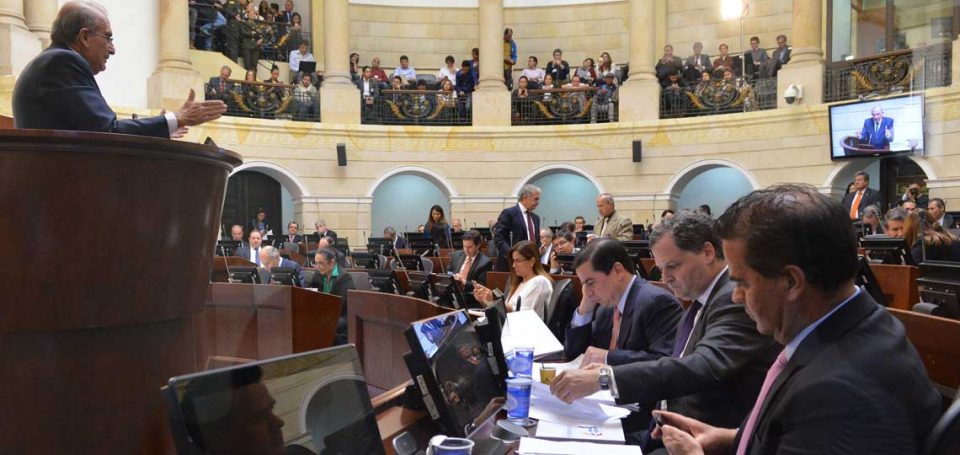 After over four years of negotiations, Colombia's congress has approved a new peace deal with the FARC.
---
On November 30 the Colombian congress ratified the new peace deal with the FARC, marking the end of over half a decade of conflict and the beginning of a new challenge: implementation.
The unanimous vote in congress came after over 11 hours of debate, with 130 votes in favour and none against. As with the senate debate the day before, members of the Centro Democrático (strong proponents of the 'No' campaign) party vacated the chamber before the vote.
The original peace agreement, reached on August 24 and signed weeks later with much fanfare in Cartagena, was narrowly rejected by the nation in a plebiscite on October 2.
Since then, negotiators have worked to incorporate concerns from the 'No' camp into a new, improved peace deal that was signed here in Bogotá last week.
The congressional approval means that officially today, (December 1) is D-Day: the beginning of a six month disarmament process that will be subject to a tripartite monitoring and verification system. It will see FARC members living in transitional zones as they begin their transition back into society.
However, FARC members are claiming that this process cannot begin until the amnesty law has been signed.
For its part, the government is working to approve the amnesty law and additional legislation law that will be needed for the Special Jurisdiction for Peace, and for the full implementation of the peace agreement.
Sergio Jaramillo, the High Commissioner for Peace said, "We cannot forget what we are doing. We are trying to end over 50 years of war. And it cannot be that due to legal entanglements and diverse interpretations like that of the constitutional block, we won't be able to agree on what needs doing, which is to end the conflict."
---
By Emily Hastings