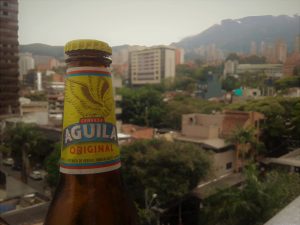 Next time you drink a cold Águila beer for $1.500, you can thank James Rodriguez.
Bavaria has decided to lower price of one of its best-selling beers, Águila. The price per unit will go down to $1.500 COP per bottle, the same as during the Brazil World Cup of 2014.
The decision came after Colombia classified to the World Cup 2018 to be held in Russia. Following Colombia's victory over Peru with a goal by James Rodriguez, Bavaria came forward with the announcement.
Alejandro Molina, brand director for Águila, explained in El Tiempo "We've noticed the bets and the buzz around the World Cup, and all the joy this victory has brought—how could we not join the party? We'd like Colombians to celebrate with domestic beer. that's why we've lowered the price of Águila beer."
.@actualidadpanam ¡Vimos que no llegaron a los 1.500 RT, pero no importa, porque nosotros si le bajamos a la cerveza! Pa´ armar la celebración, llegamos a Rusia 2018 con el precio de Brasil 2014. #AguilaA1500 pic.twitter.com/O6EKnN6Gs2

— Cerveza Aguila (@CervezaAguila) 10 de noviembre de 2017
The announcement made a reference to it being "the first Actualidad Panamericana article to come true". This is Colombia's own fake news portal, not unlike The Onion. The website indeed published a piece that went viral and catalyzed the discount in real life.
While small, the $200-peso reduction has been received well by Colombians. Beer is the preferred alcoholic beverage in the country, after all.
However, it is less affordable than expected in a nation with a US $250 minimum wage. Average price of a domestic beer at a supermarket rivals that of Barcelona or Berlin; the same beer at a bar will cost you anywhere from two to six times the suggested price.
Beers for the average Joe
Águila is produced by Bavaria, a subsidiary of British beverage behemoth SABMiller. The conglomerate that holds an unrivaled monopoly over the Colombian beer market: 97% of all beer sold in the country is made by Bavaria, with suggested retail prices between $1500 and $2200 pesos.
Nowadays, Águila is the second most popular brand in Colombia with a 29.8% market share. Targeting a similar segment as Budweiser in the US, Águila is a light and refreshing lager is particularly well-liked in the scorching heat of the Caribbean coast of Colombia, where its production started over a century ago, in 1913. The 330-ml bottle constitutes a whooping 85% of the beer sales.
The brand is only surpassed by Póker, the preferred brand in Bogotá and the West Andes. Third place belongs to Águila Light, which has the same 4% ABV as its better known sibling. The fourth spot is taken by Pilsen, catered towards the crowd of Medellín and the Central Andes. Costeña, another pale beer mostly recognized by slightly more content in its standard presentation (350 ml vs. 330 ml for others in the top 5) sells well among university students and other young adults.
The fifth spot brings diversity to the everyday beer scene: Club Colombia comes in pale lager, amber lager and dunkel versions. Additionally, seasonal beers join the roster most years, including a Marzen-style Oktoberfest beer; Club Colombia Trigo, a wheat ale; and a premium boxed edition of its three standard beers.
Bavaria's marketing prowess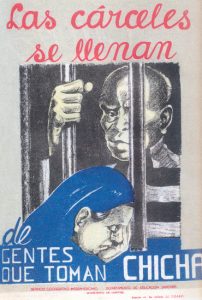 Bavaria seized control of the beer market following prohibition of Colombian's traditional alcoholic beverages: chicha, a fermented corn drink, and guarapo, made from fermented sugarcane.
Through effective lobbying from Bavaria, and following higher classes' switch toward imported drinks as a way of maintaining social superiority, chicha and guarapo production were banned in 1948.
With the exception of Club Colombia, the difference in style and flavor between Bavaria's everyday, market-dominating beers is very, very slight. The choice between the 5 similar-tasting, refreshing and smooth-tasting pale beers with a 4% to 5% ABV is largely due to reaffirmation of regional culture.
Despite being produced by the same company, in similar brewing style, and at exactly the same price, each drinking-aged Colombian has a marked preference for a particular brand. There are of course many exceptions, but I feel these are the general trends:
Cachacos and rolos, from Bogotá to Tunja and beyond, strongly favor Póker. The gambling-named beer features ad campaigns with friends drinking at a pub or at home, helping each other cope with emotional and labour issues, playing games and other activities that resemble the lifestyle of urban areas of the colder Andes.
Costeños, people from the Caribbean coast and the hot lowlands of the north, quench their thirst with Águila and Costeñita. Ads for these brands feature parties at the beach fueled by tropical rhythms. References to soccer are frequent, reinforcing the status of Barranquilla as the home of the national soccer team, and the yellow color predominates as a wink to the team's jersey design.
Paisas, mostly Colombians from Medellín and the coffee axis region, mostly drink Pilsen, an oddly named beer as it is just another pale lager. Regional culture reaffirmation is key here: Pilsen bears the slogan "Berracamente paisa" (loosely translated as "fiercely paisa") and carries out ad slang-heavy campaigns that appeal to the region's pride for its bustling, forward culture.
Curiously, Costeña beer is not drunk in the coast at all; this brand is commonly found in college bars in the capital and in a few smaller cities.
Finally, Club Colombia is a special case: the higher price tag, compared to all other Bavaria beers, makes a difference for many middle and upper classes Colombians—both for and against selecting it at the supermarket or pub.
Bavaria has single-handedly managed to segment the market by taking advantage of regional and purchase-power differences. Colombians have grown accustomed to the specific pale lager style that now characterizes Bavaria products and identified with one of the company brands.
This has been greatly limiting for new players entering the beer scene, including local producers as well as importers and craft breweries.
Fun fact: as soon as SABMiller purchased Bavaria in 2007, it had to tone down all advertisements for Águila due to the international conglomerate's strict anti-sexist internal guidelines. That was the end of las Chicas Águila, a beauty pageant of sorts for beer drinkers that was a big part of the brand's promotion for many years.
Increasing diversity
Recently, new partnerships have brought diversity to the low-cost beer market in Colombia. Beers under $2.500 are increasing, largely due to large-volume partnerships between big chains and specific brewers from more competitive beer markets.
Examples of imported beers sold at around $1.600 per 330-ml can, lower than Bavaria's flagship products, include Prima and Cintra, imported from Spain and Brazil respectively and exclusively in Éxito supermarkets. Jumbo has a similar arrangement with Puls, an Estonian brewer. D1 discount stores offers Weidmann and other Dutch brands, while Justo & Bueno carries German-made Oettinger.
Central Cervecera de Colombia is an import company which traditionally carries higher-end beers. However, they have brought Mexico's Tecate to stores in Colombia at a price rivalling that of Club Colombia (around $2.000) and expanding options for drinkers in this price range.
Craft beer, while still a small market segment, is attracting more and more attention.
Bogotá Beer Company (BBC), has a combined production that ranks seventh on the most consumed beers in the country. Offering a greater variety of unique regular and seasonal beers that start at twice the price of an Águila, BBC has a loyal and growing customer base.
The company bears the slogan "We are the 1%" proudly as a sign of the small seed of change they brought into Colombia as the first successful craft brewery in the country. BBC was bought by Brazilian conglomerate AmBev in 2015, receiving a capital injection that has driven its steady expansion and the continued promotion of craft beer culture in the Andean country.
In this category, 3 Cordilleras and Apóstol have also earned nationwide recognition with their distinct libations; alongside, a few micro-breweries selling in-store creations are popping up such as Tap House in Bogotá and Cervecería Libre in Medellín.