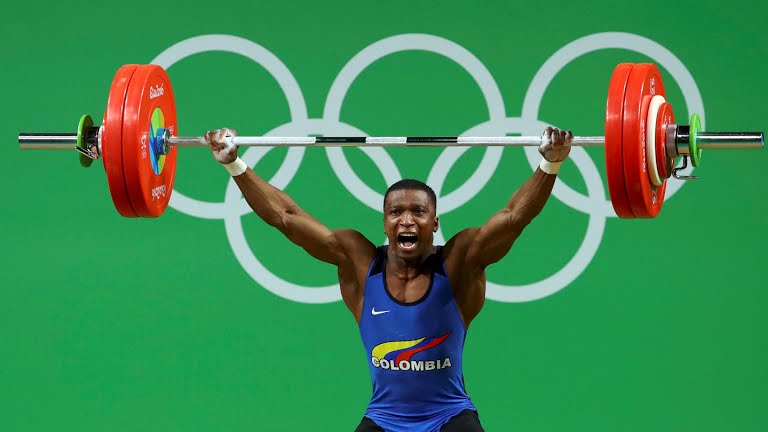 Óscar Figueroa claimed the first Colombian gold of the Olympic Games 2016 in Rio de Janeiro. The 33-year-old weightlifter took the prize in the snatch and clean and jerk discipline, ahead of Eko Yuli Irawan from Indonesia and Farkhad Kharki from Kazakhstan.
---
Figueroa's lifts totalled 318 kilograms across both the snatch and the jerk, six kilograms ahead of his opponent from Indonesia. With gold already in the pocket, Figueroa burst into tears of joy, after his failed final attempt that no longer mattered.
"I would like to thank my family, my kids, God for this gold medal", Figueroa said after he received the gold medal, "22 years of sporting career pays off here".
The 33-year-old weightlifter had already claimed the silver medal four years before in London and was determined to get the highest stage on the podium this time.
Figueroa, born in Zaragoza, Antioquia, waited long before he did his opening snatch, bringing the weight up to his level, but when there were only four lifters left he finally stepped up the podium, starting on 137kg. He lifted it without problems, settling himself in the top spots, before he brought the weight up in his second attempt. At the moment it mattered he stepped up, bringing his personal best on the snatch to 142kg.
The Chinese favourite in the discipline and Figueroa's strongest competitor Chen Lijun caught a cramp attack in his opening snatch on 143kg, leaving him out of the reckoning. Figueroa didn't hesitate to try to go further, but his attempt on another improvement of his personal best of 145kg was too much.
Ahead to the clean and jerk, the second part of the competition, Irawan from Indonesia and Figueroa were even at 142kg with Farkhad Kharki trailing by 7kg, making it a man to man competition for gold.
Irawan opened with 170kg, but Figueroa didn't worry. With an opening jerk of 172kg, he set the bar high, and in impressive style he lifted it, securing Colombia's first medal. Irawan missed his second attempt on 176kg, while Figueroa lifted the same weight taking a lead of six kilograms.
With a poker play, both Irawan and Figueroa put 179kg on the bar, but the Indonesian competitor failed, leaving the Colombian Olympic Champion with an attempt spare.
Figueroa is the third Colombian Olympic Champion in history after weightlifter María Isabel Urrutia in Sydney in 2000 and Mariana Pajón in 2012 in BMX, and also the first Colombian man to win Olympic gold.
---
By Freek Huigen