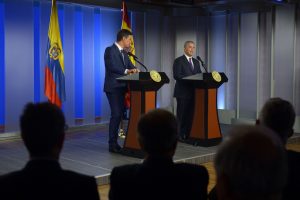 President Duque has declined an invitation to hold peace talks with the guerrilla group ELN in Spain over continued hostilities between the two parties. Spanish Prime Minister Pedro Sanchez made the offer on an official visit to Colombia yesterday but Duque choose not to take Sanchez up on the offer over growing violence between the government and the ELN.
The ELN have been responsible for a rise in violence, including attacks on pipelines, and the displacement of thousands in the department of Norte de Santander. There are also nine hostages currently being held by the group, which includes four military personnel, three policemen and two civilian contractors.
Duque expressed a "desire and will" to speak with the ELN but cited that the release of the hostages will be an important precondition for sitting down with the guerrilla group.
The ELN on the other hand have confirmed their desire to continue the talks in either Spain or Cuba. Although initially suggesting that they would release the hostages, the two parties could not come to an agreement as to the security protocols that would allow for the handover.
The peace talks are currently held in Havana, Cuba, where Colombia and the leaders of the ELN are meeting to discuss ending what is now one of the last major conflicts in the country.
The seat of the peace talks with the ELN had previously been in Ecuador but the country pulled out as an intermediary as tensions increased over growing insecurity on the border between the two nations. Ecuadorean President Lenin Moreno had at the time been swayed by violence across the border with Colombia, even though the ELN had not been responsible for it.
A week from now Duque will announce whether negotiations will proceed with the guerrilla group. If continued, they will be the first time the two parties have negotiated since August 1, when Duque's predecessor Juan Manuel Santos had been unable to come to a peace deal prior to his exit.
Meanwhile, Prime Minister Sanchez has now flown to Costa Rica following his Colombia visit. He summarised the dialogue as having improved the bond between the two nations. "We have strengthened our strategic link and we are committed to work together in the promotion of human rights, peace and security. I have also held meetings with the institutions of peace that work in favor of memory, justice and reparation for the victims of the Colombian conflict," the Spanish Premier wrote on his Instagram account.