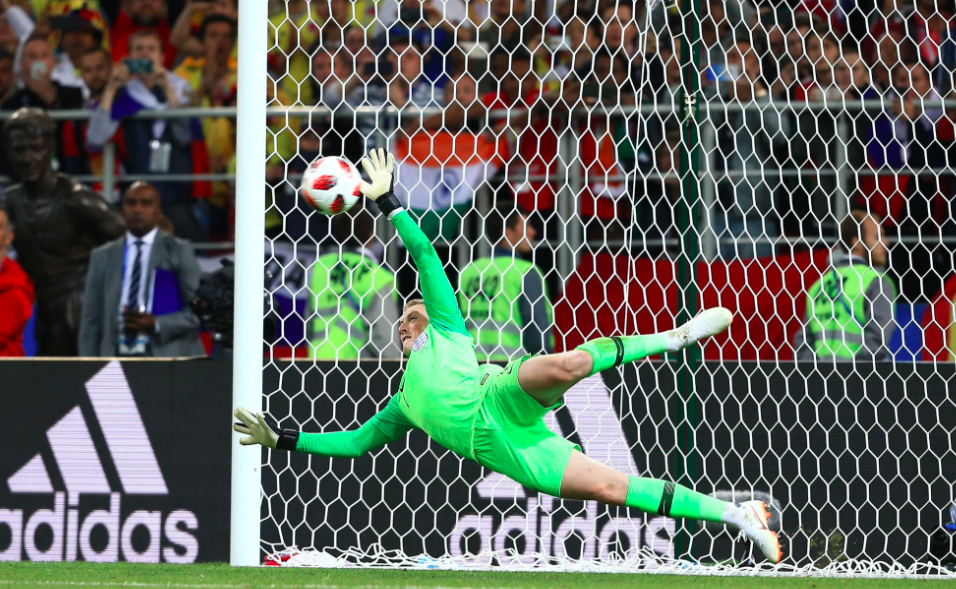 The English finally overcame their penalty kick curse and it was Colombia that turned out to be snake-bitten at the end of Tuesday's dramatic World Cup knockout game. England's 4-3 advantage on penalty kicks after a 1-1 tie will see the Three Lions advancing while Colombia's hopes of repeating a run to the quarterfinals come to an end.
Harry Kane opened the scoring on a penalty in regulation when Carlos Sánchez was called for a yellow card in the box. It was a savvy play by Kane off the set piece, as he seemed to hook Sánchez but the defensive midfielder was correctly flagged as he hung on and ended up on top of Kane's back when the English star went down in the penalty area.
Colombia's fortunes changed, however, when midfielder Mateus Uribe subbed in for Sánchez and Luis Muriel for Juan Fernando Quintero late in the game. The attacking combination picked up the pace for Colombia and it was Uribe's shot from long that set up Los Cafeteros on the 93rd-minute corner kick, which was remarkably Colombia's first of the match.
Colombia took advantage as Juan Cuadrado played the ball high where only Yerry Mina could get it, netting home his third straight header in three World Cup games.
Without star James Rodríguez fit enough to play with his nagging calf injury, manager José Pékerman started with a conservative starting XI that featured three defensive-midfielders. England looked the better team for much of the game until late in the second period and in extra time when Colombia's attacking mode caught the English off guard.
The pressure then fell to Juan Fernando Quintero to again be the creative catalyst, but without another playmaker at left forward, it was tough for the Medellín man to get anything going. England did a good job of stunting his progress and limiting any connection between him and captain Radamel Falcao.
U.S. referee Mark Geiger will likely not be invited to Colombia anytime soon, as he drew an astonishing six yellow cards against Colombia alone, including Sanchez's fateful penalty in the box.
In extra time, Colombia looked to have a few chances to end the game before a penalty shootout. A great service in from left back Johan Mojica found the head of Falcao, but he pushed it too far left while under pressure from an English defender.
When penalties eventually came it was Falcao who netted Colombia's first try home. When Cuadrado and Muriel converted on their kicks and keeper David Ospina saved England's third try, Colombia was just one step away from the quarterfinals.
But England would be true on its next two tries and both Uribe and Carlos Bacca missed their attempts to spell heartache for Colombia. After being eliminated on penalties in three World Cups since 1990, England broke its curse on the fourth time and has a clear path to the semifinals with Sweden on the horizon.