A Darwin Núñez penalty in injury time following a red card for rolo goalkeeper Camilo Vargas saw Uruguay leave Barranquilla on Thursday afternoon with a point following a 2-2 draw.
Then, in the high altitude of Quito on Tuesday evening, Colombia were unlucky to see two goals ruled out by VAR and a penalty missed by Luis Díaz as the match ended in a 0-0 stalemate.
James shines against Uruguay as Colombia rue missed chances
Colombia started off slowly against Uruguay, with coach Néstor Lorenzo choosing an experienced starting XI (five years older on average than the opposition) to deal with a mini injury crisis in the squad.
Taking time to find their rhythm, it wasn't until the 35th minute that Los Cafeteros managed a shot on target. Santiago Arias' cross from the right came through to James Rodríguez, who controlled with his right then quickly rifled a shot with his left into the bottom right corner to give Colombia the lead. ¡Golazo!
But Colombia's lead lasted until just a few seconds into the second half, with Mathías Oliver's equalising header from very close range to the bottom right corner following a corner.
They were back ahead shortly after, however, in controversial fashion. Luis Díaz' ball recovery and subsequent pass out to the right flank found Rafael Santos Borré, whose cross appeared to strike the arm of James before deflecting through for Mateus Uribe to finish.
The Colombian TV commentators called it "debatable", but replays showed that they were fortunate to not have the goal chalked off by VAR.
With their tails up, Colombia played fluidly to create three good chances in quick succession, but none came to fruition thanks to the post, the crossbar, and Lucho Díaz missing what for him should have been a simple chance.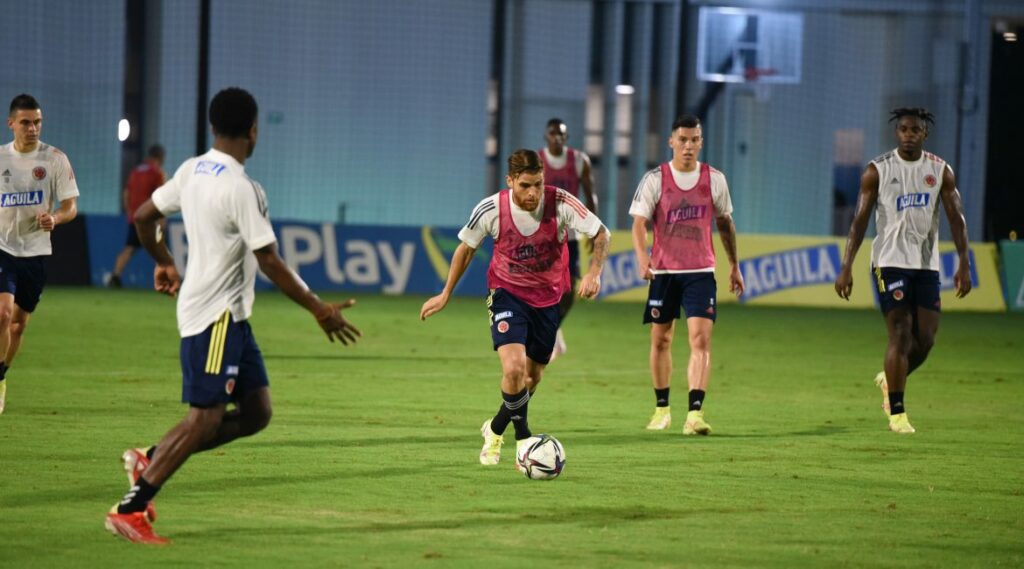 Though a bit late, Lorenzo rang the changes, trying to push on to take the game away from Uruguay with the introduction of West Yorkshire legend Luis Sinisterra and Jorge Carrascal late on.
However, the game was to turn again following a second yellow card to goalkeeper Camilo Vargas. Having picked one up in the ninth minute for inexplicably chasing down Núñez well outside his area, Vargas' second came after a collision with Maximiliano Araújo in the area.
Handed his marching orders by the referee after a VAR check for offside from the attacker, substitute goalkeeper Álvaro Montero — making his competitive international debut — was unable to stop Núñez converting for 2-2.
Colombia created many more chances in this game than their previous two qualifiers; however, a lack of cohesion in defence saw them regularly beaten over the top and questions still remain in this area of the pitch. Santiago Arias, though, had a fantastic game at right back.
A good result and positives to be taken, but the manner of the late Uruguay equaliser put this match in classic 'draw that felt like a loss' territory. Memories of the dire 2022 qualifiers resurfaced with a lack of killer instinct failing to put matches to bed.
Díaz denied by penalty save
It was a similar story a few days later in Quito. While it was a marked improvement from the 6-1 mauling Colombia suffered on their last visit to Ecuador's capital, missed chances meant Colombia once again were left with just one point for their efforts.
Just like the previous Thursday in Baranquilla, Colombia were hanging on in the first part of the game as Ecuador struck both the crossbar and post from long range attempts at Álvaro Montero's goal.
Colombia countered well, though, and on 35 minutes a deft through ball by James Rodríguez to Luis Díaz, who finished with a smooth chip over keeper Moisés Ramírez. The lead lasted less than a second, however, with the linesman immediately raising his flag for offside as Lucho set off on his run a fraction of a second too soon.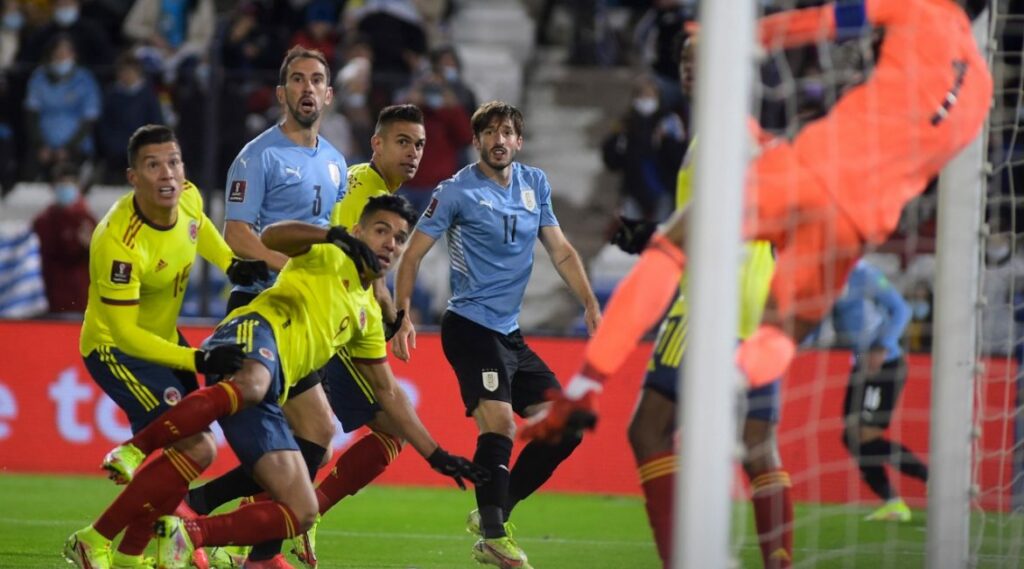 Absolutely sublime skill from Díaz in the second half saw him skin three players on the touchline, leaving them with twisted blood as he waltzed through pressure to deliver a perfect ball into the box for Jhon Arias, who drew a foul.
Surprisingly it was Lucho himself that then took the penalty instead of either James Rodríguez or Rafael Santos Borré.
Díaz has, of course, recently returned from a long-term injury and has not shown much of the electric play for the country that has seen him earmarked as the next talismanic leader of La Selección.
If this was a decision made by the team to try to instil confidence in a struggling team-mate, it did not work. Díaz' attempt was poor and easily saved by Ramírez. It was his second penalty at professional level and his second miss.
Less than two minutes later, Colombia once again thought they had the lead through centre-back Carlos Cuesta, who fired home following a corner to spark a rapturous celebration among his teammates.
VAR intervened, however, and after a three-minute delay the referee was called over to the pitchside monitor before annulling the goal as Rafael Santos Borré was adjudged to have been impeding the goalkeeper from an offside position.
One final eye-catching attempt from James in the 93rd minute came, but no fairytale ending. It finished 0-0 — Colombia's third draw in a row.
Undefeated, but unlucky or underperforming?
Colombian fans are probably unsure whether to be happy or not. Yes, they are now 12 games undefeated under manager Néstor Lorenzo, but two points from these two games is, upon reflection, a slightly disappointing return. Lorenzo himself said in a post-match press conference in Quito that it felt like four points lost.
While fortunate to not see the second goal against Uruguay chalked off by VAR, there were plenty of claritas to consolidate their lead that weren't taken, making the eventual equaliser feel almost inevitable as time ticked on.
In Quito, for a team starting with second-choice centre-backs, a third-choice goalkeeper and a fifth-choice right back it was a good clean sheet to keep, though this was aided by a terrible performance by Ecuador's Enner Valencia.
But the decision to hand a critical penalty kick to a low on confidence Luis Díaz while other, better penalty takers watched on was a bit of a head-scratcher.
The future of the Colombia team likely lies with Díaz. He played very well in parts; however, over these two games he could very well be held accountable for not winning either of them.
The return of Empatelombia
The main lesson learned from the failure to qualify for the Qatar 2022 was that it is very difficult to draw your way to a World Cup spot. The expanded 48-team tournament for 2026 has seen an increase from 4.5 to 6.5 qualification slots for South America, which brings more opportunity for success and for wholesale embarrassment if qualification is not achieved.
Colombia would do well to turn some draws into victories to demonstrate their status as the fourth highest ranked team on the continent and 17th in the world. The key difference from last time is that at least chances are being created so progress is visible. It might be time to call up the likes of Cucho Hernández, currently doing well at Columbus Crew.
As it stands, a return of six points from four games sees Colombia fifth in the table, just one point off second spot and comfortably inside the qualification spots. Only Colombia and runaway leaders Argentina remain undefeated.The cafeteros' next match takes place in Baranquilla on 16 November at home to third-placed Brazil, who will be seeking to bounce back after a 2-0 loss away to Uruguay. A trip to Paraguay then follows on 21 November.