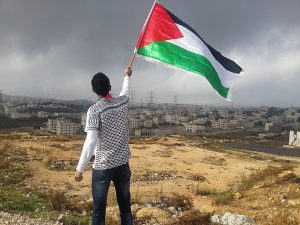 After much speculation around whether President Duque would continue to recognise Palestine as a sovereign state, the Colombian president has said that the decision is now "irreversible". The decision to recognise Palestine had been made by the outgoing administration of Juan Manuel Santos shortly before Duque was inaugurated.
Surprising many, Santos delivered his remarks to the Palestinian representative in Colombia on August 3, saying that "just as the Palestinian people have a right to constitute an independent state, Israel has a right to live in peace alongside its neighbors." The Santos administration has previously stood by Israel by choosing not to denounce President Trump's move to have the American embassy in Jerusalem and officials spoke of the disappointment in the manner in which Santos had decided on the statehood of Palestine.
Until today it was unclear how President Duque would respond to the decision. In the past, Duque's mentor and former President Alvaro Uribe had formed a strong alliance with Israel, a bond much closer than previous Colombian presidents. In recognising Palestine, Duque has once again displayed his independence from his former mentor in his decision-making.
Speaking to Caracol radio, Duque expressed a preference for more dialogue on the matter but he believed that the original decision will remain. "We should be part of the solution, not the problem," Duque said, referring to the conflict between the two states.
Duque's decision has been widely reported in the Israeli media and although the government has yet to comment, the Deputy Minister of the Israeli Foreign Ministry Michel Oren has said that the failure to retract the recognition is seen as "damaging".
Oren went on to say in his statement that "the decision directly harms the peace process by giving the Palestinians free of charge what they could have received in exchange for concessions in future negotiations. So now, why should the Palestinians want to negotiate at all?"
Colombia was the final country in South America to recognize Palestine as a sovereign state. More than 130 countries worldwide have also made the declaration; though there are many notable omissions that prefer a two-state solution that was agreed upon the two countries. Countries that believe this include the United States, Australia, New Zealand, England, France, Spain, Canada and Germany. Palestine has been recognized as a sovereign state by the United Nations General Assembly and the International Criminal Court.