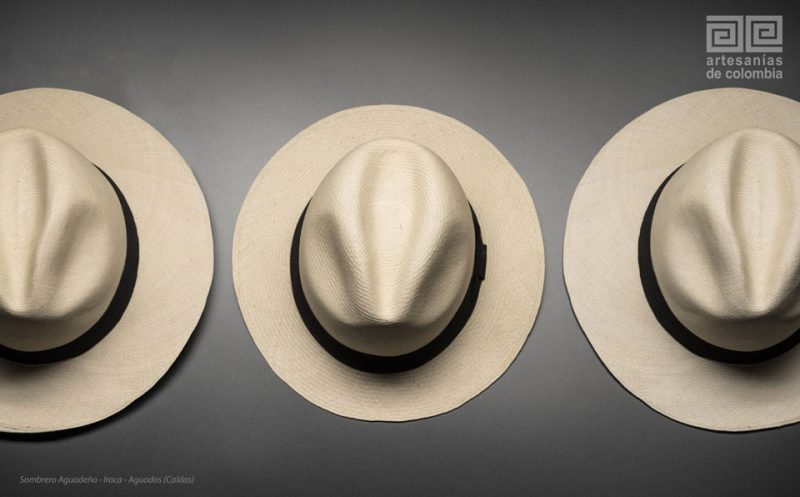 With the help of experts, Jazid Contreras examines some of the most iconic Colombian handicrafts. He delves into their origins in order to give you a beginner's guide to the colourful and diverse realm of artesanías, just in time for Expoartesanías, the annual craft fair in Corferias and, of course, the holiday shopping season.
---
Colombia is home to a diverse and ancient tradition of craftsmanship. Wherever you go, you will find beautiful and colourful artisanal goods – from jewellery and ornaments to clothing and furniture. All from the expert hands of artisans, with knowledge and skills that have been passed down through generations.
Many of these products have a strong cultural meaning – they are more than commodities – these visually striking forms are deeply rooted in ancestral views of life and nature. They are also the main source of income for thousands of families from rural areas with little industrial development.
Another important aspect of the Colombian crafts industry is that many of the people who earn a living from it are women from various indigenous communities.
Every December, Corferias hosts one of the biggest craft fairs in the world: Expoartesanías. More than 800 artisans will participate in this year's edition, which takes place from December 5 to 18. The fair is put together by Artesanías de Colombia, an organisation that helps artisan communities turn their crafts into sustainable businesses.
If you're interested in purchasing some authentic Colombian crafts to take home as Christmas presents but you have no idea where to begin, look no further. Alexandra Díaz, from Artesanías de Colombia, helped us narrow down the possibilities to five top choices she considers unmissable.
Five iconic Colombian crafts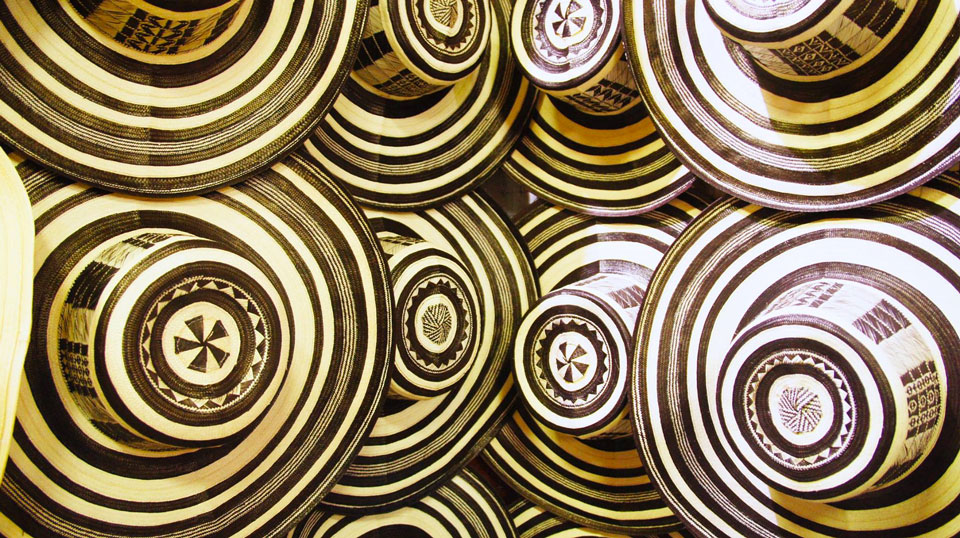 Sombrero vueltiao
Voted the most symbolic feature of Colombian culture in a survey carried out by Semana, the best way to describe this hat is that you will know it when you see it. And you probably have seen them in the media. For instance, the entire Colombian Olympic team wore them while marching in the Rio 2016 opening ceremony. Also, a photo of Hillary Clinton holding a sombrero vueltiao was featured on the cover of The New York Times just a few days before this year's US presidential election.
So yes, this particular hat screams Colombia, but what makes it so special? Well, it has been around for more than a thousand years, kept alive by the indigenous Zenú people from the Córdoba and Sucre departments, in the northern coastal region of Colombia. Made of caña flecha fibre, the sombrero vueltiao exhibits geometrical patterns that represent many different aspect of the tribe's cosmogony, the way they perceive the universe.
By the way, this is not the hat that Juan Valdez wears. That is an Andean region hat called sombrero aguadeño, named after its town of origin: Aguadas, Caldas.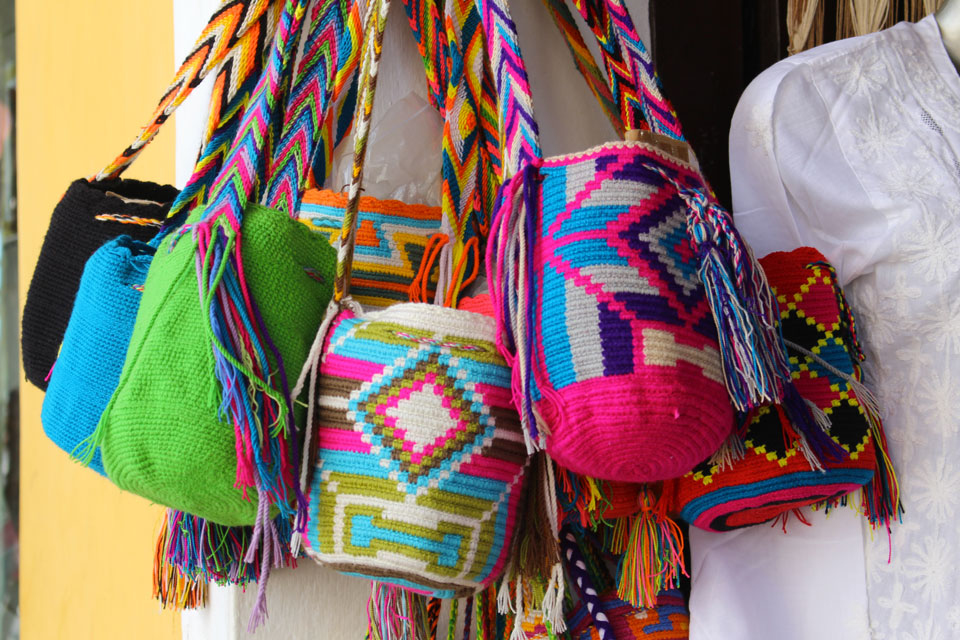 Mochila Wayúu
Perhaps the most exported and fashion-friendly Colombian craft, the mochila Wayúu is a handbag made of wild cotton, magüey, aipis and other natural fibres, which are then twisted in S and Z shapes to be knitted using a crochet or ganchillo technique. Each bag takes about 20 days to produce.
For the Wayúu people from La Guajira, the knitting process is their way to conceive and express life as they feel it.
According to the local legends, a mythological spider called Wale'Kerü started this tradition by teaching the Wayúu how to knit in exchange for animals and jewellery.
There are many types of mochilas, but the most common is the medium size Susu, which is the most convenient for everyday use. Celebrities such as popstar Shakira, supermodel Alessandra Ambrosio and heiress Tatiana Santo Domingo have turned them into a must-have boho-chic accessory.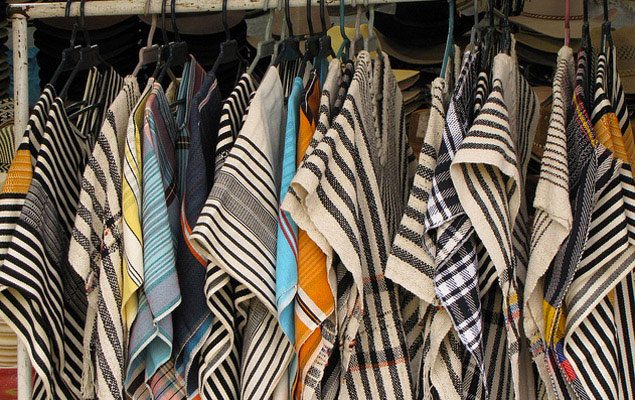 Ruana
The traditional ruana is an iconic piece of artisanal clothing you can find in the altiplano, the large high plateau shared by the departments of Boyacá and Cundinamarca, where our beloved capital city is located.
It is a kind of thick woollen poncho made to endure the low temperatures of the region. Nowadays, some small towns depend on the production and trade of these garments. For example, in Nobsa, Boyacá, about 300 families live off of making ruanas.
Despite the increasing industrial production of cheaper ruanas, the artisan communities refuse to let their traditions die. Most of these wool workers shear their sheep the old school way, with scissors, and then thread it using rustic spindles.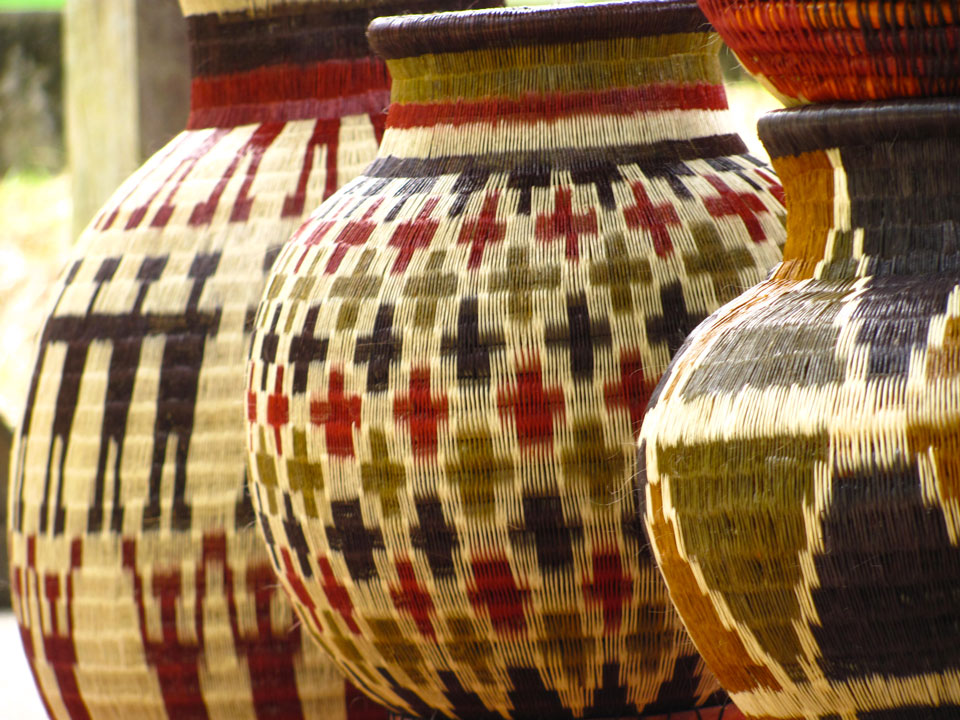 Wérregue
Wérregue is the name of a rare kind of craft made by the indigenous Wounaan or Noanamá tribe from the jungles of the Chocó department on the Pacific coast.
Plates, bowls, baskets and pots are fabricated exclusively by women using a combined technique of knitting and sewing of the Wérregue palm leaves (Astrocaryum standleyanum). The weave is so tight that it can hold water without any leaks.
Influenced by missionary nuns that came to this region in previous centuries, the native women started to add figures and colours to their crafts, developing a unique aesthetic that stands out for its originality.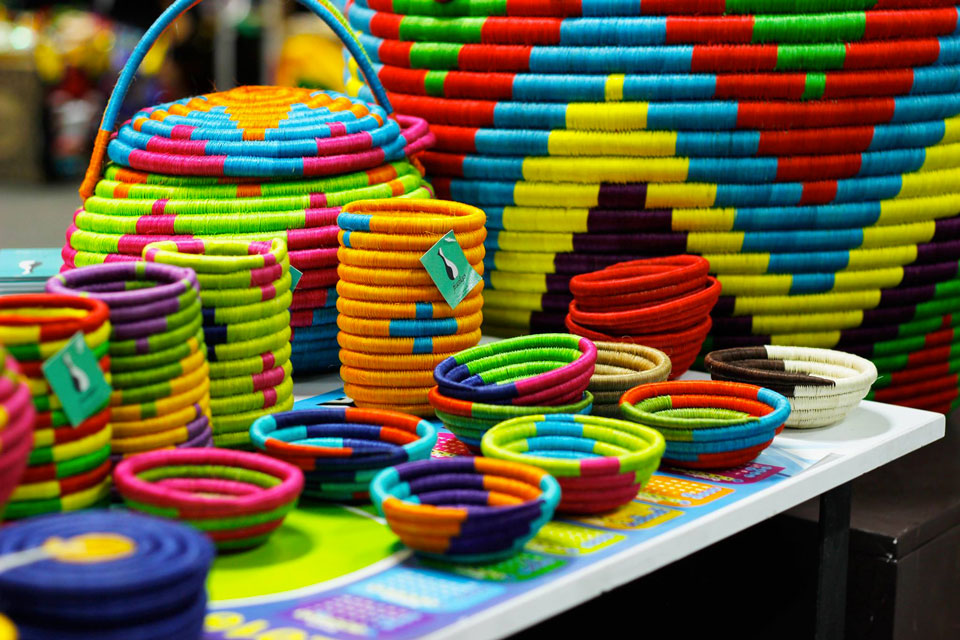 Guacamayas basketry
Guacamayas is the name of a town in Boyacá that produces a distinctive type of artisanal basket that, like the homonymous birds, stand out for their multicolor patterns.
Made of fique fibre, a very popular material in much of South America, the Guacamayas crafts are easily identifiable for their type of weave, which is rolled around a stem that is then rolled on itself in a spiral, forming trays, bowls and baskets of different depths and sizes.
For more on the fascinating world of Colombian crafts, visit artesaniasdecolombia.com.co or go to the Expoartesanías fair in December.
---