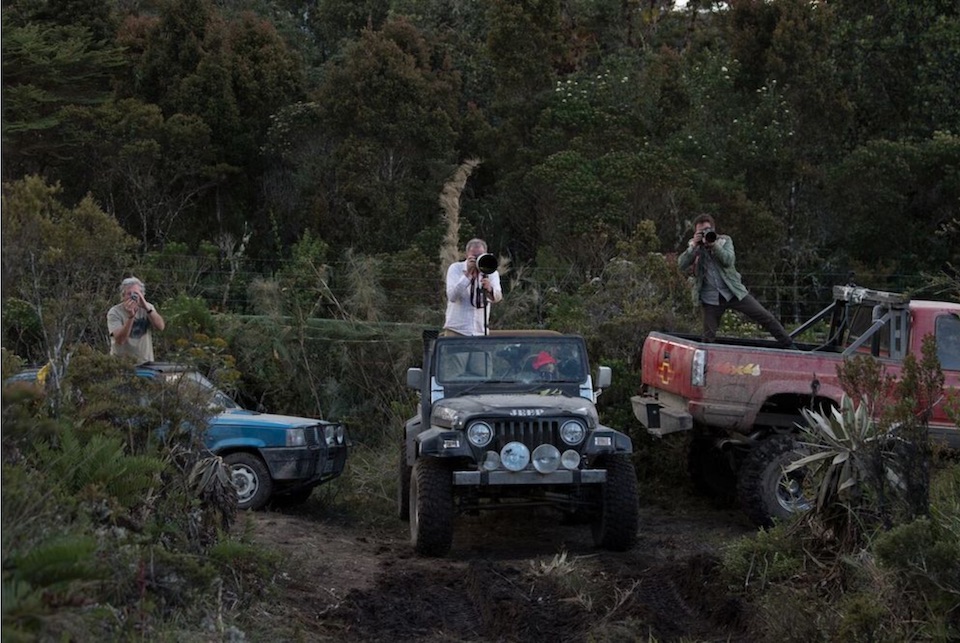 Plus some worthy and not so worthy videos, a cycling head-to-head and full speed ahead for Top Gear.
---
Hold on to your shift-sticks – the Grand Tour has come to Colombia. Yes, the ex-Top Gear lads spent much of last month puffing up their long-awaited two-part special featuring the country's stunning scenery, mad roads and "a thing involving donkeys that's a bit weird," according to the website Driving.co.uk. As usual, the world's media is along for the ride with the trailer of Richard Hammond on a rickety bridge far above a river gorge getting good airtime. You can catch the teasers on YouTube, and the show itself on Amazon Prime from January 25.

Also gearing up is next month's Tour de Colombia 2.1 with much expectation over a home turf head-to-head between sort-of-Brit Chris Froome and local boy Nairo Quintana. But according to Cycling News Quintana is downplaying the Antioquia event as simply a "build up to the Tour de France". We'll see.
Also in sports, the Deportes Tolima soccer team president caused an own-goal after describing women's football as "a tremendous lesbian breeding ground" and female players as "alcoholics", as reported by Australia's News.com. Players in the 23 clubs of the Colombian Liga Profesional Femenina volleyed back stinging rebukes, prompting an ever quicker retraction from the president: "It wasn't my intention to … undermine their fundamental rights of equality, non-discrimination, dignity, honour and good name," he wrote, in what can only be described as a late pass.

January was also an embarrassing month for US drug enforcement after a 'star' DEA agent was named as a Colombian cartel money launderer linked to "lavish yacht parties with bikini-clad prostitutes". The years-long conspiracy sometimes "involved the use of undercover accounts controlled by the DEA," reported CNN.
But in the same month DEA agents did score a hit – by arresting two US army sergeants trying to smuggle US$1 million of cocaine on military transport planes hidden in punchbags. The soldiers now face ten years to life in prison, according to the Army Times.
Back in Colombia, boffins reacted with caution to a Senate vote to create the country's first Science Ministry, according to respected Nature magazine. Some worried that a political entity could just breed corruption – and syphon off funding – while others were optimistic that R&D spending will increase and help retain local talent.

One local talent the country sorely missed at the start of 2019 was actor and painter Carlos Sánchez, perhaps better known as 'Juan Valdez', the moustachioed guy on the coffee ads with a white sombrero, poncho and fully-packed mule. Sánchez, who died aged 83, was "an avatar for the farmers who harvested Colombia's coffee beans", said a New York Times obituary. A replacement has already been found, in case you are thinking of applying.
Hung up on the JEP? Then check out France24's video on the work of Colombia's Special Peace Jurisdiction. The explainer gives a good overview of the special court which looks at those responsible for crimes against humanity during half a century of conflict and started hearing testimony this month.
Related: Frogs, frites and Fragile X
A less useful video was a replay of a Welshman snorting coke off Pablo Escobar's grave. The film went viral back in April and the hapless character was booted out of Colombia where he had been living with his girlfriend and children. He told UK tabloid, the Daily Mirror last month, "My mate asked me to do a line off Escobar's grave and it just went mad. It was funny at the time but I'm ashamed."
The tabloid reported he had received death threats, been deported and banned by immigration for five years. Some national indignation was based on the fact that snorting cocaine was 'straight-up disrespectful' to the slain cartel king, reported Lad Bible. According to his followers, Escobar would prefer fans to be 'sipping whisky' because that was his tipple when he was alive. In that case, make mine a double.