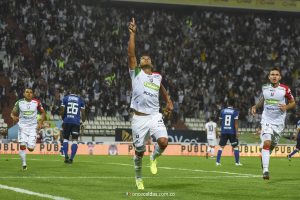 Once Caldas will face Atlético Nacional in the Copa Colombia final after having drawn their second game against Millonarios and winning 2-1 on aggregate. The second leg of the semifinals ended in a 1-1 draw as Caldas maintained their one goal advantage from their game at home in Manizales.
Millonarios will be wondering where it all went wrong for them, having gotten off to a dream start with Juan Camillo Salazar heading in their only goal in the game in the seventh minute. The fancy feet of Óscar Barreto dribbled its way past defender Geisson Perea and into the goal box, with his resulting lob across goal finding Salazar perfectly.
Things might have stayed that way for Millonarios had Ómar Bertel not effected a careless charge against César Amaya, who went down in the goal box. Amaya took the resulting penalty and easily converted, atoning for an earlier missed chance. The advantage was now all in Caldas' favour and, despite Millonarios creating more goal-scoring chances, the team from Manizales was composed enough to maintain a goalless second half
2018 has been a horror season for Millonarios with underwhelming performances in La Liga Aguila leading them to a dismal twelfth position on the table and fading chances of a quarterfinals appearance. Coming into the year with great expectations, the embajadores have been criticised for being bereft of ideas and weak on defense.
Caldas on the other hand will charge onwards to their first finals appearance in a decade and they'll be playing a team that has never lost a finals. The first game on October 24 will pitch Dayro Moreno against his former club, having scored 90 goals for Caldas in the 2000s. After secure performances against Millonarios, however, the past might not matter and Caldas will be confident of writing a historic new chapter in the club's story.