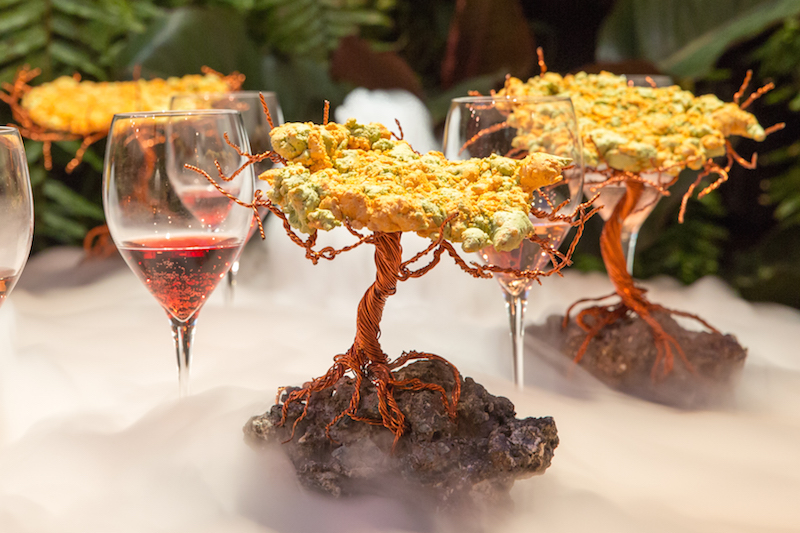 Top restaurant El Cielo celebrates its ten year anniversary by hosting pop-up events across the country, set to pique emotions and tantalise the tastebuds.
---
Chef Juan Manuel Barrientos, who has been taking Colombian cuisine to a different level at high-end restaurant El Cielo, is set to host a series of pop-up events in Barranquilla, Bucaramanga, Cartagena and Cali during October and November.
It has been ten years since Barrientos, best known as Juanma, opened the first El Cielo in Medellín, and these pop-ups are the culmination of a series of events organised to celebrate their ten year anniversary. The original idea was to recreate traditional Colombian cuisine by combining techniques from different regions with creativity, molecular cuisine and even a bit of neuroscience.
"We measure the emotional parts of the brain to see what dishes create peaks, and which zones of the brain they affect, to create menus that resemble emotional and gastronomic rollercoasters," Barrientos said.
Related: The best restaurants in Bogotá according to our readers
He wanted to rescue the roots of Colombian cuisine through fine dining, and has built a reputation as one of the country's culinary stars. Now he has restaurants in Medellín, Bogotá, and most recently Miami.
El Cielo is not only known for Barrientos's culinary prowess (the 34-year-old is the youngest chef to be included in the top 50 best chefs in Latin America for three years running). The restaurant also has a social aspect, employing and training former soldiers and ex-guerrilla members to work together, embodying the spirit of forgiveness and reconciliation.
The creative chef said his restaurants are set up to think globally and act locally, reinterpreting each dish based on the ingredients that are available.
The way it works is simple. He and his team invent a dish. If he then can't get one of the ingredients in one of his restaurants, he substitutes it with something that is available locally. The end result is that a customer could order the same dish in the three restaurants, and have three different experiences – and for El Cielo, it's just one creative concept.
Barrientos also marked the tenth anniversary with a pop-up of El Cielo in Madrid in March, as well as the '30 horas del cielo', where the team cooked non-stop for 30 hours. They offered brunch, lunch and dinner as well as a party.
Now he's taking the celebrations to various cities in Colombia with 'El Cielo tour by Nacimiento'. In each of the cities on the tour, he'll spend two days and make two dinners for up to 100 people, delighting them with his most iconic courses.
"Truly, what we want is to share with Colombia and take the restaurant to all the customers in Colombia who have come to visit us during these ten years," he said. "It's a way to thank them for so much love and support, and to show gratitude."
El Cielo's menu changes three times a year. For the tour, the chef has chosen ten or 11 different courses that feature famous dishes such as the tree of life, chocolate therapy, a ceviche of Colombian fruits, and yellow butterflies. They will also be bringing high quality tableware and glasses so that the guests feel like they are eating at one of his restaurants.
"The experience at El Cielo is for everyone to eat and live the shared experience," Barrientos said. "Beyond a single dish, I think it's about living a sensory experience through cuisine."
In addition, Barrientos will be giving entrepreneurship and gastronomy conferences, as well as breakfast or lunch for companies with workshops on innovation and creativity, cooking courses, and cuisine workshops for cooking schools.
"Come and join us, for us it truly is an effort and a dream to go and share with all of you," the chef said. "We've been planning this for a year and we hope you join us and that you enjoy it."
Barrientos expects to include more cities such as Popayán, Pereira, Villavicencio and Manizales in his tour through Colombia in 2018.
Enjoy the El Cielo experience:
Barranquilla (October 11-12)
Bucaramanga (October 18-19)
Cartagena (October 26-27)
Cali (November 1-2)
Dinner reservations can only be made through WhatsApp on 350 532 4747.
Price per person for dinner: $180,000
For more information and to get tickets for the conferences and talks, go to tourjuanma.com
---