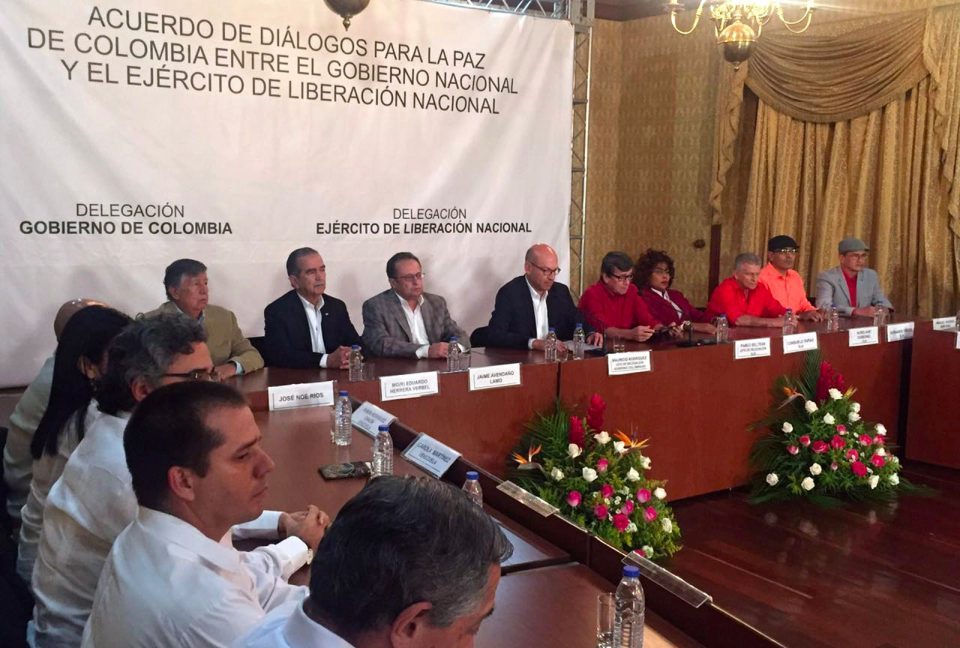 Formal peace talks will begin with ELN Colombia on Tuesday, February 7 after more than three years of informal negotiations.
---
It was the icing on the cake for President Santos as he was able to tell the dignitaries assembled for the World Summit of Nobel Peace Laureates that Odín Sánchez had been freed, paving the way for peace talks to start next week.
At the end of the first session on peace and reconciliation, the president told the packed auditorium – and his fellow Nobel Peace Laureates – of the major step forward in the process with the ELN.
He said: "This clears the way for us to start this other negotiation and to have a complete peace."
62-year-old Odín Sánchez is a former member of the Colombian congress who swapped places with his very sick brother who had been kidnapped by ELN Colombia for two years and nine months.
The release of the well-known lawyer and politician, who had been held by the ELN since April last year, had long been a sticking point in getting both parties to the table. Indeed, in October the government pulled out of formal talks at the very last minute because he was still being held captive.
However, this time hopes are high that the talks will get off on the right foot, especially since Sánchez's release follows a commitment made 15 days ago. In a joint release, the government and the ELN announced that this would happen today, and that formal talks would begin in Quito, Ecuador on February 7.
The government have already kept their side of the deal by pardoning two ELN members.
This second phase of talks comes after three years of informal discussions that have seen a number of false starts. The negotiations on the government side will be lead by Juan Camilo Restrepo; a lawyer and economist who has served as a minister under Santos.
Restrepo will be joined at the table by former environment minister Luz Helena Sarmiento, retired major general Eduardo Herrera Berbel, Rosario University professor Alberto Fergusson, conflict expert and former presidential adviser Jaime Avendaño and journalist and former director of Confidencial Colombia, María Alejandra Villamizar. 
The cloud on the horizon is last week's kidnapping of the soldier, Freddy Ernesto Moreno, who went missing last Sunday and has not been released.
It is not clear exactly how many members are in ELN Colombia, but some experts estimate that membership totals around 1,500.
---
By Emma Newbery and Laura Sharkey