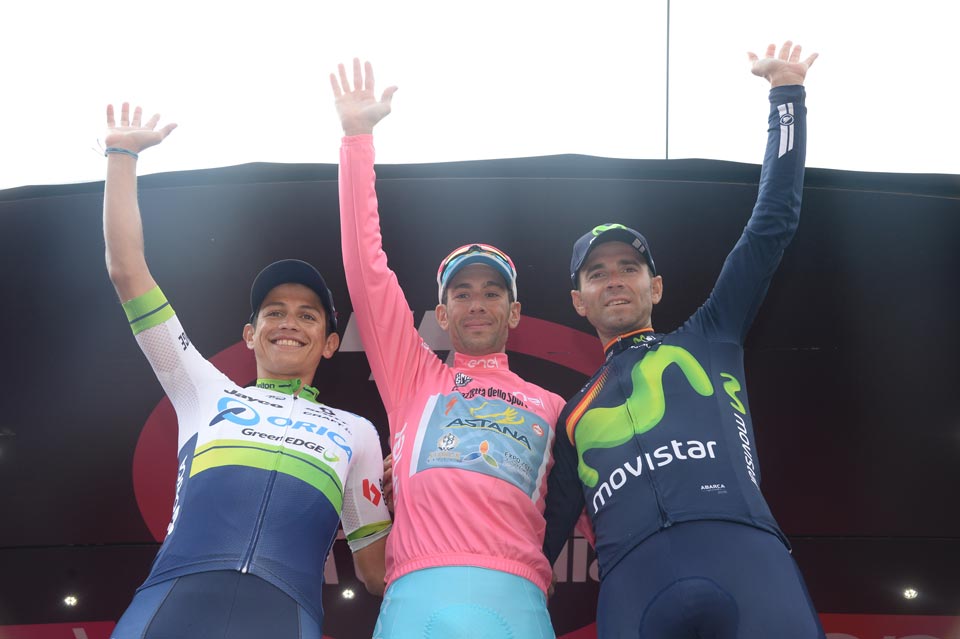 It is 3.44pm Central European Time, and Steven Kruijswijk, Vincenzo Nibali and Esteban Chaves (from Bogotá) have reached the top of the gruelling Colle dell'Agnello between walls of snow several metres high
---
Two years ago we saw almost exactly the same image, with only the road and the cyclists visible between the steep snow walls. But then it was Nairo Quintana rather than Esteban Chaves in the frame.
Under those conditions, Nairo took the lead in the 2014 Giro d'Italia and didn't give up la maglia rosa – the pink jersey – until the final part of the race. This year, it seems the race is a done deal for Kruijswijk. The Dutchman holds a three-minute lead over Chavito – as he is nicknamed by Colombians – and a 4.43 minute lead over pre-race favourite Vincenzo Nibali. Only one mountain stage is left after today, and Kruijswijk has had a superior showing across the last two weeks. He is just too strong.
But less than a minute later, at 3.45pam, it happens. Fresh into the descent, Kruijswijk hits the icy wall, snow flies everywhere, he tumbles to the ground and looks dazed. When he tries to get up, his bike doesn't do what he wants. Is this the chance for 26 year-old Chaves to take the lead? At home, Colombian spectators who switched on the television at 7am, are going crazy. Chaves and Nibali fly down the mountain, gaining more and more time on Kruijswijk, who still struggles desperately to control the damage caused by the accident.
Back in February 2013 a scenario with Esteban Chaves so close to such a major victory would have seemed impossible. A crash in a small race in Italy gave him head trauma, broken bones and serious nerve damage to his right arm, which is still affected. When he first woke up in the hospital, Chaves didn't want to hear about cycling again. But after a long and stressful recovery process, he returned to top form and signed a contract for the Australian team ORICA-GreenEDGE. In 2015, he had his worldwide breakthrough in La Vuelta a España, where he came fifth.
Three Colombians in the top ten

It wasn't only Chaves who put up a good performance in the race. Team Cannondale Pro Cycling rider Rigoberto Urán finished seventh, despite getting sick with bronchitis in the second week, within ten minutes of winner Vincenzo Nibali. Darwin Atapuma, employed by BMC Racing Team, had a strong final week putting him in ninth place, resulting in a historical achievement of three escarabajos making it to the top ten.

For 28 year-old cyclist Sergio Luis Henao, the good news came one day after the Giro. He learned his suspension over concerns of his biological data was lifted. There were concerns of possible doping abuse and following an investigation, Henao has been cleared of all suspicion. Henao is now competing in the Critérium du Dauphiné that runs from June 5-12.
The lead over the Dutchman is growing… One minute… Two minutes! Now the final climb of the day is ahead and Kruijswijk is still lagging behind. He bows his head and he looks at his gears. But nothing is wrong with his bicycle – it's his legs which are no longer doing what he wants. Over 12km of climbing remains and the possibility of claiming la maglia rosa looms closer and closer for Chaves. He works together with the Italian rider to put distance between them and the Dutch leader in the general classification – and it works. Nibali and Chavito continue climbing. The difference is now three minutes. With four kilometres to go, Chaves is virtually wearing the pink jersey.
The escarabajo from Bogotá has already shown that he can climb with the best of them. In this, the 99th edition of the Giro d'Italia, he took stage 16, the Queen Stage. His characteristic big smile is becoming well known. In fact, it's not only his smile that's becoming well known: Chaves – who runs a cycling school with his father in Bogotá – has shown he's not afraid to express himself when he feels an injustice has been done.
Minutes after the tough stage win he commented sarcastically: "Warm greetings to the Mayor of Bogotá, who unfortunately didn't let the Vuelta a Colombia pass through Bogotá. And unfortunately the capital doesn't have a cycling team. So my greetings to the Mayor."
Back in the race, is Nibali standing on his pedals, trying to get away from Chaves. The escarabajo stands strong initially and stays in the slipstream of the Italian rider, but the next attack is too much. All that's left for Chaves is to keep the gap manageable, and he stays around 100 metres behind the stage leader. The maglia rosa is close.
Chaves finishes 53 seconds behind Nibali, and when he sees Kruijswijk cross the line four minutes and one second later, he shows his characteristic big smile and he knows. He has earned the much coveted pink jersey!
The 1.64 metre tall Colombian showed sportsmanship when commenting on the Kruijswijk crash, "Their team showed today they would fight for the maglia rosa, but unfortunately he crashed. Sorry, mate. I was behind Nibali and he descends very fast."
Overall victory slipped from his grasp as Vincenzo Nibali and his team proved to be too strong for Chaves in the final mountain race. Chavito climbs onto the final podium in second place and proves once again that Nairo Quintana is not the only ace in the pack for Colombian cycling.
---
By Freek Huigen