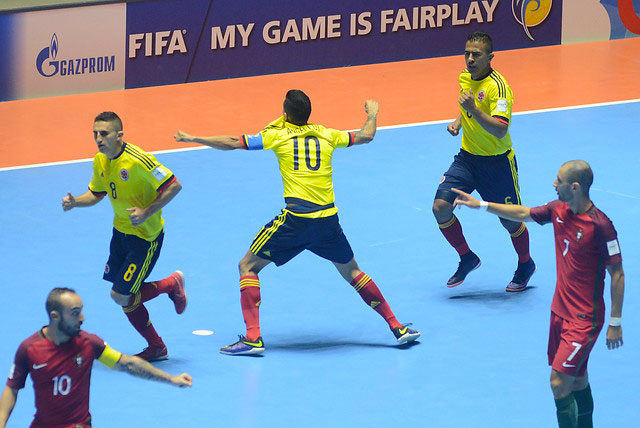 While James Rodríguez and colleagues have just gone back to their clubs after the World Cup qualifiers, the biggest tournament in the world of futsal is being held in Colombia.
---
Falcão (not that one), Ricardinho and Angellot Caro might not be familiar to everyone, but the leading names in indoor football – or futsal – are in Colombia right now for the FIFA Futsal World Cup. The tournament kicked off on September 10 and will conclude in Cali on October 1. 
Colombia is a three-time world champion in indoor football, but their titles were all won in the World Championship organised by the rival body, AMF. In the bigger Futsal World Cup, organised by FIFA, which follows slightly different rules, Colombia can look upon a fourth place finish in 2012 as its best result.
This year Colombia hosts the 24-team tournament for the first time, with games taking place at the Coliseo el Pueblo in Cali, Coliseo Bicentenario in Bucaramanga and Coliseo Iván de Bedout in Medellín. The hosts were drawn in Group A along with Portugal, Uzbekistan and Panama. The six group winners, runners up and four best third-place finishers will qualify for the round of 16.
Colombia, under the stewardship of manager Arney Fonnegra, are an outside bet for a place on the podium. The seven editions that have been held so far have seen five titles for Brazil and two for Spain, and the football powerhouses are again the favourites for the World Cup trophy. Brazil boasts the presence of the best player in futsal history, Alessandro Rosa Vieira, better known as Falcão. At 39 years of age, the namesake of el tigre is at the end of his career but is seeking to add another title to his already bulging trophy chest.
Colombia will play their group games in Cali and, if they win the group, they will stay in the salsa capital of Colombia. Captain Angellot Caro sees the home advantage as an opportunity, "Since we arrived at the airport in Cali the reception from the people has been great. They received us with a lot of affection, we are very happy and expect to give that back to the people on the pitch".
Go to the website for the full schedule of the FIFA Futsal World Cup and to get tickets for the games.
---
By Freek Huigen