1.5/5 stars

---
Juan Camilo Pinzón is a Colombian director better known for making commercially successful – albeit critically panned – comedy films such as El Coco (2016) and El Paseo 4 (2016). His latest film, Los Ajenos Futbol Club, is no exception. Cheap humour and bland characters abound.

The story revolves around three elderly men, Facundo (Daniel Lugo), Arcadio (Alberto Barrero) and Lucio (Luis Tamayo), who have to pay off a gigantic debt left to them by their closest friend when he unexpectedly passes away.

When Martina (Zharick León), the daughter of the departed, comes back to claim her inheritance, she finds an old and ruined shipyard that resembles the three old friends that live in it. She enrolls her father's friends in a soccer championship in the hope of using the prize money to settle the shipyard's debts.

There are many things that don't work in this movie. For starters, it tries too hard to be funny. The humour is extremely vulgar, you could even call it misogynistic, the jokes rely too much on sexual innuendo and the objectification of women. Even when the jokes that do work and make you chuckle get overused until they lose their charm.

The acting isn't remarkable either. Not that the actors had a lot to play with – the characters are pretty bland and two-dimensional. None of the actors bring charisma to the movie, none of them provide memorable lines or moving performances.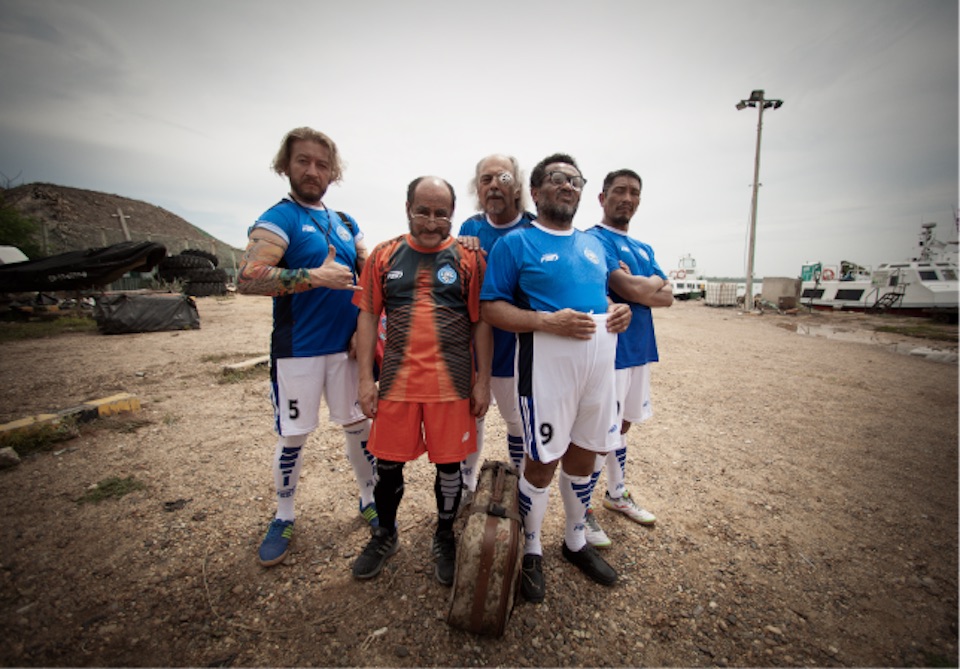 Zharick Leon's acting skills are not put to test. She remains impassive for most of the film and even when the script requires her to cry or smile, she keeps it to a minimum. All of this is magnified by the poor jokes, making it quite difficult for the audience to relate to any of the characters.

It's hard to call this movie a cinematographic work, for there is an incredible lack of film language. Dialogue is the main storytelling engine and the movie does not allow the images to speak for themselves. Everything is explicit, whether through the narrator or conversations, the audience does not have the chance to think for themselves or connect the dots.

The tension is practically non-existent. The whole movie is composed of situations or sketches rather than connected scenes, and there is also an awful twist by the end when the movie turns into a poorly executed crime comedy for a couple of minutes.

There are two themes that Los Ajenos Fútbol Club tries to manage: family and soccer. It wants us to believe that these three men and Martina can become a united family, but the bonding is shown through words not actions.

Related: Colombian film reviews
The other theme, soccer, which one would expect to play a major part in the main plot, is relegated to three simple montages, the first shown 45 minutes into the film. Thanks to the idle screenwriting, these soccer matches are insipid and boring. Contrary to what the movie insists upon, there is no real stake at play.

Los Ajenos is a failed attempt to create a fine comedy with memorable characters and an interesting plot. The movie tries to hide the lack of film language with some pretty pictures that, if taken aside, could be mistaken for frames of a music video or postcards.

Los Ajenos Fútbol Club opens n theatres on February 21