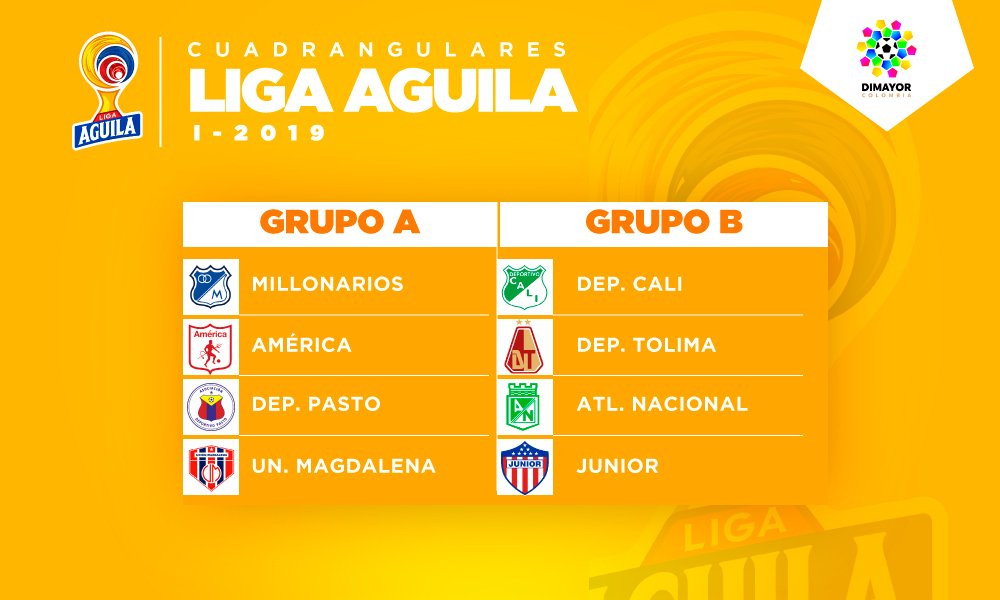 The Liga Águila has reached the final stages of the season, with eight teams left in play.
---
The league is down to eight contenders disputing the title and this season the Colombian league moved back to the cuadrangulares system, which they'd previously abandoned in 2015 in favour of a playoff system. It means there are two groups of four teams, from which the winners go to the final for the 2019 Apertura title.
The final round saw newly-promoted Union Magdalena qualify for the top eight in dramatic fashion, with a win over Once Caldas. Union stormed into the finals from a position of rank outsiders, winning all three of their final matches. They rely heavily on goalkeeper Cesar Giraldo and one of the biggest goal scoring talents in the Colombian league, Ricardo Márquez. Former Colombian national team midfielder Abel Aguilar brings experience to the midfield.
In their group, Union Magdalena will take on Millonarios, who walked this season with Jorge Luis Pinto in charge and Venezuelan star goalkeeper Wuilker Fariñez in goal. It is yet to be confirmed whether Millonarios can keep their goalie until the end of the season, as the Copa América deadline for players is before the league finishes and Fariñez will be a key player in the Venezuelan squad as well. This could be a problem for several teams as Deportivo Cali, Deportes Tolima, América de Cali, Junior de Barranquilla and Atlético Nacional all have candidates.
Another member of Group A are Deportivo Pasto, who had a remarkable comeback after a poor start to the season. Their solid defence managed to stop the best strikers – Pasto was one of three teams that Medellín striker German Cano failed to score against in his 21 goal season. They also managed to keep out Deportivo Cali striker Dinenno, second on the top goalscorer list. Due to renovations on their stadium, Pasto play their home games in Ipiales which, situated at 2,900 metres altitude, gives them an important edge at home. América de Cali complete Group A, overcoming a form dip halfway through the season that cost manager Fernando 'El Pecoso' Castro his job.
Related: Players to watch, Liga Águila 2018
Group B looks a lot stronger on paper, but with the current form of several of their members that remains to be seen. 2018 titlists, Junior de Barranquilla and Deportes Tolima top the list of favourites for the final. Despite qualifying for the top eight, Junior got rid of manager Luis Fernando Suárez, who had allegedly lost control of the players, and reinstated Julio Avelino Comesaña to take charge of Junior for the ninth time in his career. If stars Luis Diaz and Victor Cantillo, having looked hopeless for a large part of this season, get their form back, they will be title favourites again.
Tolima has been the most consistent of the bunch. Manager Alberto Gamero has put together and rotated a strong side that was almost always in the top eight and always looked a safe bet to reach the finals, despite their tough Copa Libertadores campaign. However, Tolima face similar issues to Millonarios, as goalie Álvaro Montero, easily their most important player this season, will likely be going to the Copa América for Colombia.
Group B rivals Atlético Nacional have endured a difficult season so far, highlighted by their elimination from the Copa Libertadores before it even started. Their squad is substantially weaker than last year's, a consequence of a legal issue that prevented them from making early signings, as well as the board allowing a lower budget than usual.
Deportivo Cali looked weak at the start and inconsistent throughout. But they managed to overcome this and finish on a high, nabbing second place in the league on the last day. Relatively unknown Argentinian striker Juan Dinenno turned out to be their most important signing, with 13 goals this season.