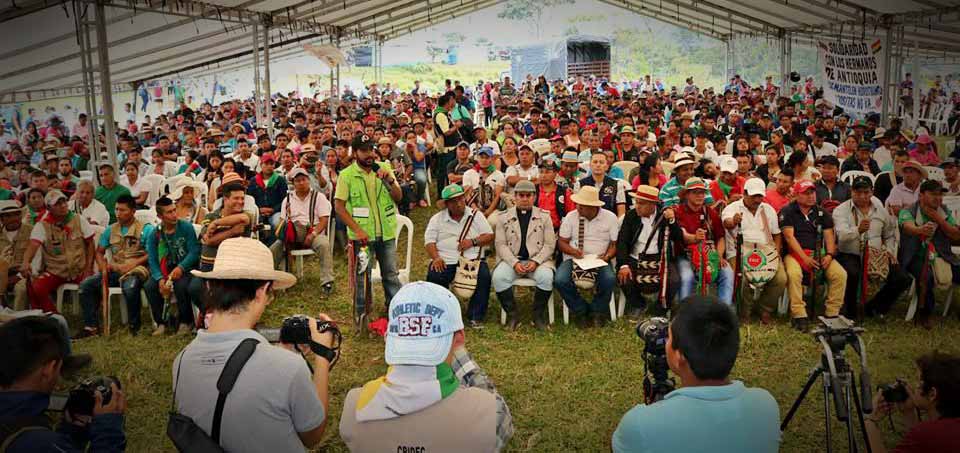 A policeman has been killed during clashes with protesters in the Cauca region as communities continue to demand a presidential visit.
A policeman died in the protests taking place in the Cauca region. 32-year-old Boris Alexander Benítez from Cartagena, was killed on March 19 during clashes between minga protesters and public forces on the Pan-American highway. Several others were injured.

President Ivan Duque has promised that the incident will not go unpunished, and urged the organisers of the process to reject such acts of violence.
The protest began on March 12, and has blocked the Pan-American highway in five places. Over 15,000 protesters from the predominantly campesino, black, and indigenous communities of the region, are involved in keeping the road closed.
An open letter published on March 19 in support of the Social Minga of the South West – which had over 1,000 signatures, including those from over 400 human rights organisations and at least 900 civilians – stated that the protesters were demonstrating "for life, territory, democracy, and peace in the region and the country."
The letter went on to note that the region is suffering under "conditions of injustice and militarisation," as well as a high number of assassinations of social leaders in the southwest of Colombia. It goes on to deny that the Minga has any part in "manipulations alien to the express interests of the people" in the area – but rather develops "autonomously within the communities"– and to protest the use of this to stigmatise it and "justify a violent reaction against it" and the protesters.
The protesters have also published a video – which mimics a scene from The Simpsons – calling for to the President visit the region in response to their demands.
Related: Dam continues to wreak havoc on Cauca river
The impact of the protests has not only been human. The closing of the Pan-American Highway, as the key transport link between the southwest with the centre of Colombia, has already caused economic losses and supply shortages, as lorries carrying goods such as food and fuel are kept off the roads and food producers join the strikes.
Protesters currently show little sign of relenting until their demands are heeded, the difficulties look set to continue for the present.