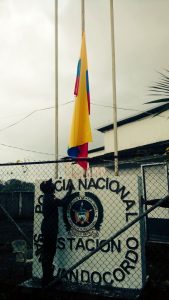 Seven policemen were killed in northern Colombia at the weekend in three terrorist attacks which have since been attributed to Colombia's last major rebel group.
Just two weeks before South America's second largest carnival kicks off in the port city of Barranquilla, a bomb went off at a police station on Saturday morning – killing five officers and injuring another 40.
Later that evening, another two officers were killed in the Bolivar province in a bomb blast. A third attack in nearby Soledad took place in the early hours of Sunday, which injured a further five police officers and one civilian.
The attacks have since been attributed to the National Liberation Army – or ELN – who have been engaged in turbulent talks with the government for over a year.
Defence Minister Luis Carlos Villegas confirmed it was the ELN by speaking to RCN radio and writing on Twitter.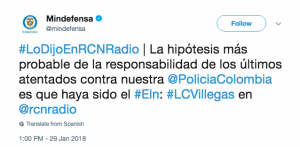 "The most likely hypothesis of the responsibility for the recent attacks on our #PoliciaColombia is that it was the #Eln," he wrote.
Furthermore, on the website of the National Urban War Front of the ELN, the group claimed responsibility.
The government on Monday again suspended peace talks with the rebels following the latest spate of attacks.
President Juan Manuel Santos announced that talks would be halted in a live address near to Bogotá – saying that his "patience and the patience of the Colombian people have their limits".
"Therefore I have taken the decision to suspend the installation of the fifth cycle of talks that was scheduled for the next few days, until you see consistency on the part of the ELN between their words and their actions," he added.
A 31-year-old man thought to be behind the attack on the Barranquilla police station has since been arrested, reports El Heraldo.
The ELN and the government agreed to their first-ever ceasefire last October.
But hours after it expired, the group launched attacks on oil infrastructure, kidnapped a worker and shot dead a soldier.
The ELN is Colombia's last prominent rebel group. Formed in 1964 by intellectuals inspired by the Cuban revolution and Marxist ideology, the group has been involved in kidnappings and the drug trade.
Colombia's government had been negotiating with the group in Ecuador's capital of Quito. Meetings had been suspended following the group's new offensive but the country's chief negotiator is set to return to the city to resume talks.