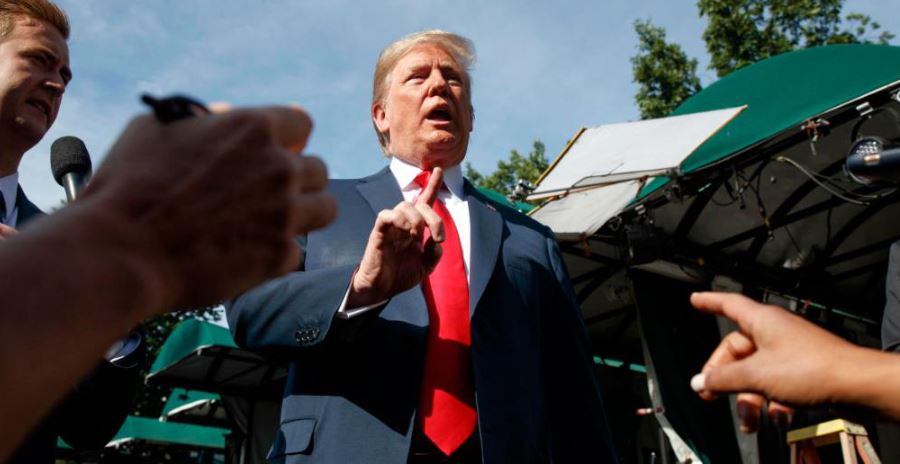 The harsh realities of President Donald Trump's hard-line immigration policy at the southern US border have recently been thrust into the international spotlight, after a recording published by American not-for-profit investigative journalism outlet ProPublica this week.
The audio, which has now been circulated all over the internet, exposes desperate sobs coming from Central American children who have been separated from their parents by immigration authorities at the US border.
"Papi, papi," screamed one boy, between tears. Only to be attended by a security guard, who sarcastically responded, "well, we have an orchestra here."
The harrowing audio tape's release comes after footage was recently divulged by US customs and border protection showing children in what look to be cage-like structures, as part of the temporary shelter offered to minors who have been forcibly separated from their parents.
Video released by US Customs and Border Protection from inside a Texas immigration facility shows children and adults held in cages pic.twitter.com/mViEQBmcnh

— BuzzFeed News (@BuzzFeedNews) June 18, 2018
Just today, it was reported that President Trump has signed an executive order to "keep families together," with the zero-tolerance policy that detains families who arrive illegally to the US border remaining in place. What he did not specify, however, was how long the families would be kept together for.
Allegedly swayed by pressure from his wife, First Lady Melania Trump, and daughter Ivanka, the US President claimed he changed his mind because he "did not like the sight of families being separated."
Original legislation meant that, in the instance a family is arrested attempting to enter the country, some children who have made the often dangerous journey to the States with their parents were not legally allowed to remain with their parents under arrest.
According to US legislation, there were three main legal grounds upon which to justify their separation. Most importantly, the US State legally had the right to separate children from their parents if there was no documentation to confirm their relationship: almost a given in the majority of illegal migrant cases. Border officials also had the right to separate adult and child if there was any suspicion of human trafficking or human smuggling.
In a press conference that took place yesterday, 19th June, President Trump put the critical situation down to "loopholes in federal law, which mean that families who arrive illegally to the US southern border may not be detained together. These are crippling loopholes which cause family separation, which we don't want," he added, blaming the problem on the Democrats.
I want to take a moment to address the current illegal immigration crisis on the Southern Border…it has been going on for many, many decades… pic.twitter.com/1F7EK9Ef88

— Donald J. Trump (@realDonaldTrump) June 19, 2018
Illegal immigration into the US is currently at an all-time high. Addressing journalists this Monday 18th June at the White House, Kirstjen Nielsen, the US secretary of Homeland Security, explained how each of the last three months have seen a 50,000 person increase in illegal entries. This, along with a 325% increase in unaccompanied children and 435% increase in families since this time last year, has meant a 1,700% increase in asylum claims.
"This administration did not create a policy of separating families at the border. We have a statutory responsibility that we take seriously to protect alien children from human smuggling, trafficking and other criminal actions while enforcing our immigration laws," she said.
In order to address the problem, Nielsen suggested three legal changes that must be implemented. Firstly, the 2008 Trafficking Victims Prevention Reauthorization Act must be amended, she claimed, so that families are not encouraged to place children in the care of smugglers who claim they will ensure their entry into the US. She also emphasised the need to amend the US asylum system in order to be able to help those who most need it. Thirdly, she stated, the Flores Settlement Agreement must be altered and more funding must be provided by Congress so that families can be kept together for sufficient periods of time.
Yesterday, 19th June, UNICEF denounced President Trump's policy, outlining that it implied traumatic experiences for children, making them more vulnerable to exploitation and abuses.
"Complying with migration laws and protecting children's rights is not a strategy that benefits everyone," the agency's spokesperson, Christophe Boulierac, stated, insisting that the United States prioritise the well-being of minors.
US policy is particularly relevant for Colombia at the moment, whose new President-elect Iván Duque is looking to strengthen commercial ties with the US, in line with his plans to boost foreign investment.
Duque himself has a personal relationship with the States, having received higher education in Washington and lived over 10 years of his professional career there, working at the Inter-American Development Bank.
"The United States congratulates Iván Duque for his election as Colombia's new President," stated US spokeswoman Heather Nuaert, following Duque's victory in this Sunday's vote. "We send our regards to the country for its strong democracy and we reaffirm our admiration for its people and institutions," she added.
As part of his campaign, Duque even took a trip to Washington in March this year to rally support, which is also a stronghold for Colombian voters. In fact, there are 62 polling stations spread across the US.
As President, Duque plans to preserve the US bipartisan support that Colombia has counted on over the last decades, as well as ridding the Colombia-US agenda of drug trafficking discussions completely.
Thus far, the newly elected President is yet to comment on the recent controversy surrounding Trump's immigration policy. According to the Migration Policy Institute, up to 130,000 Colombians are undocumented migrants in the US, mainly concentrated in the states of Florida and New York.
For now, however, it remains uncertain as to whether the recent scandal will have any affect on US-Colombia relations. It is indeed down to the US government to ensure that their immigration legislation is humanitarian. In the words of Homeland Security Secretary, "Congress and the courts created this problem and congress alone can fix it."