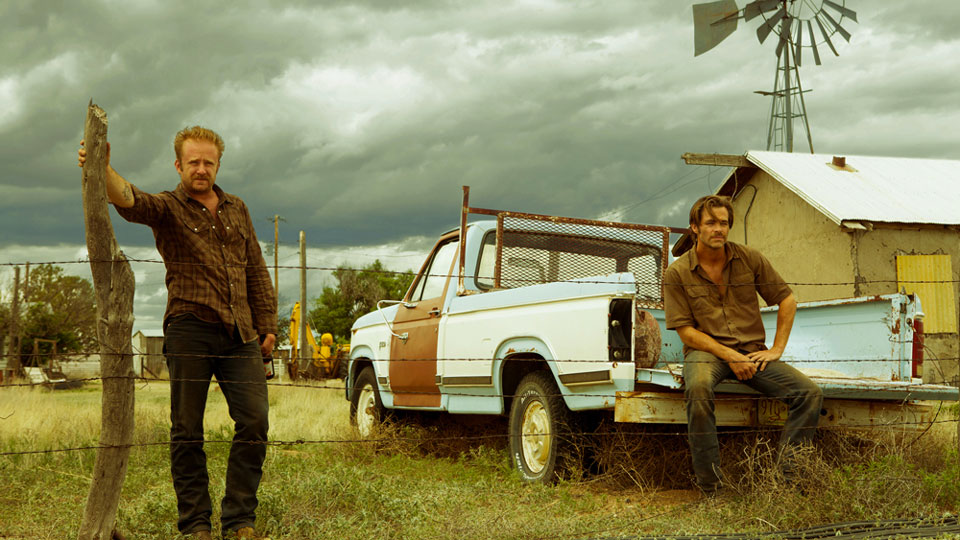 Hell or High Water, the story of a brother's incredible plan to save the family ranch in true western style.
---
There is something hatefully likeable about the redneck, that loudmouth ignorant that is both stupid and funny, who either gets to play the laughable sidekick or scary inbred loner. Simply put, the dear child has many names. For a long time their movie spotlight has been reduced to the clown corner with the company of so many other freaks and misfits. Director David Mackenzie's Hell or High Water is not only the comeback that this movie character has been waiting for, but a well-timed torch thrown into the social debate that the US is in such dire need of right now.
In Hell or High Water actor Chris Pine has changed his space suit for the more white-trash wife-beater as he assumes the role of a divorced and disillusioned father in the dying parts of rural Texas. Together with his ex-con brother, played by Ben Foster, they duel with fate and law enforcement as they embark on a bank robbing spree to save their family.
Hell or High Water is not only an underdog that managed to grab four quite heavy Oscar nominations this year, but also somewhat of a filmic chameleon. What initially seems to be a one of many bank robber movies soon turns out to be something else completely.
Devilishly well acted, with Jeff Bridges proving that he not only deserves a golden statue nomination, but also to win it, this performance is combined with an impressive script that will literally make you feel the desert grit. Hell or High Water really shows that you don't need much more than raw talent to make a great piece of cinema. And let's not forget to mention the soundtrack by Nick Cave and Warren Ellis that adds to the perfect hope-killing atmosphere.
This is the story about a group of people who are often stigmatised, ridiculed and also blamed for many of the ills of their society. Despite the fantastic Hollywood twist, the basis of this story is about the suffering that affects too many people, no matter their skin colour, religion or background. As we all know, in a country where money talks and injustice is blind, Hell or High Water is something rare: an action thriller that will not only keep you on the edge of your seat but also make you feel and think.
4/5 stars
---
By Daniel Ogalde