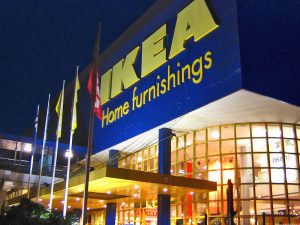 Swedish furniture retail giant IKEA has announced for a new push into South America which will include the opening of a store in Colombia. The company, popular for its low-cost flat-packing and self-assembly furniture, will be entering into an agreement with Latin American retail chain Falabella where nine stores are expected to open over the next decade, including one in Bogotá.
Falabella currently has 25 stores in Colombia, with 11 of those in Bogotá alone. According to a press release by Falabella in Chile, the first store will be opened in Santiago and the deal will involve an investment of around $600 million when inked.
The deal also stands to ensure the lion's share of the homeware retail market as Falabella also owns a majority stake in the Chilean chain (Sodimac) Homecenter; which is the current equivalent of Ikea in Colombia and has 38 stores.
"Ikea will complement the current offer of products and services of our home improvement subsidiary Sodimac." Falabella CEO Sandro Solari said in the statement. "As has happened in other countries, we want IKEA to become one of the favourite brands of Chileans, Peruvians and Colombians,"
Meanwhile, CEO Torbjorn Loof of the Inter Ikea Group stated that "[t]ogether we will work to make Ikea a beloved and meaningful brand for the people of Chile, Colombia and Peru."
And although the deal between IKEA and Falabella is very close to materialising, customers in Bogotá hoping to get their hands on affordable Scandanavian-designed furniture will have to wait just a little longer as the first store in Santiago de Chile will only open its doors in 2020. The flagship store will likely be arriving in the Colombian capital only after IKEA has opened stores in Chile and Peru. The expansion into South America will be in addition to their current presence in Brazil, Argentina, Uruguay and Mexico.
Founded by Ingvar Kamprad in 1943, Ikea has grown to be a multi-billion dollar behemoth that made its founder one of the richest men in the world. Having died in January of this year at the age of 93, his empire now seeks to expand further into Latin America, adding to its 418 stores worldwide across 49 countries. Last year their retail sales amounted to more than 38 billion euros ($44.7 billion) and amounted a staggering 12.5 billion euros ($14.7 billion) in profit.