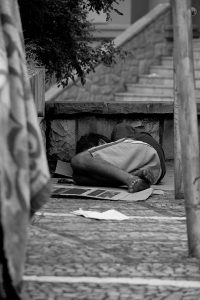 New research has revealed that one homeless person is killed every day in Colombia.
The study–conducted by Colombian NGO Temblores using data from the National Forensic Institute, the national police and the state attorney's office–concluded that 4,176 homeless people in Colombia have been killed and 11,031 injured in violent assaults over the last 10 years.
Street dwellers in Bogotá, Antioquia and Valle del Cauca have suffered the most. In Bogotá alone, national police records show that 1,175 of the city's 9,538 registered homeless people were murdered between 2007 and 2017 – a rate of 123 homicides per 1000 homeless people.
In contrast, the National Forensic Institute reports just 658 homicides in Bogotá over the same time span, but a far higher amount of physical violence – 7,868 incidents as opposed to 988 reported by the national police. The significant variance may well be explained by a reluctance from the homeless to report physical violence, especially in cases where that is committed by the police.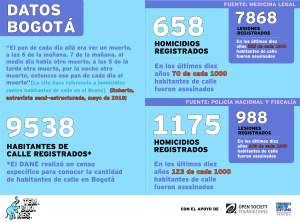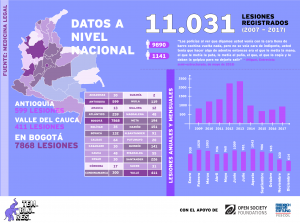 At the national level, the majority of homicides across Colombia were committed with firearms. This fact suggests that the perpetrators of violence are more likely to be members of criminal groups – with access to firearms – as opposed to other homeless people. Indeed, homeless people claim that criminal groups distribute threatening pamphlets, telling them to get out of a particular district or be killed.
Organisations working to protect the homeless – such as the Red de Trabajo Habitabilidad en Calle – also point to numerous disappearances, unexplained murders and bodies found in canals as worrying indicators of the ongoing precariousness of homeless life in Bogotá and elsewhere. According to Temblores, an increase in the street price of drugs – in particular crack cocaine – may also lead homeless people to engage in criminal activities to earn the money required for purchasing narcotics, thus pushing them into potentially violent situations.
Yet despite the high levels of violence, in recent years murders of homeless people have decreased in Bogotá – from 57 in 2015, to 26 in 2016 and 17 in 2017. So far in 2018, 14 homeless people have been killed in the capital. In light of the overall reduction in homicides, departmental authorities have no plans to adopt special measures for tackling the issue.
However, homicide rates are just one indicator of violence, and a reduction in killings does not necessarily translate to an improved security situation for the homeless. Without a holistic approach to improving security for the homeless, in Bogotá and elsewhere, the daily struggle for security is unlikely to get any easier for the numerous people living on Colombia's streets.