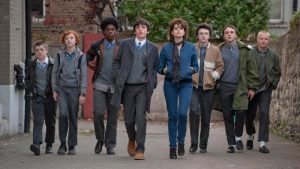 With the capital's inclusive independent film festival, IndieBo, set to get underway Milagros Oliveros explores what is on offer
---
From July 14 to 24, Bogotá will be awash with independent cinema, as the second version of the IndieBo festival takes to the city's streets, parks and movie theatres.
IndieBo puts the public at the heart of the festival's vision. Founded by Paola Turbay, Alejandro Estrada and Juan Carvajal, it aims to bring culture to various spaces across the city, hoping to reach audiences that might not otherwise have access to such films, showcasing narratives that are normally not found in conventional, commercial cinemas. Not only artistic, but democratic too.
The festival's desire to open up new worlds and captivate different audiences will see more than 100 films from over 35 countries take to cinemas and parks all over the city. In addition, free workshops and classes will be part of the academic IndieTalks program, while Cine Bus – a 500-capacity movie theatre – will project films in unconventional venues across the city every day.
The numerous movies, documentaries and short films seek to raise awareness about diverse issues and the festival hopes that by connecting regular people with the culture of the silver screen it can create new perspectives of the world around us.
This year's offering includes films that have participated in prestigious festivals from Sundance to Cannes and even SXSW. The official selection of IndieBo is divided into several categories that promise to take viewers on a journey across the universe of independent cinema. Encuentros displays language as a form of identification, with Spain, Venezuela, México, Brazil, Argentina, Perú and the United States represented in this collection of Hispanic stories. This category includes Viva, set in the slums of Havana, as well as a wonderful portrait of the Peruvian Amazon in Icaros a Visión.
Medianoche provides the opportunity for viewers to witness true terror beyond the stereotypes of the conventional film industry, presenting stories about human beings who can be scarier than any monster. The category Mundo is an exhibition of universal stories and diverse cultures represented through the universal language of cinema, including films from Denmark, Poland, Czech Republic, Estonia, Romania, Luxemburg, Ethiopia, Iceland and Belgium. These displays will be complemented by Ventanas Abiertas, IndieKids, En Foco, Lente Lateral, Colombia and Retrospectiva.
This initiative really does have everyone in mind, with films for all ages and tastes set to take the city by storm, offering new worlds and different perspectives to anyone and everyone who wants to enjoy the best of national and international independent cinema.
For full programme information, visit the IndieBo website
---
By Milagros Oliveros