The reappearance of the FARC EMC guerrilla leader, armed to the teeth, spooks the Colombian peace process.
Call it an Easter surprise: shortly after Colombia's holiest week, semana santa, a top FARC dissident guerrilla appears before a huge crowd of followers in rural Caquetá to talk peace on behalf of the country's second largest armed group.
Nestor Gregorio Vera Fernández, better known as Iván Mordisco, represents the Estado Mayor Central (EMC) which oversees 3,400 dissident fighters of the FARC-EP divided in 23 fronts over half of Colombia.
The catch is that Mordisco was supposed to be dead, as announced with great fanfare by former president Iván Duque in July last year.
The Frente 1 leader – who had led nearly 400 guerrilla fighters back to the bush after rejecting a peace agreement in 2016 – was "brought down in a firefight with army special forces".
Except he wasn't. And nine months later Mordisco´s resurrection is a poke in the eye for both past and present political establishments.
First up in the embarrassment stakes is President Petro, who since January has maintained a shaky ceasefire between numerous armed groups and state forces as a prelude to his ambitious Total Peace plan.
Appearances matter
This ceasefire created conditions for the Caquetá gathering, but not as Petro planned: Mordisco was supposed to appear unarmed and in civilian clothes to mingle with government commissioners and foreign ambassadors, all the better to underline an end to conflict.
FARC flipped the script: Mordisco's Estado Mayor Central went full fariana with military regalia, insignia, banners, salutes, and revolutionary hymns against a backdrop of flag-waving campesinos and indigenous guards shipped in from all over Colombia. To save face, Petro's team stayed away.
And Mordisco clearly didn't get the "no guns" memo. Escorted by an armed squadron of uniformed bodyguards, he personally sported a modern Tar-21 assault rifle with a telescopic night-sight, leading many to draw parallels with the failed negotiations at the turn of the century.
This choice of gun caused quite a ripple in Colombian commentators more used to the rusty AK-47s shouldered by the old FARC. Mordisco's US$2,000 deadly Israeli adornment seemed somehow to clash with his anti-capitalist invective and proposals for peace.
"We are ready to start talks…with the hope that these lead to elements that contribute to overcome the conditions that have created the armed conflict," Mordisco announced to the crowd.
Which begs the question: why didn't Mordisco lay down arms in 2016?
Mordisco was the original hold-out against the historic peace process between former president Juan Manuel Santos – he won a Nobel peace prize for his efforts – and the FARC-EP guerrilla group, or the Fuerzas Armadas Revolucionarios de Colombia – Ejercito del Pueblo to give them their full name.
Mordisco and fellow FARC commander Gentil Duarte distrusted Santos's peace partly because of state trickery during previous peace cycles, such as the extermination of the FARC-sponsored Union Patriotica party in the 1980s.
But their act of dissidence also triggered a self-fulfilling tragedy as the renegade FARC units fed public doubt in the peace process. Santos's accord was publicly rejected by a small majority in a national referendum in October, 2016.
This in turn emboldened his presidential successor, Iván Duque, to unpick the agreements leading to a security crisis for majority of the FARC who had demobilised: in the six years since more than 350 former fighters have been assassinated, and many aspects of the 2016 Peace Agreement are still unfulfilled.
To further undermine the former peace process, the FARC EMC declared in Caquetá last week that they were not dissidents at all because "the peace process never existed", as a young commander Andrey Avendaño told gathered journalists.
This statement caused some indignation among seasoned conflict commentators: if the FARC are themselves declaring the last plan a hoax, why should anyone back a new one?
And to add fuel to the fire, Avandaño claimed that, yes, he personally had signed the Santos Peace Agreement "as an opportunity to get out of jail" in 2018. He then went back to the fight.
Who should benefit from peace?
This highlights a legal and moral wrangle which shadows Petro's Total Peace plan: can former demobilised fighters who re-joined armed groups be given a second bite of the apple?
Perhaps it is this dilemma that leads the FARC EMC to emphasise its "true FARC" title – and to show up to peace talks suited, booted and heavily armed – and simultaneously to rubbish the previous Peace Agreement.
The last is a low blow to their former comrades who did demobilise. And it's often the same dissident FARC fighters who are killing their demobilised former comrades.
Understandably the peaceful political projects of the former FARC – such as the Partido Comunes – have been cautious in welcoming Paz Total and any deal with the dissidents, mindful of how it might affect the precarious situation of those who sought peace in 2016
"Any agreement between the government and these organisations should not be detrimental to those already made between the FARC-EP and Colombian state," Comunes spokesman Julián Gallo told Red Noticias after the appearance of Mordisco in Caquetá.
Another issue is that the FARC EMC is failing to comply with the current ceasefire, according to Indepaz, a conflict think tank based in Bogotá.
Even while talking peace, the FARC EMC are currently entangled in a struggle for the cocaine trade with the Segunda Marquetalia, led by former FARC leader Iván Márquez, who with several high-level commanders abandoned the current peace process in 2019 and created another alternative FARC group.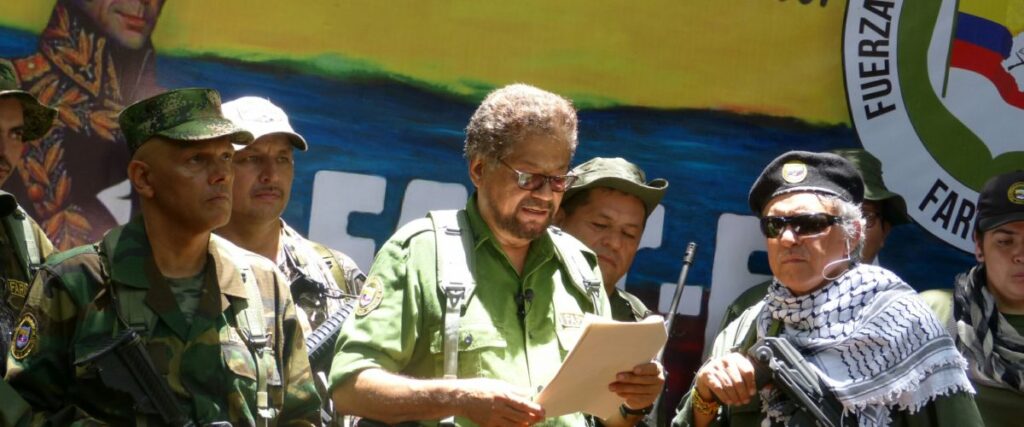 This conflict between two powerful former FARC groups has sown terror and confusion among civilian communities in the flashpoint departments of Putumayo and Nariño, not least because campesinos can't differentiate between two similar groups expounding the same ideology – and carrying banners of the same dead leaders – while being implacably opposed.
Peace sells, but who's buying?
Segunda Marquetalia is also negotiating to enter to Petro's Total Peace plan along with powerful armed groups the Ejército de Liberación Nacional (ELN) and the Autodefensas Gaitanistas de Colombia (AGC).
If it sounds complicated, well, it is. In recent history every Colombian president has laid out their peace plan as soon as entering office. But most aim to tackle just one insurgency, usually without success.
Petro's "everyone-everywhere-all-at-once" plan of Paz Total is seen as over-ambitious. Since the ceasefire announced in January – which is mostly observed just by state forces – many rural communities have seen increased conflict as irregular armed groups fight over territorial voids. ELN especially have made a point of ignoring the ceasefire.
Petro's shotgun approach may seem quixotic, but is likely an attempt to address the reality that most Colombian conflict is multifaceted. Most impact on civilians stems from combat between irregular armed groups, rather than direct insurrection with the state. There is an argument that peace can only involve everyone.
This realpolitik requires a fudge in categorising armed groups as 'ideological' or 'criminal', and some leniency towards combatants who demobilised then went back to arms. The question is how far Petro can push the political boundaries and keep public support.
Root and branch reform
Even within just one armed group there is much room for debate. The FARC, for example, is "like a big tree with a large trunk, and many branches," explained Indepaz director Camillo Gonzalez after the Caquetá event.
"The tree trunk entered into an agreement in Havana and laid down arms. Some branches didn't enter the accord, but they have the same roots," said Gonzalez, referring to the dissidence branches. The problem now is Mordisco's claim to the FARC trunk – and not the twig.
This is disingenuous since the disidencia is today mostly young recruits who never knew the old FARC, or former combatants – like Avandaño – who signed the Santos peace deal then went back to fight.
Meanwhile the FARC EMC has aggressively expanded its trafficking routes – gold and cocaine – westward to the Pacific Coast, down to Ecuador and Peru, and eastward along the Orinoco to Venezuela's Atlantic Coast where units with Colombian commanders patrol the river in speedboats and outgun the Venezuelan National Guard.
These activities suggest a transnational crime group rather than an ideological entity worthy of a political olive branch.
Even the ELN recently declared that it "does not recognize the (FARC) EMC as an autonomous and independent organization, but rather as a criminal organization".
And for many Colombians, the doubt remains that such lucrative illegal enterprises, even with a political veneer, can genuinely shut down. The risk is a scam where senior commanders see Total Peace as an early retirement scheme while the young guns step up.
Can Iván Mordisco turn this around? His unexpected appearance in Caquetá certainly made waves. But as the caravan of peace rolls on, he might want to rethink his image at the upcoming dialogue scheduled for May 16th.
And perhaps hang up his camouflage and Tor-21, and instead wear jeans and carry a notebook. That, though, would be a miracle.