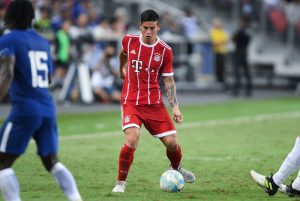 The script looked like it was written for Colombia's James Rodríguez to exact his revenge on his former club. But on the heels of a promising start in Wednesday's Champions League semifinal match between Bayern Munich and Real Madrid, the plot soured for James and his German club.
James threaded the needled to find a streaking Joshua Kimmich open on the right flank. The 28th-minute goal that gave Bayern its 1-0 lead got by Madrid keeper Keylor Navas, who had to decide whether Kimmich was going to try it himself or pass off to star striker Robert Lewandowski in front of goal. Navas chose the latter but Kimmich decided to take it himself and Bayern were rewarded mightily for it.
That ball from @jamesdrodriguez!#FCBRMA pic.twitter.com/5EJDH4L4eI

— FC Bayern US (@FCBayernUS) April 25, 2018
On top of his key assist, James did well in the first half to win challenges and dispossess Real Madrid. He created a plethora of chances on offense for Bayern despite playing deep back in the midfield.
His inspired play was negated when Real Madrid's left-winger Marcelo struck home a ricocheted ball from the top of the box to even things up right before halftime.
James and Bayern nearly got their second goal in the following moments when a gorgeous free kick from the Colombian found the head of Lewandowski. The ball, though, ended up hitting the chest of Navas who was being bombarded with shots at the end of the first half.
James responded then with a corner kick that was again nearly punched in by one of his Bayern teammates. That succession of missed opportunities would doom Bayern for the remainder of the match.
On a quick counter off a corner kick in the 56th minute, Lucas Vasquez found Marco Asensio for Real Madrid's second goal and the lead.
Coming right back, Bayern's Franck Ribery had a great chance at getting the equalizing goal but Navas made an excellent save to keep the Bundesliga boys off the board.
Maybe the best opportunity for a Bayern goal in the second period came off a short free kick in the 66th minute that bounced around in front of goal. Captain Thomas Muller whiffed on an open kick after colliding with Lewandowski and no one could put it through the posts.
Lewandowski's tough day continued in the final minutes when he missed a chip shot over Navas that should have leveled everything up heading into Spain for the second leg.
Besides the outright win, the two away goals give Real Madrid a padded advantage going back home to the Santiago Bernabeu because of the away-goal tiebreaker in Champions League. The second leg will be played next Tuesday at 1:45pm Colombian time as James and Bayern will try to claw back for a spot in the Champions League finals.