Interview with the award-winning, all-female percussionist group, that mixes traditional folk and afro-Colombian rhythms with rap and beatboxing.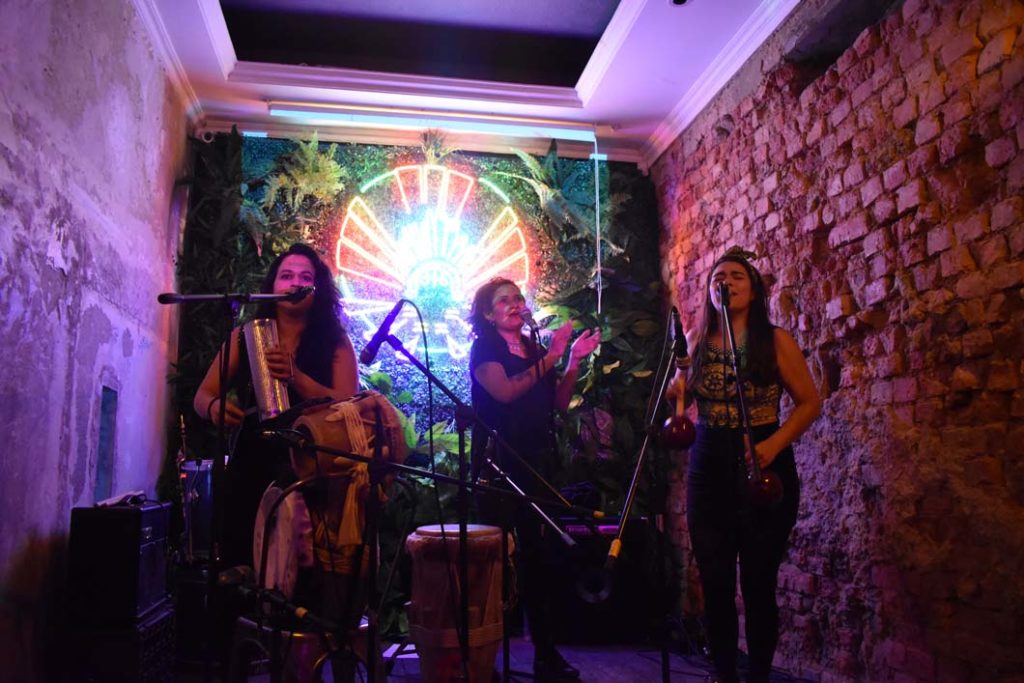 With two world tours under their belts, a hit song featured on Netflix, and being the second all-female band to win the top prize at the National Gaitas Festival, La Perla reflect on their music and success in an interview with The Bogota Post.
"People like the intensity with which we play the drums, and the energy we bring. We dare to explore, and what we are doing is very unique," gaita player of La Perla, Karen Forero, explains.
The group's hit song 'Bruja,' meaning witch, and featured in Netflix's original series, Always A Witch, captivated audiences with its fast rhythms, heavy drums, maracas, and trance-like chants mixed with rap.
"It was created to give a voice to marginalised people, and to empower those who are excluded for being different; for example women, or those who are transgender, gay, or lesbian," explains marácas and tambor alegre player, Giovanna Mogollón, one of the group's founders. "Some of these people will have been discriminated against for what they know. Witches were also condemned to die for their knowledge. The song is kind of a critique of that prejudice."
Traditionally in afro-Colombian folk music, it is the men who play the 'powerful' instruments, such as the marimba, drums and gaita (an instrument that is a cross between a bagpipe and a flute); the women are usually confined to singing and/or playing shaker instruments like the guasa – but La Perla has flipped this tradition on its head.
"Women playing the drums is important as they can then feel that they have an identity, or are inspired to do things for themselves," Mogollón explains. Indeed, female drummers and gaita players are few and far between in Colombia.
And while Mogollón understands that they are empowering women by breaking gender stereotypes, she is also clear that neither the song nor the group is solely rooted in feminism. "'Bruja' wasn't created with feminism in mind, though it has turned into an emblematic song," she says.
"We aren't trying to be part of one political ideology. Rather, our music is a tool by which to transmit important messages about the pain and difficulties that people face, despite political ideology, such as the killing of innocent human beings or forcing farmers off their land," she continued.  
Related: N. Hardem, leader of the new school
Furthermore, the band are keen for their lyrics to reflect not only what is going on in their hometown of Bogotá, but also the country's political climate. "At the very least we want our songs to carry the message that we know what's going on in society, and to connect with people in some way," lead singer, Diana Sanmiguel says. "The band is inspired by having a voice and being open about what we don't like, rejecting what we think is wrong, and supporting freedom and the things that move us."
Sanmiguel and Mogollón met when they joined the same drumming group in college. Later, in 2009, Mogollón met the third member of the group, Karen Forero, at a party. "I had never met a girl before who played the gaita in Bogotá," Mogollón told me.
The three bogotanas (or rolas, which is a term used by locals in Bogotá to describe themselves), then formed the La Perla group in 2014 in order to play at the National Gaitas Festival in Ovejas. It was at that festival that they bagged the top prize and subsequently decided to continue as a band. "We went and played at the festival, and it was fun, so we decided to continue with the band. And that was five years ago," Mogollón recounted.
Since then they have continued to be a success and have performed throughout Colombia and across the world, in places such as the United Kingdom, the United States, Europe and Latin America, bringing their signature mix of sounds and rhythms.
"We use these traditional rhythms and mix them with other sounds like the Dominican merengue, champeta, or beatbox," she adds. Despite this mixture of old and new rhythms, the band manages to never lose their bogotano sound. "While this music is inspired by the Caribbean, it is made in Bogotá," Mogollón explains. "Bogotá is an epicentre of different influences, and we want that to be clear from our music."
La Perla has recently completed a tour in Spain, and in September and October this year they will tour in France. The band also plan to release new songs later this year.