N. Hardem's latest hip hop album combines heavy-hitting beats with a tribal ambience.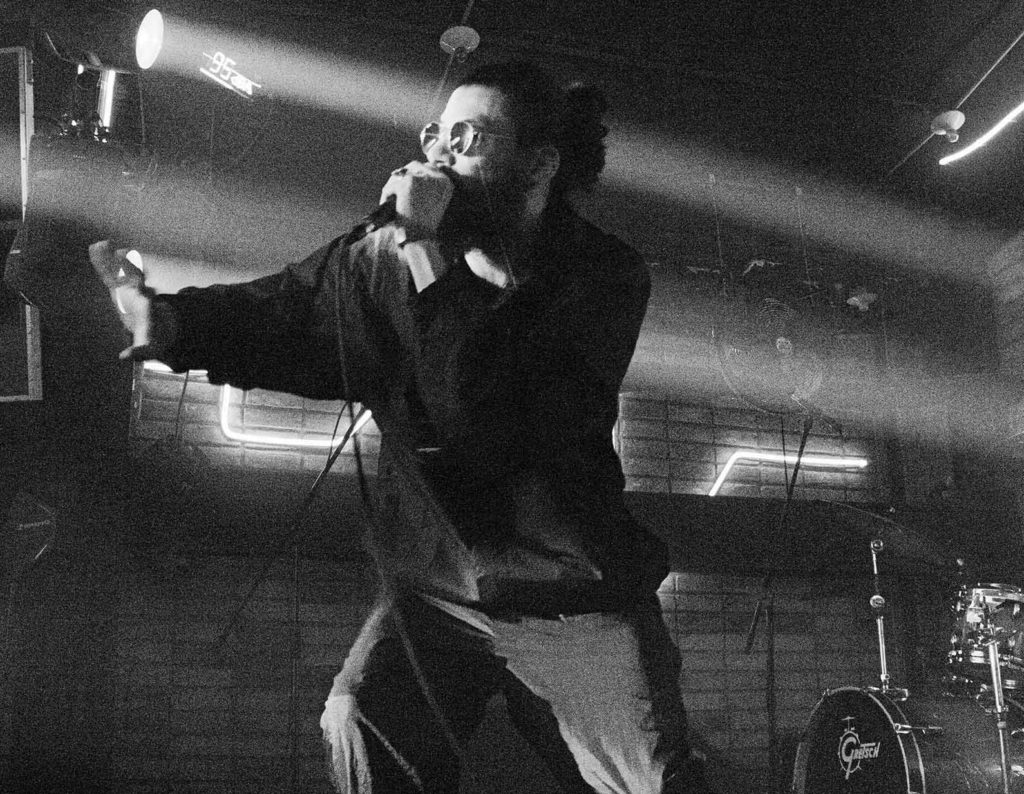 Nelson Enrique Martinez is a shy, quiet man, over six-feet in stature, rugged up with a scarf draped around his wolfish beard that flows into a bun at the back. Anyone passing him in Teusaquillo, his local barrio, could be forgiven for assuming he were just another university student, as opposed to arguably Colombia's most exciting and compelling hip-hop artist: N. Hardem. Nelson Martinez is, in fact, the latter: an artist already widely respected in the industry with five records to his name at the young age of 26. Judging by the quality of his work so far, it's little wonder he's been referred to in the press as 'your favourite rapper's favourite rapper.'
Hardem performed his latest album, Rhodesia which was released last year, on August 15 at the brand-new Ghetto Music Tank. The gig was as unconventional as the album – with little to do upstairs near the stage, the audience were mostly congregated downstairs in the venue's trademark games bar, an area designed in homage to the 80s arcade at the beginning of the Black Mirror episode, 'San Junipero'.
This led to fans having to float between the two floors, no indication being given as to when the show would actually start. Despite this, and technically being the opening act for Ha$lo Pablito, a young, bratty and aloof Trap act seemingly intended to be a YouTube sensation, the room was packed out by the time producer Las Hermanas (confusingly neither a woman, nor plural) made it onto the stage.

"Rhodesia is violence – sonic violence, lyrical violence, poetic violence. That's the concept."

N. Hardem
Judging from the immediate and rapturous recognition of the siren-like opening strains of 'Harare', it was abundantly clear who the punters had come out to see. While humble and softly-spoken in person, N. Hardem the performer cuts an imposing figure on stage, his tall and gangly frame lording over fans, eyes hidden behind large aviators, adding to his imperiousness, apt considering the overarching imperial theme of the album – colonial extractivism, inspired by Garcia Marquez's butchered 'bananeras' in 100 Years of Solitude and countless other Colombian narrators all mythologising a history of foreign powers exploiting Colombian land and people.
Anecdotally, Hardem claims the conceptual attachment to colonial Southern Africa that defines the album and gave it its name came simply "from getting into the mood of making a record." Seamlessly switching between the album and his other well-known tracks (Rhodesia's runtime of 20 minutes makes this a necessity, as he pointed out before the show), Hardem had the audience enthralled, dispersing to about half their number as he made way for the headliner after around an hour.
Embracing the unorthodox
Rhodesia is a unique album in the Colombian hip-hop canon. Equal parts atmospheric and confrontational, Las Hermana's production combines heavy-hitting boom bap beats with wailing, space-age synthesizer and futuristic, yet tribal ambience. Hardem rates the producer as "one of, if not the most original beatmakers in the whole country." The vocals come across as far more aggressive and urgent than any of Hardem's previous work. "Rhodesia is violence – sonic violence, lyrical violence, poetic violence. That's the concept." he says. He describes the departure from more conventional hip-hop as something that he "needed", and attributes a lot of the new style to his new infatuation with avant-garde and freeform jazz.
Related: From Brooklyn to Bogotá, hip-hop artist Yeshua DapoED about Colombia.
This embrace of the unconventional typifies what differentiates N. Hardem in the genre. While many of his Colombian peers grew up listening to 90s East-coast rappers, Hardem started writing reggae songs as a 12-year-old and only found his way to 90s New York hip-hop via Spanish acts from Zaragoza.
Like his flatmate Ecks (who released Hardem's first album, Cine Negro), Hardem was attracted to hip-hop through a love of painting and graffiti first. He warmly recalls his childhood in Ciudad Kennedy, growing up in a close-knit, "beautiful" community, across the road from Mundo Aventura. His family moved to the industrial neighbourhood of Puente Aranda when he was 12, which is where he started graffitiing as a teenager in the small hours of the night. The inherent connection between 'rapear y pintar' is most deeply delved into in Cine Negro (2014).
Originally released as a tape cassette with only 140 copies made, Cine Negro is a smooth, jazz-infused debut that sounds as if it could have been made in New York during the early 90s. Producer Soul A.M., a beatmaker from Medellín, intersperses slick record scratches with mellow, often mournful jazz samples, giving the record a timeless sound the likes of which Ali Shaheed Muhammad or J Dilla might have been happy to put their names to.
Cheekily doubling down on the 90s feel, whilst adding a distinctly Colombian twist, Hardem even sneaks in the greatest 90s football reference this writer's ever heard in a hip-hop song, referencing Tino Asprilla's time at possibly the most quintessentially 90s club there ever was – the ill-fated and dodgily-run Parma FC – in the second track, 'Director y Protagonista'. One of Hardem's most distinctive trademarks is also his ability to glide seamlessly in and out of English and Spanish as he raps, using each language according to the cultural needs of the phrase. The album is arguably Hardem's most cogent and tightly-produced work to date and is set for re-release on vinyl later this year through Viniloyalty, the same label that originally released the cassette.
Hardem has also dabbled in some hip-hop production himself. He produced all the beats and instrumentals on his 2015 release Tambor – a deeply personal labour of love that Ecks from Viniloyalty describes as the 'marrow' of the Hardem anthology – a 12-minute slice of the eclecticism, experimentalism and soulful beats that are essential elements of his entire body of work. He released Tambor Dos late last month, a continuation of the original project – a 'diary' dedicated to his friends, family, and daughter.
In his own words, "Aesthetically, what it communicates is simplicity – breakbeats, atmospheres, some melodies and rapping." The two Tambor releases fit neatly with his others – less commercially-geared than 2017's critically acclaimed Lo Que Me Eleva (produced by El Arkeologo from Medellín-based Alkolyrikoz), not quite as raw as Rhodesia.
Hardem has huge hopes and aspirations for this current generation of hip-hop artists, and believes Colombia is entering a defining moment in the grand scheme of the country's history. He sees his generation as breaking away from the conservatism that dominated those before them, living in fear of bombs and violence that plagued the country during the decade he grew up in, as well as those that preceded it.
"We're screaming as loudly as we can," he proclaims. If this 26-year-old's accomplishments to date are anything to go on, Colombia has a very bright future ahead of it indeed.