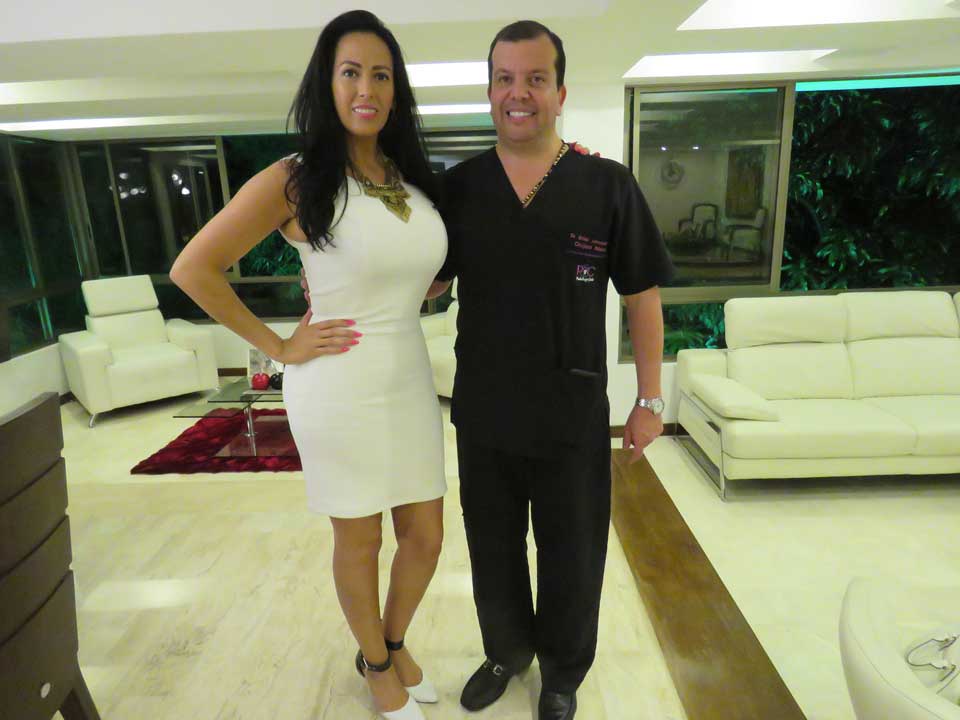 Plastic surgery in Colombia is big business. Ranked at number 11 worldwide for the total number of procedures, the country is targeting medical tourism as a possible area of further economic expansion. Experiences, both good and bad, are everywhere to be found.
---
A peachy sunset over the Caribbean was the backdrop for Diane Smith*, as she sat in a luxury apartment in the beachside neighbourhood of Bocagrande, Cartagena. However, the 30-year-old from Seattle didn't travel to Cartagena for the tropical climate or sunny beaches, she had come for plastic surgery in Colombia.
Smith was perched comfortably in her chair, with long brown hair and meticulous make-up. It would have been impossible to guess that just three days earlier she had received breast implants and a buttock augmentation. "I wouldn't have imagined feeling this way yesterday," she says. "It was very painful, but I think that the care and following the right instructions here has helped a ton."
She is just one patient in a growing number of medical tourists coming for plastic surgery in Colombia. Privatisation of healthcare, exorbitant expenses and long waiting times in more developed countries have all driven the rise in the international medical travel industry. Colombia boasts world-class hospitals and doctors, while many operations come at a fraction of the cost they would be in the USA. Treatment in plastic surgery, ophthalmology, dentistry and oncology are among the most popular.
Plastic surgery is one of the largest sectors of health tourism in Colombia. The International Society of Plastic Surgeons (ISAPS) reported that just under a fifth of plastic surgery patients in Colombia are foreigners, amounting to around 100,000 foreign patients in Colombia undergoing plastic surgeries in 2016.
Dr Carolina Restrepo, a plastic surgeon behind Premium Care Plastic Surgery (the same clinic that operated on Smith), said that over half of her international patients are from the United States. Other patients come from Canada, the Caribbean islands and other Latin American countries. "We are appealing to many kinds of people, different cultures, different cities, so it has been really amazing," she said.
Colombia boasts world-class hospitals and doctors, while many operations come at a fraction of the cost they would be in the USA.
Popular operations at Premium Care include a 'Mommy Make-Over' package deal that can include breast augmentation, liposuction or abdominoplasty, and a buttock augmentation, as visitors can have multiple surgeries done in the same trip at a reduced cost. These packages typically cost less than USD$10,000, and according to Restrepo, the same operations in North America could cost around USD$25,000. This makes plastic surgery in Colombia around 60% cheaper.
Jasmine Cristancho travelled from London to Colombia for her fourth cosmetic operation. Liposuctions, abdominoplasty and breast and buttock augmentations are among the procedures she has already received. "They have some of the best doctors here in Colombia, and it's certainly a place I would always return to," she said. The 32-year old went to a clinic called Plastic Surgery Centre in Medellín that offers similar services to Premium Care in Cartagena. "The before and after-care is really excellent," added Cristancho. "To know that the doctor is constantly there and you can count on them 100% is something that is really important to me."
Although Cristancho and Smith were both happy with their experiences, Andrea and María Gonzaléz, cousins from the United States, described their experience as a nightmare. In their Bogotá apartment, both had difficulty walking and were often doubled over in pain. Underneath their compression garments, both were black and blue with bruises.
A degree of bruising is normal following a liposuction, but this was not what the cousins expected. They said their doctor led them to believe the process would be quick and painless, without the need for compression garments or post-operative massages. They expected to be able to return to work in New Jersey after a few days. "He just lied to me," said María. "There is pain everywhere and my body is all bruised. It was horrible. I never imagined something like this."
According to Andrea, the service was horrible, the doctor that operated on her wasn't the same as the doctor she had consultations with, and the clinic didn't know anything about post-operative care. "The people were really rude. They didn't have any professional skills," she said.
The cousins' operations were not carried out in a hospital. The clinic, located in Usaquén, was a large white-walled house without any external signs. From the outside, it looked like it could be a house for a large, upper middle-class family. "The clinic was like a garage. It was like a regular house," said Andrea. "They don't even have anything to resuscitate people."
After seeing a different doctor after the procedure, both women were administered painkillers, antibiotics and antithrombotic medication. "I wish the best for him, that nobody dies on him," said Andrea of the doctor who performed the liposuction.
* Names have been changed to protect identities.
* Additional information from Kristin Eckland at www.latinamericansurgery.com
---
Note on Plastic Surgery in Colombia

Post-liposuction bruising is normal, but Gonzaléz was not warned.

Although the legal plastic surgery industry in Colombia is highly developed with excellent surgeons, many general practitioners or aestheticians without a specialisation in plastic surgery market themselves as qualified surgeons. Operations are also performed in ill-equipped, clandestine clinics. A lack of regulation in this medical practice has resulted in the disfigurement and death of patients.

Patients seeking operations are advised to exercise diligence in checking the credentials of the surgeon as well as making sure they are being operated in an approved clinic. According to Ernesto Barbosa, plastic surgeon and executive secretary for the board of directors of the SCCP (Colombian plastic surgery association), reducing the risk for complications rests on four pillars: a qualified surgeon performing the procedure, a sufficiently equipped and ministry-approved operating room, an informed patient that is physically suitable for the procedure and appropriate post-operative care.

Risks are involved with every surgery, but new visitors coming for plastic surgery in Colombia are more prone to complications such as thromboembolism – blood clots that can form from sitting still for hours. In rare cases, the clot can travel to the lungs resulting in pulmonary embolism which can be fatal. Dr Erick Almenárez, a surgeon at Plastic Surgery Centre Medellín avoids these complications by having the patient stay for at least 72 hours before the surgery. Having multiple procedures done at once can also augment the possibility of complications. Dr Restrepo does not recommend the surgery to last more than six hours, and Dr Almenárez has his patients stay in the country from around twenty days to a month depending on the patient and operations.

The SCCP is a longstanding private organisation of plastic surgeons that requires its members to have a four year specialisation in plastic surgery at a recognised institution followed by a two year probation period. Members can be found through their website. However, not all qualified plastic surgeons in Colombia are SCCP members. Qualifications of the surgeon and clinic can be checked through the Secretaría Seccional de Salud y Protección Social of each department in Colombia. Patients should also take initiative in educating themselves about the operation they'd like to undergo and the risks involved.
---