To mark the holiday season and a time when many people have time to eat out,
The Bogotá Post
has made a list of some of the top Bogotá restaurants. 
Jim Cook has picked some of his favourite places to eat. Since it's not in the Yuletide spirit to critique the restaurants, he's stuck to places that are so good they didn't need criticism.
El Fantasio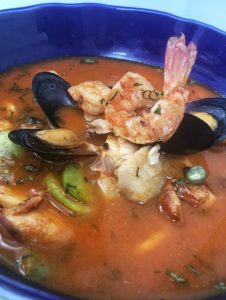 This jewel of a restaurant is located near Bogotá's Javeriana University and nestled inside what used to be a nightclub known as Latora Cuatro Brazos. Under the helm of chef Bibian Acevedo, El Fantasio serves Peruvian food made with Colombian ingredients.
Try the Ceviche Fimeneo or the Sopa Pescadores/Fisherman's Soup ($29,000), which is almost a Colombian/Peruvian style bouillabaisse, with massive chunks of seafood engulfed in a deep red sauce. While you're cherishing those flavours, sip on a Pisco Sour ($17,000) or if you are in the mood for something non-alcoholic, try the copoazú juice – made from a delicious Amazon fruit.
Carrera 8 #40B-18 / 755 78 28 / Walk-ins welcome for lunch but reservations could be necessary for dinner.
Street Bao
This typical Asian-style street food, which is a mainstay in places such as Taiwan and China, has made its way home to Bogotá. Baos are soft spongy steamed buns, filled with an array of toppings – you could say that baos in Asia are what empanadas are here. Street Bao make these steamed baos fresh every day. Try the Bao chanchito ahumado ($13,900) or the Bao chicharrón de pescado ($10,900), accompanied by their awesome, crispy french fries. Wash it down with the Chicha morada ($2,600). The Bao verde ($7,500) is a perfect dessert for those who have a sweet tooth. When I asked a friend of mine why he loves Street Bao so much (he typically goes there two or three times a week), he stated unequivocally, 'it's the fries man!'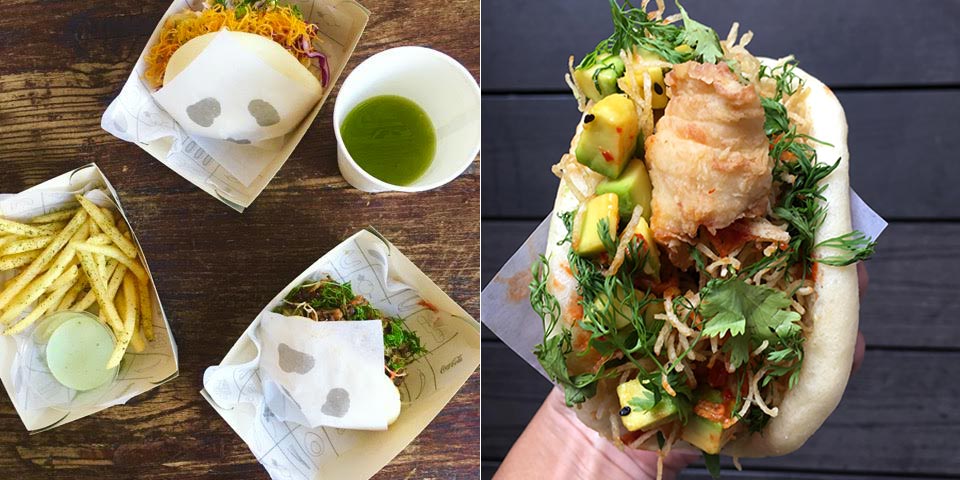 Calle 90 #11-13 / Walk-ins welcome, no reservations necessary.
Segundo
When I told a friend that I would be having dinner at Segundo, she told me that, next to that other bastion of haute cuisine, Black Bear, it could very well be the most popular restaurant in Bogotá right now. How could I resist?
Situated on Calle 85, not far from the Zona T, where restaurants and bars
huddle comfortably next to the Andino and Retiro malls, my friend's high praise was well founded. From the loft-like feel of its ceilings to the large abstract painting over the open kitchen, the decor shouts quality and the food did not disappoint.
The entree of Asparagus cooked in black squid ink ($16,000) and my main dish of Grilled Corvina / Sea Bass ($42,000) stood out. For me, the secret to truly extraordinary cooking is simplicity – and so the way that the grilled fish had been cooked and seasoned to perfection, so that it melted in your mouth, made it one of the most outstanding dishes I have eaten this year. And the mix of the tender green asparagus offset with the crunchy black squid ink was unusual yet hit exactly the right notes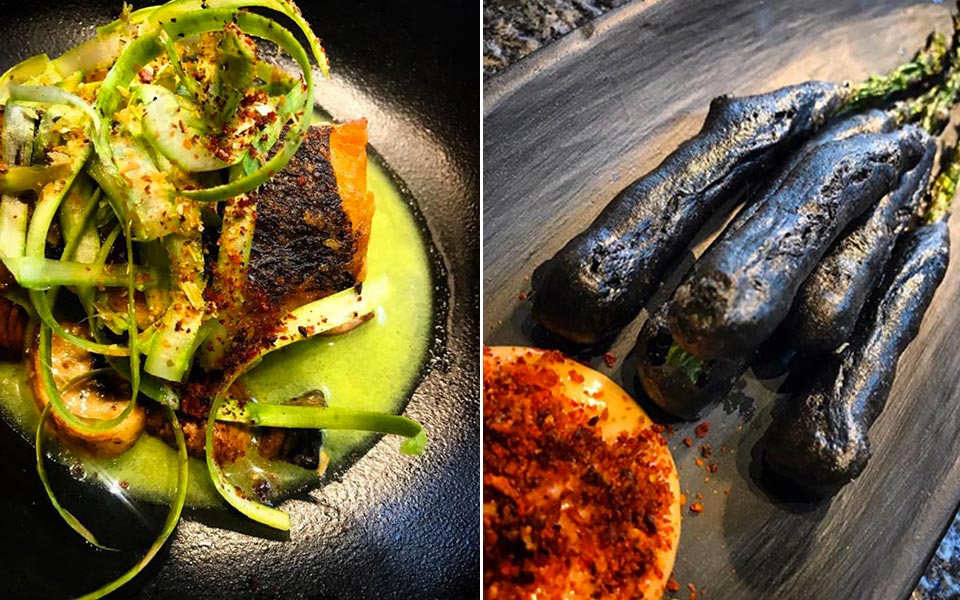 I'd also recommend the Rocinante cocktail – a concoction of Tequila Olmeca, lime, rosemary and lulo fruit. And for dessert, either the orange flavoured cheesecake or the chocolate tart would be a fine end to a divine meal.
Calle 85 # 12-90 / 644 77 66 / Reservations required.
Toshiro Robatayaki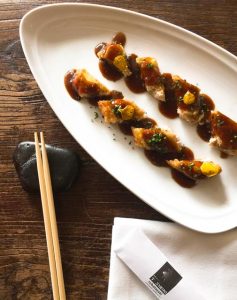 It was deathly quiet on the Friday evening I entered Toshiro, except for subtle strains of music that seemed to be coming from a radio. The restaurant was not full, but Moisey the maître d' was all smiles and courtesy. I arrived at the restaurant with high hopes, having sampled the delicacies of Nikkei, the fusion of Japanese and Peruvian cuisine, days before.
Moisey brought us a succession of dishes, beginning with the Nazu gyozas, in which thinly sliced eggplant was used to encase the pork and shrimp fillings; Nigiri aburi ($19,000) is a seared flavoured with a compound of butter made of garlic and togarashi – a mix of Japanese spices; and Maki chicharon ($11,000), which is everything the name implies.
The two most mesmerising dishes were still to come, one in the form of the Maguro tataki maki ($18,000 for five pieces). The maki was filled with asparagus, fried shrimp and tartar sauce and topped with a piece of seared fresh tuna. Then came the pièce de résistance of the evening: the Atun tataki saltado, tiny bits of bite-sized tuna swimming in a bone marrow based sauce, infused with soy sauce and chilli to give just that hint of spice. While I enjoyed that, I couldn't shake the feeling that something was missing. Tempura maybe? To help wipe that plate clean and sop up that amazing red-brown marrow sauce?
When you arrive at Toshiro, don't forget to ask your servers what might be the best accompaniment for your selected dish/es. And make sure you close out your evening with the Mochi, an ice cream type of dessert that comes in the exotic flavours of lychee, cookies and cream, matcha, passion fruit, hazelnut and sesame. Pure heaven.
Calle 90 #11-13 Local 5 / 616 98 15 / Reservations required.
---
Special Mentions:
Pan del Pueblo
The cutest little place for a pick me up or an espresso. Their banana bread is deliciously moist and not overly sweet. All the breads, cakes and puddings are homemade and the proprietress, Angela Caro, is devoted to her vocation.
Carrera 7C #125-35 (near Usaquén) / 318 391 02 63 / No reservations necessary.
Castellana 104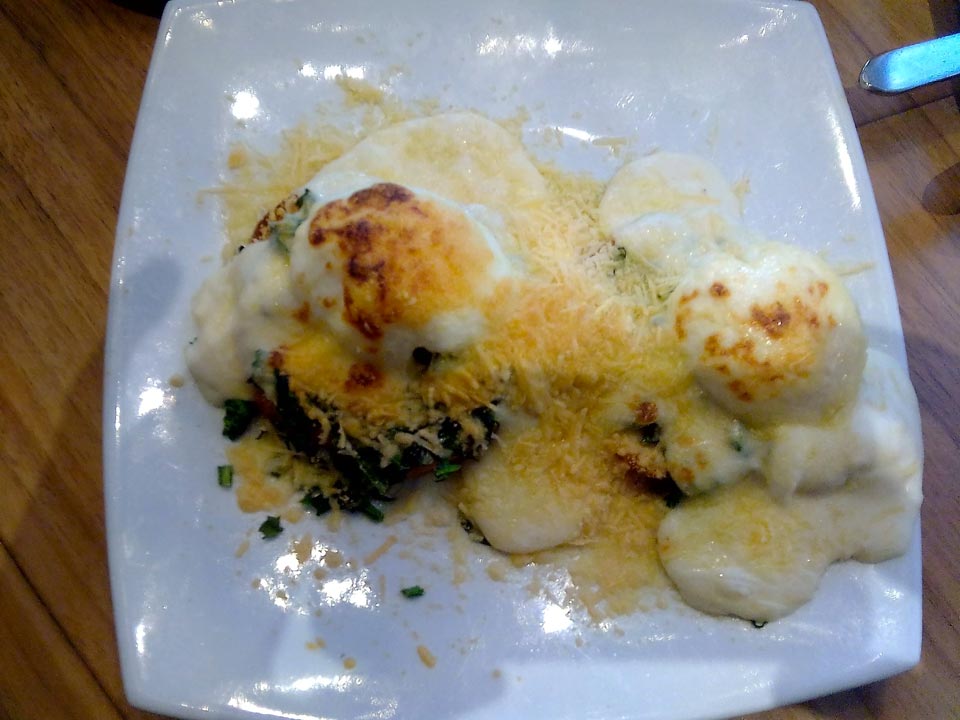 A friend took me to this establishment as a birthday surprise and I was surprised at how many times I'd walked past. Mouth-watering Eggs benedict were enveloped in the richest bechamel sauce I've eaten in quite a while and served with a perfectly cooked side order of crispy bacon. Castellana 104, was previously under the management of a Spanish firm but was bought out by a Colombian concern a few years back who are responsible for their new incarnation. A bakery, a deli, and everything in between – try and get your toe in the door on those lazy hazy bogotano holiday weekends.
Avenida 19 #104-49 / 214 1475 / Walk-ins welcome but reservations needed for larger events.
---
Jim Cook for The Bogotá Post