La Negra Grande de Colombia is one of the country's most iconic folk singers. Christina Noriega talked to her about some of the changes she has seen in six decades in the music industry.
---
Before Juanes, Carlos Vives, or even the internationally-beloved Totó La Momposina, there was one ambassador of Colombian music: Leonor González Mina, more widely known as La Negra Grande de Colombia. She started her career more than sixty years ago when, as she said to me, "People from [Colombia] were embarrassed of their music".
Now 82 years old, this incredible woman continues to perform and inspire. I caught up with her at the historic Hotel Tequendama before her performance at the opening night of Colombia al Parque. She may be one of the country's musical superstars, but that didn't stop her taking almost an hour out of what must have been a packed schedule and even offering me a place to stay if I'm ever in her home-town of Cali.
Colombia al Parque, organised by Idartes to promote the diverse music from all regions of the country, aptly opened with González. After all, she is one of Colombia's most recognisable musicians and is widely credited for helping to popularise this kind of music nationally and further afield.
She has always promoted the music of the Pacific coast, where she was born, with pride, as reflected in her most popular songs such as 'Yo me llamo cumbia', 'Mi Buenaventura', and 'Chocoanita'. But when González started in the 1950s, she was barred by Colombians' general dislike of their country's music. At the time, parents didn't even want their children to sing Colombian music professionally, she explained.
"I started alone", the singer says. "I cried a lot. I suffered a lot because I couldn't find an echo. Many were embarrassed by Colombian music. They would say it was terrible music."
Since then, the tide has changed drastically. Colombian music is widely respected throughout the country and around the world, in large part due to González and the musicians that followed her. She also noted that Colombia's music festivals such as Colombia al Parque and the Petronio Álvarez music festival in Cali, which promotes music from the Pacific, have grown significantly in popularity among locals and foreigners.
"I'm going to die happy because my hard work and struggle were not in vain", she said.
Indeed, the artist has accomplished what she set out to do. She's especially proud of the advances Afro-Colombian music of the Pacific has made. She describes this music as music of another world, another Colombia, and of sure interest to any foreigner looking to understand the country's complete musical landscape.
Who is La Negra Grande?

Full name: Leonor González Mina

Born: June 16, 1935 in Jamundí, Valle del Cauca

At the age of 18 González started dancing with Delia Zapata Olivella's dance company, which took her on tour to France, China, Germany and the Soviet Union.

Upon her return, she met Esteban Cabezas – her husband of 19 years – who encouraged her to turn to singing. In the face of racist attitudes towards performers at the time, she became one of the first Afro-Colombians to appear on the cover of an album or perform on national television.

To date she has released over 30 albums during a prolific career spanning over half a century. She took a lengthy break from singing after her son Candelario, also a talented singer, died of an aneurysm in Italy at the age of 34.

Her music covers a wide range of tropical Colombian genres, including cumbia, currulao and various Caribbean and Pacific sounds.

She was elected to congress with the Partido Liberal in 1998.
After such a long career in music, dance, and even politics, González today hopes to continue singing until her last breath and influence the next generation of musicians. This is why she said she was excited to play for Colombia al Parque's young audience.
"I'm happy to play, but especially so because I'm playing for the youth", González said. "Although I'm from another era, I want my music to transcend [generations] because the only thing that I do is showcase Colombia in all of its musical dimensions".
The country's musical landscape has changed vastly during González's long career. Overall, she says she is happy with the direction Colombian music is headed. She singled out singers Victoria Sur and Maria Mulata, both of whom opened for González at the festival, as great examples of singers who are keeping traditional Colombian music alive.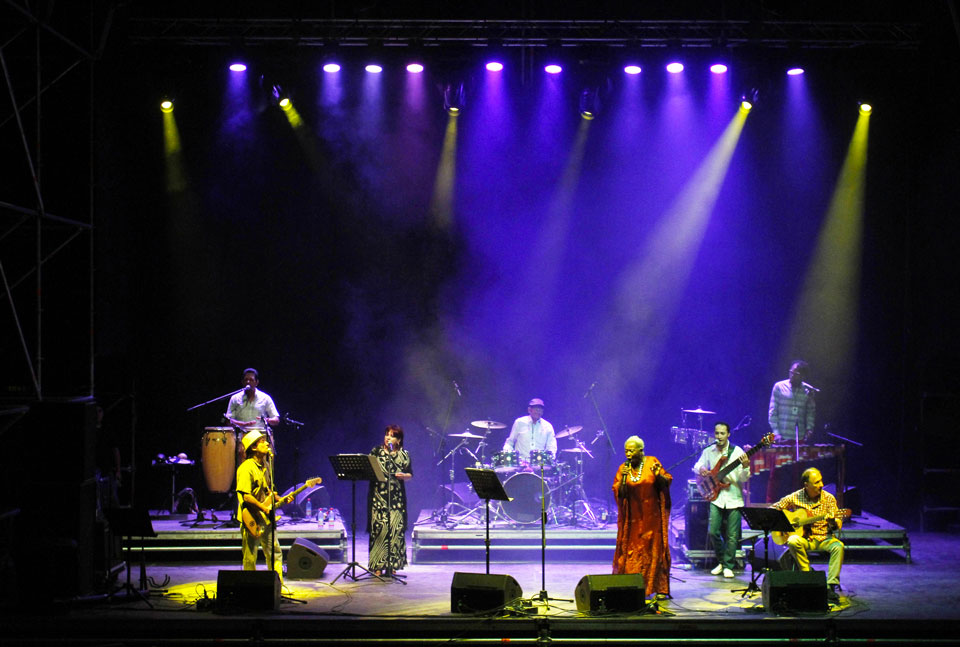 However, she is not against innovation and an element of change, supporting the recent trend for mixing genres. In 2014, González collaborated with rapper Tostao of the hip hop group ChocQuibTown on her album, La Negra Grande es Colombia. The piece was an adaptation of a poem, which Tostao flowed over. González said the new wave of fusions, which ChocQuibTown is indicative of, can only help push the limits of Colombian music and diffuse these sounds throughout the world.
"I love them", González said of these new mixes. "Ever since I started, I thought that this music was missing something to reach other places, so now I'm very happy to see this happening".
It's exactly that kind of accepting and forward-thinking attitudes that made her a hit at Colombia al Parque and which has seen her cement herself as one of the country's musical institutions.
---
By Christina Noriega