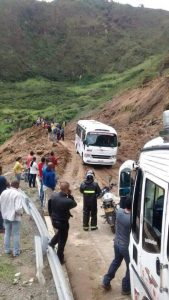 A landslide has claimed the lives of thirteen passengers travelling on a public bus from Junín to Túquerres, in the department of Nariño, on Saturday.
The landslide completely devastated the area, leaving little to suggest that there were victims, and it was not until Sunday that rescue teams were deployed due to a report that a bus was missing.
RCN news reports that relief and rescue teams have since confirmed the death of thirteen people, including two infants. The minibus had a capacity of 16 passengers. However Major Fernando Montaña, Nariño Highways Police commander said that, as the bus picked up people en route, the exact number of passengers on board could not be confirmed.
The Fire Department, Civil Defense and Red Cross from the municipalities of Ricaurte, Malama, Ipiales and Tuquerres have been working alongside local rescue teams since Sunday. On Monday, a final sweep of the area was carried out to verify that there were no further victims.
Camilo Romero, Governor of the department of Nariño has been working closely with local authorities and expressed his condolences to the families of those who had died.
Hay luto en nuestro Sur. Un alud ocurrido el día sábado en la vía que conduce al mar, sector "la nariz del diablo" deja varias víctimas. Nuestra solidaridad con sus familias y toda la disposición de @gobnarino para afrontar lamentable situación.

— Camilo Romero (@CamiloRomero) January 21, 2018
The landslide occurred due to heavy rain at the site known as The Devil's Nose (La Nariz del Diablo), a particularly dangerous sector. Last year, more than 200 people were killed in mudslide in the nearby town of Mocoa, when the same river overflowed.
This is the second tragedy that has happened in Colombia this month. Last week, 10 construction workers died when a bridge that they had been working on to improve the highway connecting Bogotá and Villavicencio collapsed.