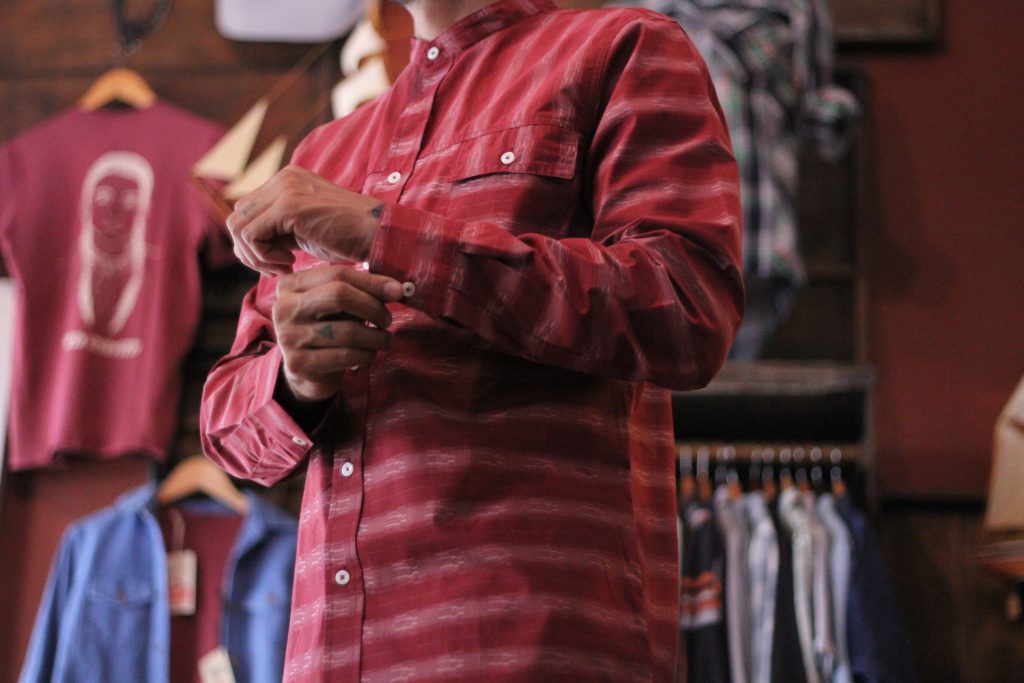 Medellín, Colombia — Wandering down the tree-lined Via Primavera in Medellín's fashion district, you'll encounter a vibrancy of locally-made products—handmade leather shoes, jungle-print swimwear, minimalist jewelry, strappy sandals, button-downs in geometric prints. Return in six months, however, and many of the local brands for sale today may have quietly disappeared.
Meanwhile, just a half mile down the road at Medellín's bustling Santafé Mall, you'll find long lines at multinational retailers like Forever 21, Zara, or Pull & Bear, where new trends come in every few weeks—produced overseas at staggering volumes and low labor costs. The rising popularity of imported "fast fashion" has left local brands struggling to compete, and it shows no sign of letting up. Between 2017-2018, garment imports coming into Colombia increased 15.8%, according to the National Administrative Department of Statistics (DANE).   
"H&M, Zara, Bersha—they set the price for a pair of jeans that everyone has to compete with"  says Daniel Anzola, the founder of a small Poblado-based menswear brand, Chickend. The problem is, Anzola explains, that this price is often predicated upon irresponsibly low wages and damaging environmental practices. "It's unsustainable to produce such high volumes at such low costs, and ultimately, it's unnecessary," he explains. 
For Anzola, and other players in Medellín's local fashion ecosystem, there's no competing with fast fashion. Instead, local brands are searching for new paths forward—outside of fast fashion. 
Historic Medellín weaves a thriving textile and garment industry 
The increase in imported garments has sent shock waves through Medellín's fashion industry, a historic epicenter of Colombia's fashion world. Starting in the early 20th century, large local fabric companies like Coltejer, Tejicondor and Fabricate set up shop in the city, giving rise to a diverse fashion ecosystem of technical schools, design programs, factories, and small workshops. 
Starting in the 1970s, however, fabric companies were thrown into crisis as new free trade agreements increasingly opened the door to imported fabrics. Major textile companies like Tejicondor and Fabricate went out of business or were dramatically reduced in size. The garment industry was initially able to stay afloat, increasingly making clothing from imported fabrics, until it, too, took a turn for the worse in 2007. Between 2015 and 2018 alone, garment production in Colombia  dropped 13.1%, despite increases in household spending on fashion.
The story is a familiar one in the garment industry. Since 1965, the percentage of clothing sold in the United States that is made domestically has dropped from 95% to 3%, as free trade agreements have opened doors for retailers to increasingly take advantage of cheap labor overseas in China, Bangladesh, Vietnam, and beyond. Today in the US, clothing made in one's home state or home country is quite rare. 
In Medellín, however, it's still possible to get clothing made in your zip code. The question is: What will the future hold for Medellín's fashion ecosystem, as it faces tough international price competition—without the backbone of the powerful textile industry it was historically founded upon? 
The path forward looks different, depending on who you ask. 
According to Rubén Valencia, Director of the Cluster of Fashion and Advanced Fabrication of Medellín's Chamber of Commerce, "The goal is to help local businesses in the sector grow in productivity and access to markets, so they can bring their products to the world." 
Teaming up with local academic institutions and ProColombia, the Chamber of Commerce offers educational programs focused on business administration, innovation, and the implementation of new technologies. 
Industry thought leaders spin new paths forward
The Department of Wardrobe Design at Medellín's Pontifical Bolivarian University (UPB) believes that the future of wardrobe design in Medellín may lie in looking outside of fast fashion—and perhaps outside of fashion altogether. 
Mauricio Velásquez, Director of UPB's Department of Wardrobe Design, explains that UPB is exploring ways for wardrobe design to enter new sectors. UPB students are rising to the challenge—designing specialized postoperative clothing, activewear for cyclists, therapeutic clothing for children with disabilities, protective uniforms for miners, and even clothing for robots. 
"It's a shift you may not see in storefronts. We want to expand the vision of our students, and find new opportunities for responsible wardrobe design that will allow us to drive the industry forward," says Velásquez. "We're knocking on the doors of other industries that could benefit from wardrobe design, like healthcare, technology, and energy." 
Velásquez himself once had a brick and mortar clothing brand with his wife, called Taller de Vestuario, offering airy, comfortable styles in bold colors and patterns. Finding it to be a "heavy burden" to sustain, the couple made the decision to close the store and maintain a scaled-down version of the brand online, selling two collections a year. 
Velásquez explains that many of the small brands that have managed to make it are combining retail with some other complementary business strategy to help sustain the brand. Chickend, a western-inspired menswear brand with a retro sensibility, is one of them.
"If we all piled the clothing we own in the streets, we'd have mountains," Chickend founder Daniel Anzola explains. "The business model of the fashion industry has to change—and we can't wait for that change to come from the government. We have to start creating new possibilities ourselves." 
Chickend is committed to keeping production small-scale and local, but it isn't always easy to sustain a business that way in Medellín today. 
"In looking for ways to grow," he adds, "I decided that Chickend's growth wouldn't be in terms of production volume. It would be in offering people a way to live real experiences with the brand." 
To accomplish this, Anzola launched Rancho Chickend, a rustic farmhouse and community project in a remote region of Antioquia, where he guides trekking, canyoneering, horseback riding, and other adventures created to get you out of your comfort zone, and encourage intercultural exchange. 
Like Chickend, Primitiva, a small Medellín-based online brand working in natural fibers, is looking for "slower," more sustainable alternatives to the fast fashion business model. 
Primitiva founder Natalia Franco explains that fast fashion hasn't just changed who, where and how clothing is made, it's also changed what clothing is made of—accelerating a shift towards cheaply-made synthetic materials that often don't last long, and perhaps don't need to, given their short lifespan before we toss or donate them. When washed, these synthetic materials release micro-plastics into our water, ending up in the ocean—and in our bodies. 
Offering basic clothing made of natural fibers, Primitiva aims to "change the chip" of how we think about our clothing and its impact on the environment, explains Franco. All of Primitiva's clothing is designed to be environmentally friendly, basic and versatile, so each piece can be worn with many different outfits, and won't go out of style. The brand's most popular piece is a basic wrap top that can be worn in 5 different ways. 
Franco, who was an environmental engineer before moving into the fashion sector, is encouraged by a growing awareness around the social and environmental impact of the fashion industry. She feels many of her customers specifically seek out locally-made, low impact products—and are eager to share tips with Primitiva's online community.  
"Fashion really gets our attention," says Franco. "I think it is a great tool to start talking to people about the impact of the clothing they wear and encouraging people to make better decisions." 
Like many other Medellín brands that produce locally, Primitiva and Chickend cannot compete with fast fashion prices, so they aim to offer something fast fashion cannot: a more personal and thoughtful way to relate to our clothing—that prioritizes people and the environment. 
When asked what we can do to strengthen local brands, Rubén Valencia of the Chamber of Commerce replied: "The first step is learning when a brand is local or not, and that doesn't require doing any favors. We have some incredibly talented designers and an immense creativity to our products." 
Whatever the future holds for Medellín's fashion industry, this characteristic creative flair has shaped the industry's past and present, according to Velásquez—and is worth preserving. 
"Perhaps it comes as much from our professional and technical education as it does from something more intangible—something about the culture and geography of Colombia, the fact that we are one of the happiest countries, but also one of the most battered," says Velásquez. "It's something you might sense in the writing of Garcia Marquez."
Kristen Cronon is a freelancer writer who lives in Medellín, Colombia.