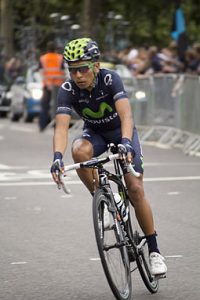 On a day when Colombia celebrated its independence day, cyclist Nairo Quintano of Team Movistar gave it something to cheer about. Quintana is now 4min13sec behind leader Geraint Thomas and is now inching towards a podium spot as he did most recently in 2016 when he came third in the Tour de France.
Former Tour winner Vincenzo Nabali of Italy pulled out following a fall yesterday leaving Quintana now in eighth position. Quintana's teammate Mikel Landa is a minute ahead and now in sixth position.
1️⃣3️⃣🇫🇷✅ A somewhat calm day in the #TDF2018, if one can say so in such a race! Results, @bettiniphoto pics and finish line quotes from @MikelLandaMeana and @NairoQuinCo as they sit in 6th and 8th overall ➡️ https://t.co/EGii5Xekez #RodamosJuntos pic.twitter.com/uoO3BWYoi2

— Movistar Team (@Movistar_Team) 20 July 2018
Quintana, a native of Boyacá, looked in rude health after having suffered a heat stroke this week. "It was a very quick start, more so than we expected, but otherwise we were calm and we hope it has been of use to recover the body. We have to face Mende with enthusiasm and see what happens and what we can do," Quintana was quoted as saying on his team's twitter account.
Distances between times are likely to increase from here on in as the Tour enters its final stages but Quintana is hopeful that Landa can strike for Team Movistar.
The race now moves to the hills of Saint-Paul-Trois-Chateaux and will end in Mende where Englishmen Thomas and Chris Froome will look to cement their position at the top of the leaderboard. Froome is currently chasing his fifth overall title which will see him added to the pantheon of Tour de France greats. Following the stripping of Lance Armstrong's titles for having used banned substances, no Tour de France winner has ever claimed more than five titles.