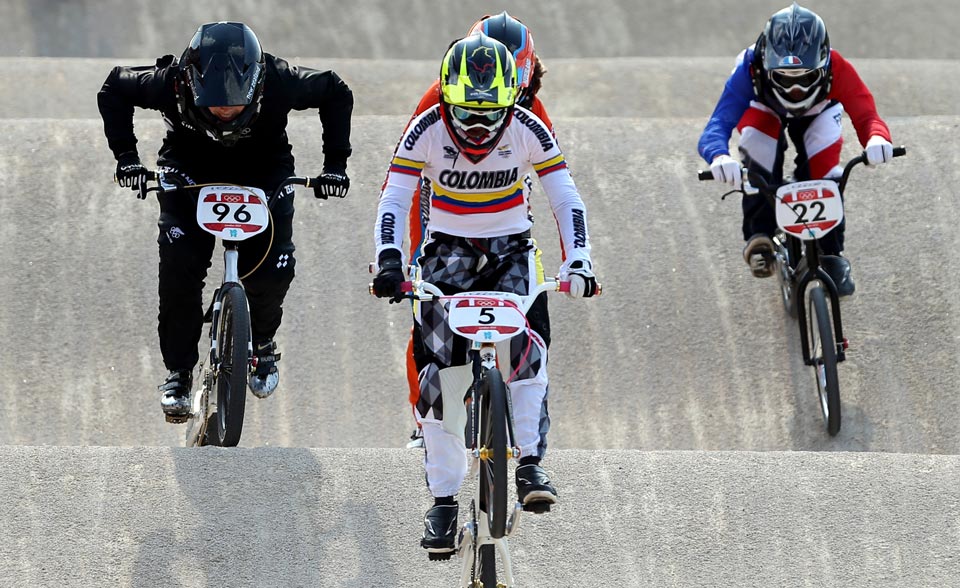 Mariana Pajón, Colombia's two wheeled heroine takes BMX World Championship title in Medellín
---
Local champion and gold medallist, Mariana Pajón did not bend under the pressure as she competed on the track named after her in her home city. The 24 year-old reclaimed the Elite Women UCI BMX World title she missed out on last year after crashing out during the semifinal race in Belgium.
Tensions were high as she entered the final race after a disappointing third placement in the previous day's time trial. But Pajón reigned supreme, wowing the packed-out stadium with the type of powerful burst we've seen from her during the past four years of BMX touring and leading the race from start to finish.
Alise Post from the United States pushed hard but Pajón, buoyed up by the cheering crowd, found the energy she needed when it mattered most and held off the North American. Australian Caroline Buchanan took second place ahead of Post, who saw the silver medal slip from her sight after an error during the last 50 metres.
"This is an incredible moment" Pajón commented after her triumph. "I have gone through so many things and winning on home soil is a dream come true!"
In the men's tournament Carlos Oquendo, Olympic bronze medalist, suffered a horrible crash in the quarterfinals. The 28 year-old escarabajo was taken to hospital, where the initial assessment failed to reveal injuries that could have cost him his place in the Olympic tournament.
Colombia's other BMX hopeful, Carlos Ramírez did make it to the final. The 22 year-old had a solid start amongst the pack and was in sixth place going into the last turn. However, he then crashed out and finally placed last out of the eight finalists.
The three will be joining the country's delegation heading to Rio for the Olympics later this year (see article below for information on other qualifiers).
---
By Freek Huigen