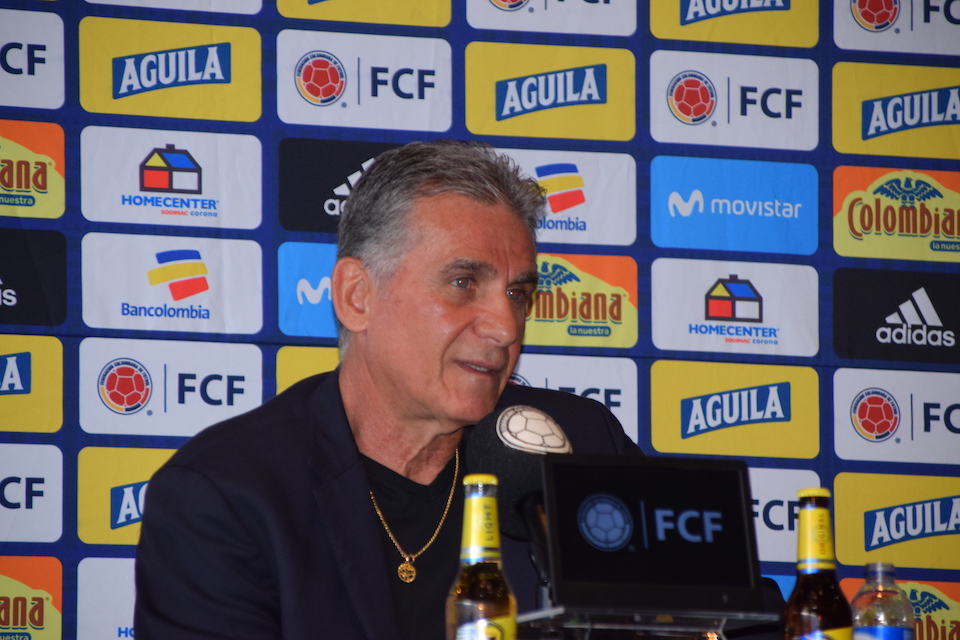 Colombia manager Carlos Queiroz names his 40-men provisional squad for the Copa América in Brazil. Before the end of this month he will have to trim it down to 23 players.
---
James Rodríguez and Radamel Falcao top the list of the Colombia squad for the Copa América next month. Premier League players Dávinson Sánchez, Yerry Mina and Jéfferson Lerma are also in the 40-player squad. Juan Guillermo Cuadrado and Cristián Zapata return after long injuries, although there's a question mark over the fitness of several players including James in this tournament.
River Plate midfielder Juan Fernando Quintero didn't make it into the squad as he has to sit this tournament out due to a knee injury. In a press conference the Portuguese manager referred to some of the other players who didn't make the list. "Alfredo Morelos has only played one game since the last Colombia friendlies while Iván Arboleda hasn't been playing for his club either." Queiroz had named both the Rangers FC striker and Banfield goalkeeper in his only previous squad.
Asked about Girona centre back Bernardo Espinoza he said, "He is a great player but I had to choose six central defenders and, analysing all of the options, he didn't make it."
Related: Carlos Queiroz, "Colombia needs to have it's own style"
Those that are in the provisional squad include nine players from the local Liga Águila, with Luis Díaz, Camilo Vargas and Álvaro Montero most likely to make the cut. An additional six come from the Mexican league, which provides the second most players. It is expected that the majority of the 16 players active in Europe will be defending the Tricolor in Brazil this summer.
It is rumoured that goalkeeper David Ospina may miss out on the Copa América because of the delicate health situation of his father.
Colombia will face Paraguay, Qatar and Argentina in the group stages. On May 30, Queiroz will announce his final 23-man squad that will compete for the Copa América which starts on June 14.
---
The 40-men provisional squad
Goalkeepers
David Ospina – Napoli (Ita)
Álvaro Montero – Deportes Tolima (Col)
Camilo Vargas – Deportivo Cali (Col)
Éder Chaux – Patriotas Boyacá (Col)
Aldair Quintana – Atlético Huila (Col)
Diego Novoa – La Equidad (Col)
Defenders
Dávinson Sánchez – Tottenham Hotspurs (Eng)
Yerry Mina – Everton (Eng)
Cristián Zapata – AC Milan (Ita)
William Tesillo – León (Mex)
Jeison Murillo – Barcelona (Spa)
Felipe Aguilar – Santos (Bra)
Jhon Lucumí – Racing Genk (Bel)
Santiago Arias – Atlético Madrid (Spa)
Helibelton Palacios – Atlético Nacional (Col)
Luis Manuel Orejuela – Cruzeiro (Bra)
Déiver Machado – Atlético Nacional (Col)
Frank Fabra – Boca Juniors (Arg)
Cristian Borja – Sporting Lisbon (Por)
Midfielders
Gustavo Cuéllar – Flamengo (Bra)
Mateus Uribe – América (Mex)
Victor Cantillo – Junior de Barranquilla (Col)
Wílmar Barrios – Zenit St Petersburg (Rus)
Jéfferson Lerma – Bournemouth (Eng)
James Rodríguez – Bayern Munich (Ger)
Edwin Cardona – Pachuca (Mex)
Juan Guillermo Cuadrado – Juventus (Ita)
Jorman Campuzano – Boca Juniors (Arg)
Raúl Loaiza – San Lorenzo (Arg)
Attackers
Radamel Falcao – AS Monaco (Fra)
Carlos Bacca – Villarreal (Spa)
Duván Zapata – Atalanta Bergamo (Ita)
Luis Muriel – Fiorentina (Ita)
Rafael Santos Borré – River Plate (Arg)
Roger Mártinez – América (Mex)
Andrés Ibargüen – América (Mex)
Sebastián Villa – Boca Juniors (Arg)
Luis Díaz – Junior de Barranquilla (Col)
Yimmi Chará – Atlético Mineiro (Bra)
Yairo Moreno – León (Mex)