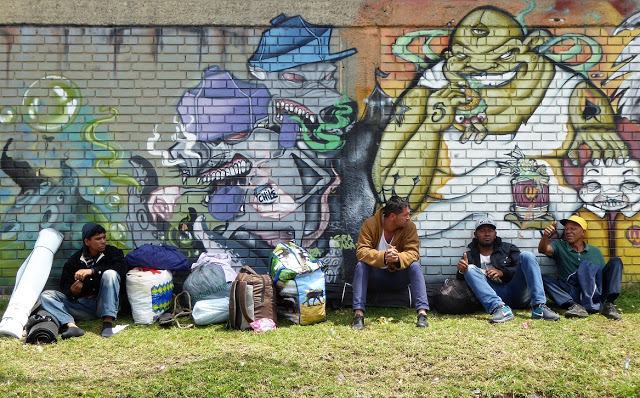 We look at the daily struggle of Venezuelans arriving in Bogotá.
---
"Life is getting harder for us in Bogotá," say Venezuelan migrants struggling to find jobs as record numbers flow into Colombia's capital while the city authority's much-publicised assistance plans have so far failed to materialise.
"The police move us on, but where do we go? All we want is work. But there is none," bricklayer Daniel Villegas from Maracaibo told The Bogotá Post last week as we continued our look at the migrant phenomenon affecting the city. Villegas was living rough close to the bus terminal in Salitre but had been constantly shifted as part of the authorities' push to clean up the area.
Police were also stopping Colombians from assisting migrants at the informal camp in Salitre when we visited. The site had become a focal point for migrants – and local people wanting to help them with gifts of food and clothes – but also a flashpoint for protests as migrants felt the authorities' attitudes were 'hardening' against them.
According to Migracion Colombia, by October 2018 there were more than 1 million Venezuelans in Colombia, more than half of whom are undocumented. More than 220,000 Venezuelan migrants have settled in Bogotá. Up until June 2018 the majority were living in temporary accommodation in the poorer barrios of Santa Fe, Kennedy, Suba y Fontibón. Of these 75,000 have received the PEP work permits.
Meanwhile some of the city council's plans to help migrants have faltered. For several months the mayor's office and the District Secretariat for Social Integration – tasked with spearheading the migrant response in the city – announced the opening of advice centers and overnight shelters. But by the end of October these were nowhere in sight and when we visited the new council 'SuperCAD' at the Salitre Bus Terminal its doors were firmly closed.
"The government is doing nothing. It's taxi drivers, truckers and the church who are helping us most," said Villegas, pointing out that there has been no registration of newly-arrived Venezuelans in Colombia since last June, leaving tens of thousands unable to work in the formal economy and open to exploitation.
Recent arrivals lacked knowledge of Colombian money and the economy leading to unscrupulous employers 'taking advantage', said Juan Esteban Lopez from the Fundacion Atencion al Migrante (FAMIG), a church organisation which runs a shelter and food hall in Salitre, and an advice center for migrants at the Bus Terminal.
According to Lopez, the shelter has seen record numbers of Venezuelan visitors overnighting this year – 1,500 until October – and every day numbers were increasing. Meanwhile the government's 'passive approach' to the crisis was leaving many migrants in limbo, he said: "There are no effective border controls, so anyone can come into Colombia and come to Bogotá. Then what?"
More than 80 per cent of the migrants seen by FAMIG were undocumented and unable to work in the formal economy, he said. Venezuelans living off the streets was also creating xenophobia amplified by stories spread in social media falsely claiming, for example, that 'Venezuelans could earn 200,000 pesos a day begging on the streets'.
Many migrants were worried by extremist messages such as the WhatsApp chain claiming 'gangs of Venezuelans were stealing children' which was circulated last month and lead to the beating and murder of an innocent migrant in the south of Bogotá, and left another seriously injured in Medellín.
"We have to counter this misinformation. People need to understand the plight of the migrants," said Lopez, though he also believes that in the long-term migrants are "better off joining the informal economy and selling things than asking for cash."
Migrants begging around Salitre told The Bogotá Post that they could earn a maximum of 30,000 pesos a day, of which they spent 20,000 a night on lodging for the family and the rest on food. "We would rather work if we can get the permits," said Johana Trujillo, a business administrator back in Venezuela but now begging in Bogotá with her two children. Meanwhile, she is trying to get enough extra cash to start a chaza – a street stall.
Whether the informal economy can provide a living remains to be seen: The Bogotá Post witnessed police chasing away migrants trying to sell coffee outside the bus station last week, and in parts of the city building sites were displaying signs saying 'we will not employ Venezuelans'.
The big question for many migrants we talked to was when – or even if – Colombia's migration service would re-open the 'RAMV' registration process, an essential step for those seeking to legalise their presence in Colombia and get a work permit.  So far Migracion has not officially announced a date, though many people are claiming the process will start in mid-November. That's one rumour many Venezuelans hope will come true. 
---
By Steve Hide