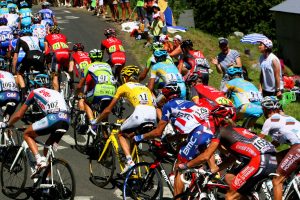 After a bruising final week, the mishaps were too much for Colombian Nairo Quintana as he was unable to grasp what little chance he had to nab a podium finish in Tour de France 2018. He remains in the top 10 after today's time trial but will left wondering 'what if?' as his wheels roll into Paris on Sunday. The native of Boyacá finished the stage with a time of 44'58" and showed just how much his brutal fall in the 18th stage sank his chances for a fairytale finish.
Instead, on Sunday, Welshman Geraint Thomas will be crowned champion and be the first from his country to put on the yellow jersey. Thomas will be the third winner for Team Sky following previous victories by Chris Froome and Bradley Wiggins.
Although the Tour de France is all but Thomas', stage 20 belonged to Tom Dumolin of the Netherlands, who managed to pass 4-time Tour de France winner Froome and will probably take second place on the final day.
Froome is now in fourth place and 13 seconds behind Slovenian Primoz Roglic. Their fight for the final podium spot will, barring other dramatic collapses, likely be the only major unresolved storyline of what has been a compelling contest this year.
The win for Thomas and Team Sky will be a sweet end to what had often been a bitter and acrimonious event following multiple attacks by the crowd which included spitting, boos and being inadvertently doused by the French police.
The bitterness shown towards Froome relates to the use of TUEs (Therapeutic Use Exemptions) which are permitted by the World Anti-doping Agency (WADA) but currently operate in a grey area ethically speaking, particularly given the history of doping within the sport. Froome tested positive for asthma drug salbutamol in December last year though the case was dropped after a nine-month investigation by WADA.
Come Sunday, however, hostilities will likely be put behind them as 32-year-old Thomas wins his first jersey for Team Sky.