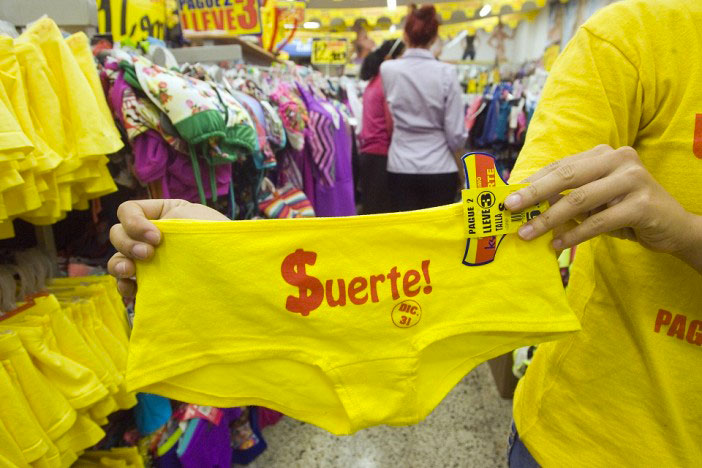 Faye Griffiths explores some unique ways Colombians celebrate the holiday season that some foreigners may find odd or unusual.
---
Every corner of the world has its own festive peculiarities, and Colombian holiday traditions are up there with the best of them.
The festive period starts officially with the Día de las velitas, or candle night. This is also known as the Day of the Virgin, since it celebrates the immaculate conception. There are some variations on how it is marked from region to region, but the general idea is that people light lots of candles on the eve of December 7 and then wander around looking at all the other candles. The next morning sees streets covered in multi-coloured wax and is also a public holiday. Day off mid-week just before the holidays? Thank you, Mary!
There are various theories about the origins of the candles. Some say that it grew from a tradition of lighting large bonfires that got out of control, others that it originated from Jewish Hanukkah traditions, and still others that it comes from the mix of Catholic, Afro-Colombian and indigenous cultures. Regardless of who lit the fuse, this is a tradition that burns strong in communities across the country.
Then there's the Novena. Like the Day of the Virgin, this harks back to the 18th Century. It starts on December 16 and relates to the nine months of pregnancy. I used to think it marked the day Mary and Joseph set off for Bethlehem, and actually think that would be a more interesting idea. A long series of specific prayers are followed by the singing of some quite catchy songs, finished off with some natilla and mora sauce. This is all conducted in a bright front room with chairs pushed round into a circle. Even if you don't get invited to one – and you could consider it a symbol of your Colombian assimilation if you are – they usually have them in the communal area of apartment buildings and the music really is infuriatingly catchy.
At some point between actual Christmas and New Year's Eve, many Colombians wash their home with the "seven herbs". You can go to any plaza and get them. You prepare a sort of tea with these bitter herbs and then wipe around the house and mop the floor with them. The belief is not dissimilar to the Jewish Passover celebration, whereby you clean and sort of detox everything from the previous year. After you've cleaned out the bad with the bitter herbs, you then do exactly the same with the sweet herbs.
Finally, whilst New Year's Eve celebrations in many cultures involve paying a fortune for a taxi to take you to a club to queue up all night for drinks, in Colombia it's quite family based. Bogotá is almost a ghost city on December 31, but if you go to a more lively neighbourhood you might well find people running round the block with a suitcase at midnight. That means they're hoping they'll travel that year. And if they're not doing that, then many will definitely be wearing yellow underwear for good luck.
So, get your suitcase, candles, herbs and yellow panties ready because it's Colombia and it's that time of year again!
---
By Faye Griffiths