In the run-up to Festival Estéreo Picnic 2023, we're interviewing the local talent that are the heart and soul of the musical extravaganza. We start with paisa cool kids Higuita en Chanclas.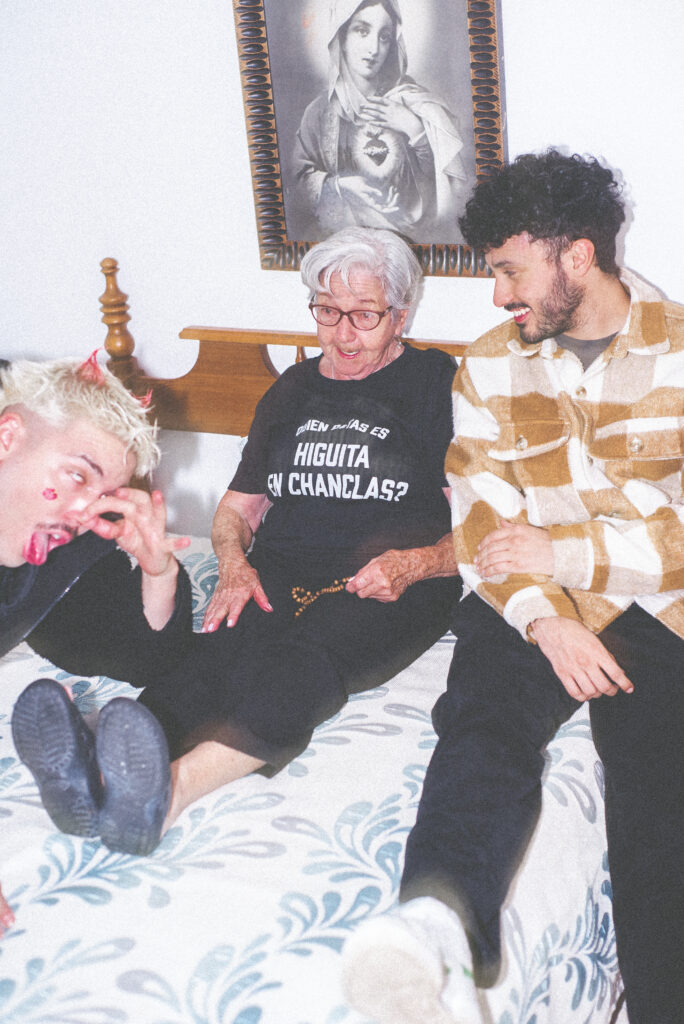 Festival Estéreo Picnic is returning this month. Kicking things off on Thursday afternoon are paisa duo Higuita en Chanclas. But, to borrow a phrase from their promo tees, ¿quien putas es Higuita en Chanclas? Like the old pin badges asking who the fuck is Steven Malkmus, if you can answer well, you're one of the cool kids. Of course, you're in that gang, so you'll know they're Samuel Barahona and Giro Mejía, childhood friends from barrio football games through to music making.
Samuel is lithe and speaks sonorously, like a goalie leaned against the post for a cheeky fag. Giro, though, is more of a livewire, like a tricky winger in the Pat Nevin mould – although tonight he's wearing a mid-00s England top. Lounging on a big sofa, they're both kicking back, because there's no need to take life too seriously. Music's meant to be fun – as Samuel says: "For me, Higuita is the part of yourself that never grew up, a child, and I feel that overall we should give that child a bigger voice."
The duo's name may be confusing if you don't know legendary Colombian goalie René Higuita, and possibly even more confusing if you do. "Actually I was in another band," says Samuel, "and I gathered all my friends, Giro included, and I said the name of the band, it has to mean success. Everyone chipped in and Giro said 'you know what success is? It's [Higuita], he just lost the world cup for Colombia and he's in his country house, super drunk, listening to vallenato you know, in flip-flops, that's success.' We thought no one would take us seriously."
When they started working together, there was only one choice then: Higuita en Chanclas. It's a name that means fun and relaxation, just like the great man himself. The music itself is harder to describe – I have no idea where to put these kids. Put a playlist in the right order and you're soundtracking a great MDMA trip, from coming up with banging 90s Europop from 'Jana Montana', raving hard at the 'Burbujas y girasoles' electro-goth darkfest and then coming dwon slowly and sensually with 'Salto perfecto'. A bang proper night for an adult child, all told.
If it's channelling childhood, then the child of 'Salto Perfecto' is one depressed little kid in the nursery corner. The song would be perfect for a post-FEP comedown bus ride, but not a kindergarten. Samuel, though, sees it differently: "a part of remembering your childhood is also nostalgic. That's in some songs. Unintentionally, I feel, we don't do it often." It's a jarring example of just how much these musical magpies flit between styles, as capable of monged minimalism as bouncy futurepop.
"The sound of Higuita is a mix," says Giro, "it has one root: feelings. We make each track based on what we want to feel from this song in particular. There are no songs that are similar." We all laugh and Samuel chimes in agreement "We work from the feeling first and that opens up an immense amount of possibilities, because there are infinite ways to express one feeling so you never go for the same thing twice."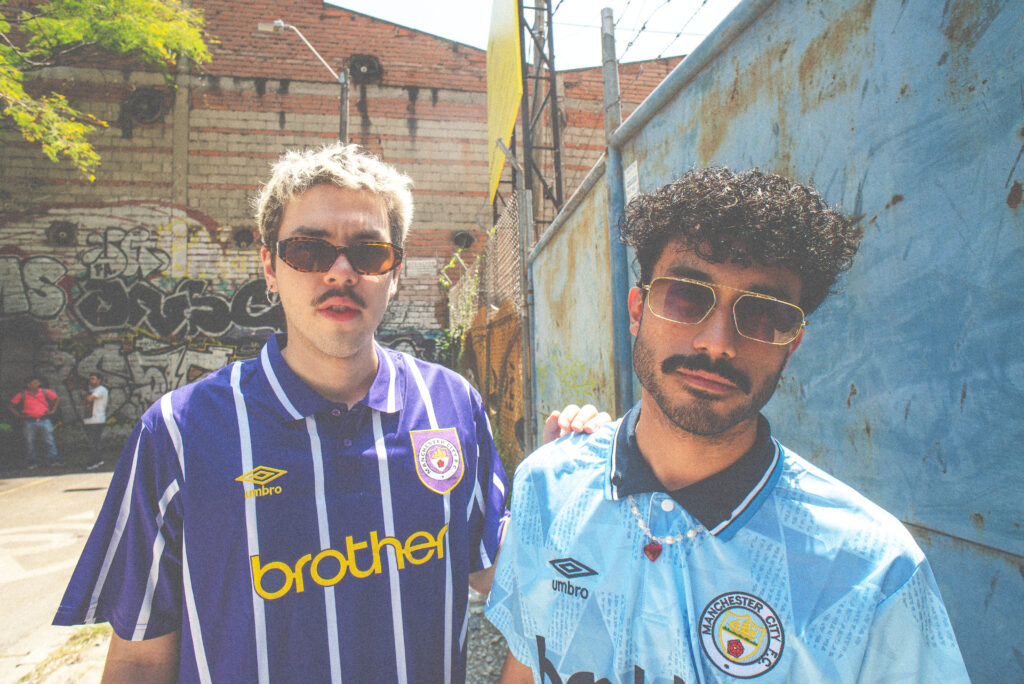 They boyishly giggle together when I ask how they feel about the festival and return to footy metaphors "it's our world cup," says Samuel, before Giro jumps in to add "and we practised for this world cup all last year, with different concerts and different musicians." They were worried about the festival expanding to four days but they're glad about being in the alternative tent. "It's so good," says Samuel, "we would feel a little scared on the huge stage the first time, it would be overwhelming and wouldn't have a strong connection with the people."
"We like to feel the people," continues Giro, "like physically feel them," adds Samuel again. They're not kidding – Samuel was jumping and pogoing away to IDLES in the moshpits last year. "I don't know how he does it every year," says Giro, "he goes for the whole weekend. It's exhausting, for me." Samuel says he was so impressed by the Bristol boys (as were we) that there'll be a small IDLES tribute in their show this year. Keep your eyes peeled.
This year Samuel's especially looking forward to fellow paisas Ev and La Banda del Bisonte. "We're working super hard for [Estéreo Picnic] and I want to see what they came up with as well. There's a sense of pride that they're artists from our city but also a kind of 'OK, let's see what you can do'". For Giro, it's more difficult "I don't know, there are so many … Chemical Brothers of course, and Higuita!" he says with a laddish wink.
Get ready for a big show – they confer quickly to make sure they don't spoil the surprise. "It's been just us two since the beginning," says Samuel, "but we could use more power, more musicality, so last year we found three more musicians, really nice fellas. Also, for this concert, we want to bring some huge drums and trumpets and get the party started at Esteréo Picnic. It's going to be crazy amounts of energy from the start. It's going to be amazing."
Get there early to make sure the party doesn't start without you – and that you find out just who the putas es Higuita en Chanclas. The famous escorpión came in a drab 0-0 at Wembley, but Higuita en Chanclas are sure to kick Estéreo Picnic off on a winner!