Patrulla Aérea Civil Colombiana, a Colombian NGO took third place in the regional Google.org challenge, winning USD$450,000 as well as support for their project.
---
Every day in the news we see the good, the bad, and the ugly. And let's face it, there's more of the bad and the ugly than the good. Which is why it was heartwarming to meet the people involved in three projects in Colombia that have a real social impact.
Fundación Un Litro de Luz, Patrulla Aérea Civil Colombiana, and The Nature Conservancy were the three Colombian winners of Desafío Google 2017 – the Latin America chapter of Google's impact challenge to award both money and support to nonprofit innovators across the world.
Each initiative received USD$350,000, as well as practical support. And one of them – Patrulla Aérea Civil Colombiana – was chosen to go to the regional final in Mexico, competing against projects from Mexico, Peru, Chile and Argentina.
The prizes were announced yesterday, on November 16 with the organisation that provides medical care to inaccessible rural areas coming in third place. The winner was Argentinian NGO EcoInclusión, who manufacture low-cost ecological bricks from plastic bottles.
Colombia was the country with the most entries, and the jury selected the top three based on their social impact, level of innovation, technical feasibility and scalability.
One of the judges, National Business Association of Colombia (ANDI) president Bruce Mac Master, invited all of us to be positive leaders and stop blaming others for any downfalls. He said: "It is time to have less geniuses creating iPads and more creating social impact."
Pedro Medina, president of Yo Creo en Colombia, who was also on the jury said: "What they [these initiatives] are doing deserves powerful acknowledgement. We don't have to be Bill Gates or follow the Finnish education system, but we can see that there are a lot of local projects that, while imperfect, have the power to make things possible despite the circumstances."
Related: From coca to cacao: Vichada's transition to legal crops
Other members of the panel of judges were Crepes & Waffles' founder Beatriz Fernández, Google Colombia's CEO Carolina Angarita, and scientist Rodolfo Llinás.
---
Fundación Un Litro de Luz and Linternet
Linternet is a spin-off of Fundación Un Litro de Luz, which installs ingenious solar lamps made out of plastic bottles in people's houses. Linternet takes those bottle lights to the streets. They've created solar powered lamp posts that also incorporate a WiFi signal – providing both internet and light to vulnerable communities and creating job opportunities in the process.
The venture is the brainchild of 30-year-old social entrepreneur Camilo Herrera. Unlike Un Litro de Luz, Linternet is a social enterprise that follows a micro franchise business model. In Google's words it's "a project to close the technological gap and give equal opportunities to all".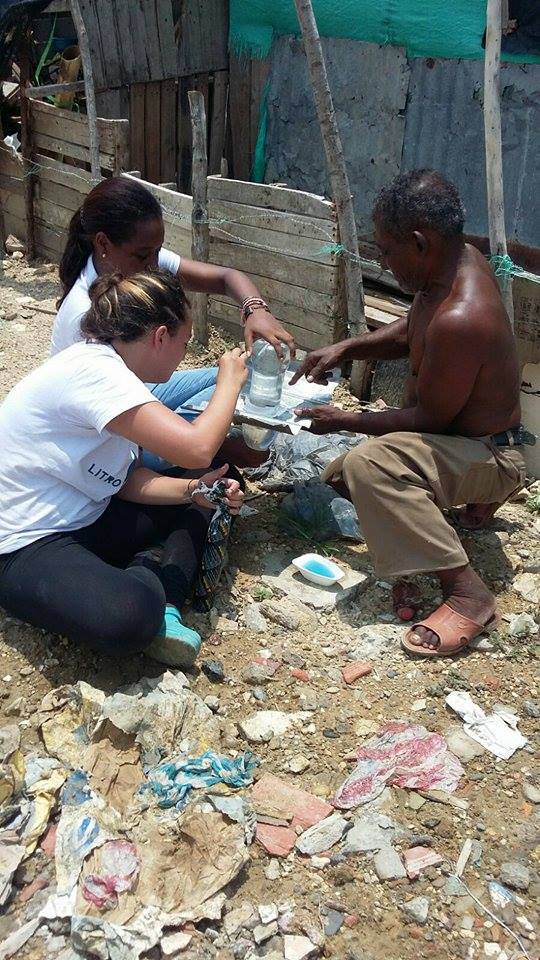 Herrera has taught communities to produce these solar powered posts for themselves. Each one feeds from a 30-watt solar panel, connected to a small battery which in turn feeds a light bulb protected by a plastic bottle.
The initiative has already installed 1,500 posts and visited more than eight countries. "There are challenges of course," Herrera said. "How are communities going to use the system? How are we going to teach them to use it?"
He uses the example of an orphanage with 850 kids that they visited in Kenya, who needed to study for a university-entry test. Just weeks before the test, the whole country was hit by a blackout. "Initiatives like this one mean that these types of situations are no longer a constraint," the change-maker said.
Herrera is keen that young people get involved here in Colombia. He stressed that it was important for them to visit these areas, "to travel with us, and get to know their own country, because there are many university students who only know their cities, so we'd really like them to come with us and be ambassadors of light [and internet]."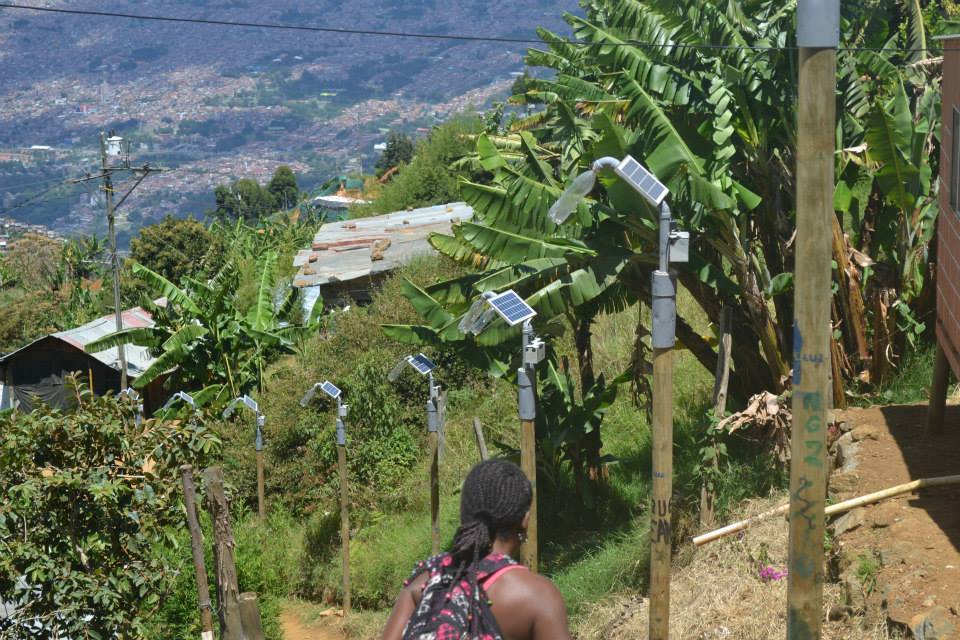 ---
Colombian winner: Patrulla Aérea Civil Colombiana
With 500 volunteer physicians and 70 volunteer pilots, this project provides vital health services to remote communities. Juan Carlos Lenz, president of the board of directors, said that Patrulla Aérea Civil Colombiana is the biggest volunteer organisation in the country.
"We provide high-quality medical care for free," he said, adding that many of the people they assist cannot physically travel to the main cities and often can't access essential medical and surgical treatment. The importance of taking medical care to those isolated regions is magnified by cultural issues – a high number of their patients belong to indigenous communities who would find being in a city extremely challenging.
Lenz told the story of Jacinto Perilla, a campesino whose life changed significantly following a hernia operation. "A surgery like this one may cost us COP$80,000; on a single weekend, we assist a number of patients which would equate to the number of patients the regular service assists in three to four months."
They have helped more than 180,000 people like Perilla in the past ten years, fuelled by the passion of their volunteers. The scheme is funded mainly through corporate donations. For example, one company that provides maintenance for their medical equipment.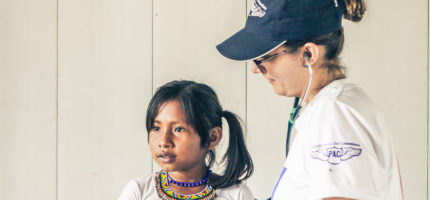 The prize money will go towards developing a field hospital – a self-sufficient mobile infrastructure that will help them care for thousands more people. Lenz also wants to implement a community health information project.
"You can't imagine how difficult it is to find accurate information about the health problems these communities face," he said. "During our last health brigade for example, we assisted seven kids who had not been registered because they live in such isolated regions – six hours from Río Sucio, Chocó … I'm sure people don't even know where Río Sucio is located."
---
TNC – The nature conservancy
The Nature Conservancy is one of the biggest conservation organisations in the world, with projects in over 70 countries, protecting land, rivers and seas. They have several programmes in Colombia; the one that caught the judges' attention is a tool that focuses on the Magdalena River.
The Magdalena River basin generates 75% of the country's agricultural production and provides drinking water for 38 million people. It has undergone great transformations in recent years, mostly degradations, and its riverbank communities have suffered because of natural disasters in the area and the loss of natural resources.
Project SIMA is an innovative web tool which will benefit both urban and rural populations, especially the local and fishing communities on the river banks.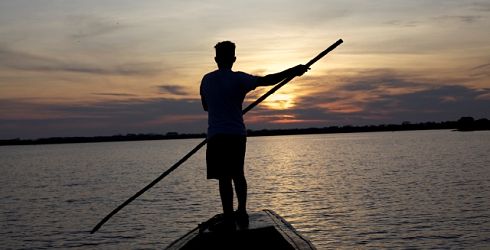 The platform enables the collection and distribution of key data required for industry, government and community leaders to plan and make the best decisions about the future of what some see as the country's beating heart – essential when you consider the number of people involved in every decision that affects a river that flows through more than 700 municipalities.
Juliana Delgado, one of the representatives of the initiative at the Google event, said: "This is a tool to make information available to the communities, and to encourage different sectors to have a dialogue about it.
"The idea behind this platform," she explained, "is to scale this tool among the various contributors of the river bank areas, fishermen, campesinos, who live in high weather risk areas and who can keep the tool up to date, and do a follow-up, monitor themselves if you will; a monitoring of the status of the basin they live by."
It's often difficult for people upstream to see that their activities have an impact downstream, which could change not only communities but entire habitats.
As Delgado put it, "Water connects us all and we believe this platform is a tool to create that awareness."
---