Not far from the main strip of restaurants in La Macarena, Donostia is a hidden gem. The clientele consists of affluent Colombians and foreigners, who are seamlessly attended by courteous, impeccably dressed staff, meticulously serving equally well-presented dishes.
---
The restaurant is a narrow space with brickwork walls, a high thatch roof and an open bar/kitchen area. It boasts a varied menu of mains from ravioli to beef stew supplemented by an array of tapas dishes and specials.
For me, the dishes that stood out the most were the most simple. The crab salad tapas was made up of a small mountain of high-quality white crab meat dressed with a sharp citrus that gave a perfectly balanced combination of fresh flavours. The lightly griddled octopus wrapped around a smattering of roasted potatoes was also a delight. Though, admittedly, the potatoes seemed largely superfluous.
Related: Favourite restaurants in Bogotá
The carpaccio de punta de anca, comprised of thinly sliced, tender beef, beautifully presented amongst a variety of colourful julienne vegetables. The meat was of outstanding quality, but I felt the dish slightly lacked flavour, with the chef adding salt in the absence of a greater complexity of herbs and spices.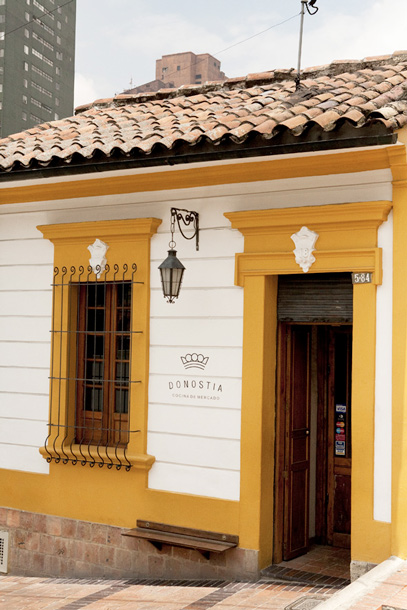 In contrast, the ceviche packed a punch. The sizeable prawns were served in a chili-infused tomato sauce topped with freshly made plantain crisps which, by adding a little sweetness, complemented the dish superbly.
As for desserts, Donostia offers seven, ranging from passionfruit cheesecake to banana panna cotta. I plumped for the pie de trufa de chocolate. This intensely rich pudding was, in a word, heavenly.
It would not be an exaggeration to say that the majority of the dishes were nothing less than exceptional. I would recommend Donostia without hesitation, although it certainly isn't cheap. With fantastic quality ingredients and an imaginative menu, underpinned by extremely high standards in all aspects of the dining experience, it is most certainly worth a visit.
Calle 29bis #5-84
Food: 4.5/5
Service: 5/5
Atmosphere: 4.5/5
Value for money: 4/5
---
By Amelia Ray