Salsa al Parque has boasted embarrassingly strong line-ups for several years and 2015 is no different, with the usual recipe of boogying legends and exciting young talent heading to the Parque Simón Bolívar on the weekend of May 30-31 to entertain the tens of thousands who flock to the show. So The Bogota Post's salsa obsessive Olly West sat down with Jorge Andrés Orozco, international salsa dance judge and director of Bogota-based salsa school Centro Cultural Punta y Taco, to discuss what we've got to look forward to…
---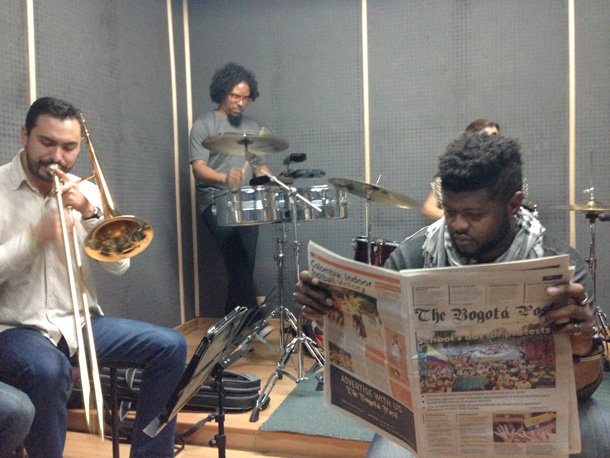 The interview:

Toño Barrio, a much-needed evolution?

An 11-piece group whose origins stretch from Pasto to San Andres, Toño Barrio Latin Groove is showing that the development of salsa is alive and well. Olly West caught up with them as they gear up for a prestigious slot at Salsa al Parque.

Almost exactly nine years ago, a group of music students in Cali decided it was time to slap a name on their spontaneous jamming sessions on the terraces of the colonial district of San Antonio and get a little serious.

The festival will be quite the birthday party. Toño Barrio will take the stage directly after the mammoth Puerto Rican group Sonora Ponceña, and straight before the iconic Willie Colón closes the festival. No pressure, then.

"Toño Barrio is coming to Salsa al Parque fully charged," Adalber Gaviria, the band's saxophonist, tells me.
The band was the best of the bunch at the auditions, according to the judges, earning them their third appearance at the festival.

What's exciting about Toño Barrio is not just their fantastic music, but the way they evidence the evolution of the genre and fly in the face of those that say salsa has not changed much since the 80s.

Colombia has had its fair share of salsa greats, but few if any have represented the country's diverse musical heritage like Toño.

None of the band members were ever salsa purists. Drummer Ana Lucia Muñoz' parents have a group that plays traditional Colombian genres such as bambuco, musical director Jose F Gonzalez plays Andean music, trumpeter Juan Pablo Orozco was brought up on Latin jazz, there's a rather lyrical singer from Monteria, and the conga player is from Pasto, at the opposite end of the country.

These mixed origins are clear in the fresh, modern sound of the band's two albums.

Muñoz explains that those beginnings on that Cali terrace defined the band as it is today, not just in terms of the music, but in the way of life too.

"For those of us in the group, Toño Barrio is more of a family than anything else," she says. This is clear in the band's live shows, which maintain the spirit of a jam between friends with an added dose of showmanship.

As in any family, some birds fly the nest. There was the bassist who joined Chocquibtown and the singer who fell in love with a French girl and fled to Europe where he works with Yuri Buenaventura.

Some of the members have come from the most unlikely places. Gaviria knew a heftily-built guy from San Andres who was working as a security guard in a bar, but with a hidden talent: he could sing and rap. Now Pana Black is an unmistakeable presence as one of the band's two frontmen.

Gaviria himself was not one of the original members, but says that the secret is that every member buys into the group.
"For all of us Toño is a life project, something we are putting our all into," he says. "It's not just any old group they called us to play in."

The Bogota Post's Toño Barrio top three: Salsa Guetto, Sicodelican Bugaloop, Reventando.
Just the four all-time greats…
La Sonora Ponceña
Even amid the illustrious list of legends that Salsa al Parque has brought to Bogota in recent years, few treats are as rare or sweet as the Ponceña, who will be jetting down from Puerto Rico.
The closest equivalent in rock music would be the Rolling Stones (assuming the Gran Combo de Puerto Rico are the Beatles), just with an even longer track record: Mick Jagger hadn't even hit puberty in 1954, when Quique Lucca founded the Ponceña, who are literally older than salsa itself. Lucca is now 102 and, though still in the band, is unlikely to make it to Bogota, but his son Papo — recognised as having revolutionised piano playing in Latin music and part of the band since he was just eight years old — is now a spritely 69 and will be leading the performance.
In Jorge's words, "They call the Ponceña the 'giants of the south' but even this does no justice to how big they are. Undoubtedly, one of the most important makers of Latin music ever."
Expect awful suits (they all plumped for turquoise for their 60th anniversary concert in Medellin in November) but unadulterated old-school high class hard salsa from some of the best musicians and flawless bands you will ever see.
Learn it for the encore: Fuego en el 23. As classic as classics come.
---
Willie Colón
Closing the festival on Sunday will be Willie Colón, born in the Bronx to Puerto Rican parents and one of the La Fania All-Stars musicians from the late 60s and early 70s who can legitimately claim to have invented salsa as we know it today.
Originally famous as Héctor Lavoe's trombonist, then producing for Rubén Blades, and now a solo artist with an outspoken history of social activism to boot, living legend is no hyperbole.
Jorge describes him as "the voice of the street", or as he became known in the 60s as a teenager shaking up New York, "El Malo".
You've heard it on the radio: El Gran Varón, a revolutionary-for-its-time 1989 anthem about AIDS and the stigma caused by homophobia.
---
Willie Rosario
At 85 years old, Puerto Rican Willie Rosario is still playing his timbal "like a metronome", says Jorge, giving him the nickname "Mr Afinque" — which we could roughly translate as the guy who makes the band as tight as it can get, with that distinctive salsa groove.
"Willie Rosario's music is Sabor — or Latin flavour — in its maximum expression", according to Jorge.
The essence of salsa: Callejero, four minutes of pure salsa brava.
---
Tito Nieves
If nothing else, this page shows us that the world owes Puerto Rico a great debt for many of its musicians, and Tito Nieves is no exception.
But if you only know him as 'that guy who had a salsa hit in English' (I Like It Like That in 1996), you're missing out.
Nieves is known as the "Pavarotti of Salsa", and, before beginning a solo career that combines commercial and hardcore salsa, made his name as lead singer of Conjunto Clásico.

No, not that weird English salsa track: Señora Ley, recorded with Conjunto Clásico.
Trumpeting Dutch talent
Maite Hontelé
If you've never heard of Maite Hontelé you'll have no trouble recognising her on stage. She's probably the tallest one there, certainly the most blond, and the trumpet she learnt to play in Utrecht, Netherlands, will transport you from a drizzly Saturday afternoon in Bogota to a sweaty club in the Caribbean at 2am.
Maite Hontelé is, in her words, "Dutch by birth but Colombian by heart". At last year's Salsa al Parque she accompanied Venezuelan legend Oscar D'León but this time has her own slot before heading off for a tour in her homeland.
Jorge is impressed, saying Maite is "the clearest demonstration there is that 'sabor' is not the exclusive property of Latinos… Maite is the most exciting female salsa artist I have seen, except perhaps Celia Cruz". That's no faint praise.

Not to miss: Me da igual, Maite's latest single.
The line-up
 Saturday                                                                    Sunday
12.30pm Andy y Su Orquesta Cubana           12.30pm Son del Pueblo
1.25pm Sabor y Control                                   1.25pm Los Traviesos
2.30pm Bochinche                                            2.30pm Caribe Son
3.25pm Séptimo Sentido                                  3.25pm Maite Hontelé
4.30pm Moca Music                                         4.30pm La Timbraka
5.30pm Tito Nieves                                           5.30pm Sonora Ponceña
7.05pm Son de la Bog                                      7.05pm Toño Barrio
8.05pm Willie Rosario                                      8.05pm Willie Colón