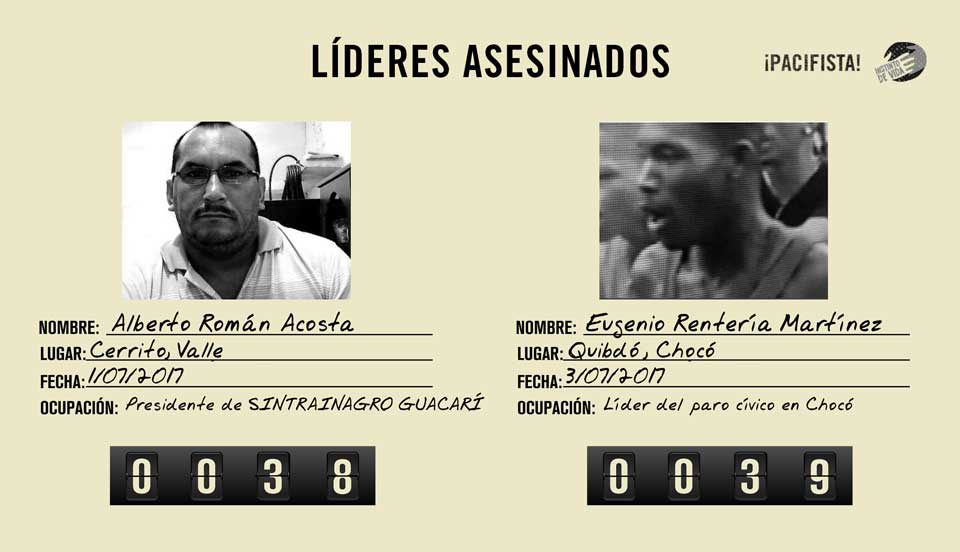 Black weekend at the start of July with deaths of two more social activists. Amnesty International says killings 'will leave an indelible stain on any resulting peace accord.'
---
Social activists Alberto Román Acosta and Eugenio Rentería Martínez were killed at the start of July in brutal attacks, which are happening with worrying frequency to social leaders and human rights defenders.
Both men were murdered in the space of two days this month. Since the peace agreement came into force at the start of December, the number of activists killed has risen to 39, according to Pacifista, a peace-orientated news site. 
Acosta was the president of Sintrainagro, a union that represents sugarcane cutters.
El País reported that Acosta was watching his son play football in the town of Cerrito, Valle Del Cauca, when two men got off a motorcycle and shot him on the morning of July 1. He was rushed to hospital but later died. The police said the alleged killer – aged 18 – and a younger accomplice had been captured.
Just two days later, Martínez, a member of the Civic Committee for the Rescue of Chocó, was found dead in Quibdó, Chocó with stab wounds, according to RCN Radio. Although the initial police hypothesis was that the death may have happened in an altercation, a member of the Civic Committee later told local media that he feared Martínez was killed for taking part in the 2016 and 2017 strikes in the region.
Despite a dropping homicide rate, violence against activists has increased noticeably since the peace deal with the FARC was signed at the end of November. According to Amnesty International, ten activists were killed in January alone – nearly double last year's monthly average. In June, activist Bernardo Cuero Bravo, treasurer of the National Association of Displaced Afro-Colombians and union leader Mauricio Fernando López Vélez were also killed.
Peace activists, those fighting for indigenous rights, environmental protesters and land campaigners have all been targeted. It is thought many of the murders have been committed by paramilitary groups and criminal gangs who want to stake a claim to the power and land vacuum being left by the FARC.
Although it is thought the peace process will bring benefits to many Colombians, Americas Director at Amnesty International, Erika Guevara Ross said the killings of activists "will leave an indelible stain on any resulting peace accord." Human rights advocacy group, WOLA condemned murders of social activists in June and said the government was not providing adequate protection to them.
---
By Mathwew Di Salvo