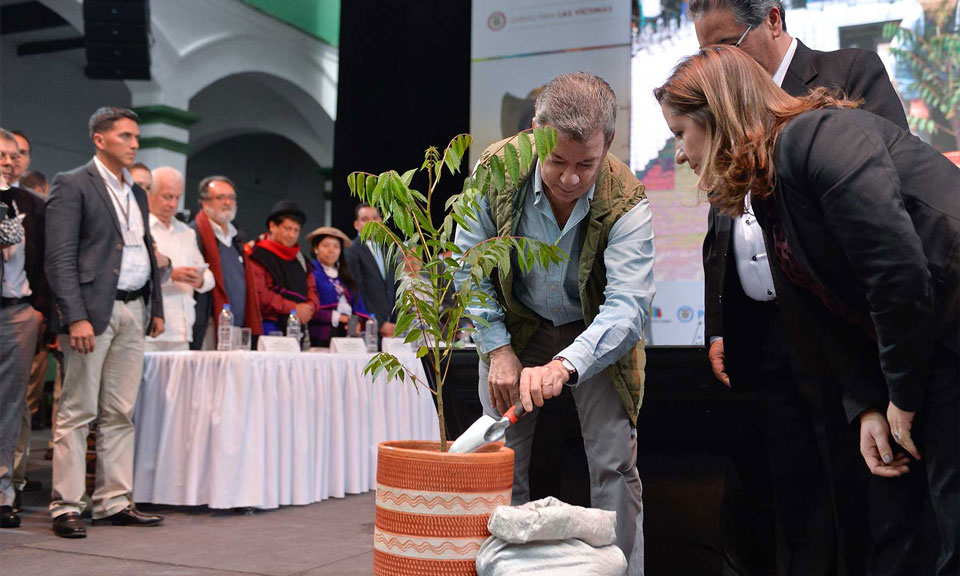 Events mark National Day of Memory and Victim Solidarity throughout Colombia
---
On Saturday April 9, citizens around Colombia took to the streets once again in remembrance of the victims of the Colombian conflict.
The government launched a 'Sowing Life, Sowing Peace' campaign, which aims to plant eight million trees to honour eight million victims. Over 10,000 trees were planted over the weekend.
Marches, concerts and other activities took place across the country, including tree planting ceremonies in major cities and in departmental capitals like Sincelejo, Cúcuta, Villavicencio, Yopal and Florencia.
In 1948, prominent politician Jorge Eliécer Gaitán was murdered on April 9, and since 2012 the date has been commemorated as the 'National Day of Memory and Victim Solidarity'.
The country's National Victims Unit has registered 7.8 million victims of the long-running conflict, the vast majority of whom are civilians. This includes almost 6.6 million people who have been forcibly displaced, more than 45,000 enforced disappearances and around 263,000 conflict-related killings, according to figures released by NGO Amnesty International.
Other victims have endured the kidnap of family members, torture and crimes of sexual violence from various armed groups.
In Bogotá, activists met at 10am on Carrera 26 in front of the Centro de Memoria, Paz y Reconciliación, carrying banners and placards.
"We want to remember, by keeping memory alive we can honour those who have suffered. It's important for us as Colombians to take a step back and think 'what are we doing? Do we really want to carry on like this?'" María Paula, a politics student comments.
"When I'm referring to victims, that includes everyone […] from the woman who watched her son being decapitated in front of her, to the farmer who had to flee as the guerrilla claimed his land, it's each and everyone who has been affected by war. That's why I am marching, to keep the past alive and in the present."
The peace march falls a week after nationwide protests in favour of former president Álvaro Uribe. Semana magazine reported that, while turnout in the capital was relatively low, thousands gathered in Medellín, Cali and Barranquilla. The marchers were objecting to Santos's presidency, especially the management of the ongoing peace process with the FARC.
---