The 'everything local' urban concept of 15 minute cities – coined by a Colombian living in Paris – is now under attack by conspiracy theorists. Does it apply to my barrio in Bogotá?
By: Gerald Barr
No doubt you've read plenty about 15-minute cities in the last few months, unless you've been asleep or living under a rock (or both).
In which case, here's a recap: plan cities with neighbourhoods that bring people closer to essential services – within a short walk or bike-ride – and reclaims urban life from the motorcar.
That means living close to your workplace, and with a school, college, health centre, shops, sport centre, leisure spaces and parks all on your doorstep.
It's good for the environment, good for you, and can make large cities more liveable.
At the forefront of promoting 15-minute cities is Carlos Moreno, a Paris-based urban planner originally from Colombia who was in his youth briefly part of the M-19 guerrilla movement, but now professor at the Pantheon Sorbonne University.
15 minute cities mean more green and less grey
Professor Moreno recently won the EUR €100,000 Obel Award for his development of the 15-minute city framework and its "intuitive concept that has the capacity to deliver tangible change in people's lives".
Not everyone agrees. 15 minute cities are in the front line of fake news with conspiracy theorists spinning it into a communist plot to impose climate change lockdown zones and deny our rights to sit in traffic jams. 
A more reasonable and understandable concern is city zones becoming ghettos and stifling social mobility, resulting in dead-end communities. This is something that 15 minute cities will need to manage.
But don't gridlocked cities do that already? The fact is most people, quite sensibly, want green spaces, fewer highways, and everything closer to home. And more free time – and easier public transport – to explore the city for socialising and leisure.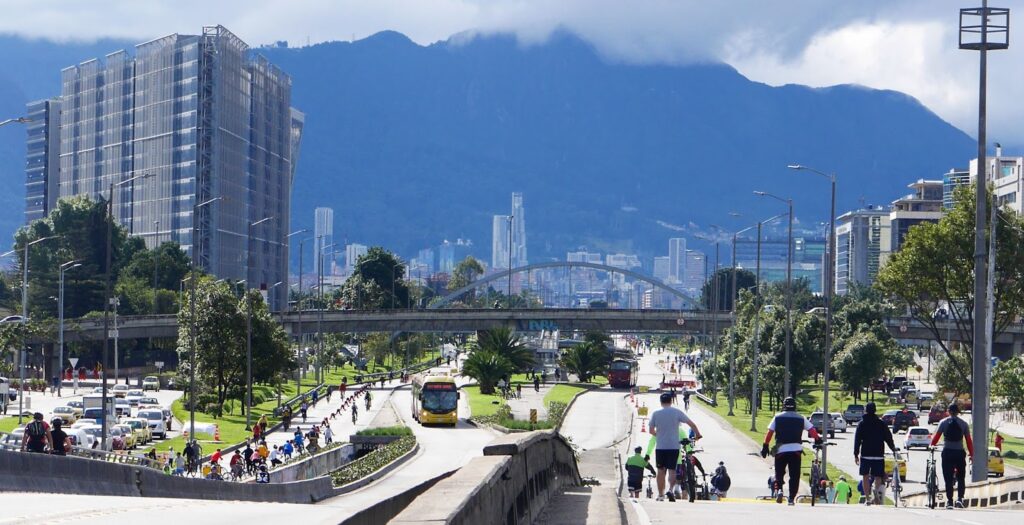 So how does Bogotá stack up on the metrics for 15 minute cities?
At first glance, not well: Colombia's mega-capital has appallingly bad traffic with car commuters on average losing 191 hours a year to congestion in 2019.
But the absence of a true major transit system mean Bogotá is already locally-focused; many barrios have essential services reachable on foot and others by bicycle with the city's 550kms of cycle paths (not all good).
Here then is my assessment. I've taken my estrato-4 barrio of La Soledad as the start point and mapped key sites and services within 1.6 kilometres (one mile) from my flat, which is 15 minutes' walk.
Shop 'til you drop…
By luck, it's 13 minutes' stroll to Bogotá´s Plaza de Mercado Paloquemao, a wonderland of small shops and stalls selling fresh fruit, fish, meat, any groceries, all imaginable specialist foods (Chinese, Indian, Mexican, Peruvian), a witches' market (aromatic herbs freshly-picked from the Andes) and some rustic restaurants featured by the late great Anthony Bourdain.
Closer to home are corner stores, bakeries, butcheries, print shops, locksmiths, dry cleaners, vets, gift shops, two big supermarkets, five pharmacies, six banks, courier services, several mechanics, fuel, a tyre-change and a bunch of hardware shops most of which delivered to the doorstep long before Covid-19.
Shopping verdict: 10 out of 10. If you can't find it here, it doesn't exist in Colombia. This is key for 15 minute cities.
Institutions to hand
One of the city's main citizen support centres, called SuperCAD, is a short walk away, and it's usually efficient to sort out taxes, planning or other admin issues. Slightly further away is the land registry office (the SNR) and two public notaries. Fifteen minutes by bicycle takes me to Bogotá's passport office and a transport office called SIMIT. The police have a Centro de Atencion Imediata (CAI) post at five minutes' walk, and the local mayor's office, Alcalde Local de Teusaquillo, has a drop-in centre just as close.
Admin verdict: 9 out of 10. No-one likes bureaucracy but keep it close.
And so, to school…
A major curse of Bogotá is wealthy folk forcing their kids to travel hours to some greenfield private school in the vain hope they might befriend a future president. Toddlers even commute to kindergarten. Many city highways have a dedicated school bus lane.
To avoid this misery (and costs) I found a perfectly good school – though less famous – just one minute walk from home (though my kids still arrive last).
There are also several jardines (pre-schools) and at the 15-minute mark is the Universidad Nacional, recognised as Colombia's second-best seat of learning. This is a mixed blessing depending on the wind direction; our barrio is frequently flooded by tear gas as riot police scuffle with striking students.
Education verdict: 7 out of 10, not that much choice, but nothing to complain about.
Leisure time
For the flicks, I can walk 15 minutes to the Mallplaza Multiplex and for more highbrow entertainment there are several small theatres around Parkway, under ten minutes. For larger spectacles – musicals and shows – there is Teatro Colsubisdio, all of six minutes away, or discos and live music on Calle 45, at the north end of Parkway.
Nearby Parkway itself is a French-style wooded boulevard, good for jogging, though hemmed in by busy roads. Within one mile are several other small parks with children's swings – Parque Teusaquillo, Parque Brazil – and the larger and wilder Parque Nacional, at the base of the cordillera.
For sports there are several gyms and martial arts academies, Pilates, roller hockey and a running track at the Universidad Nacional.
Leisure verdict: 6 out of 10. Most needs catered for, but parks are small and close to traffic. Larger parks can be dangerous at odd hours. No adequate spaces for field sports like football. A swimming pool would be nice.
Foodie paradise
La Soledad's Parkway is a feast of food riches, with Moroccan, Greek, Indian, Asian, Italian, Pacific seafood, Peruvian, Lebanese, and Argentinian restaurants, plus popular chains such as Crepes and Waffles. Among these pricier places are cheap options such as pollo asado (roast chicken), a Santanderean all-in Sunday lunch for COP $15,000, and numerous corrientazos.
To wash it down are dozens of coffee shops and one of Latin America's top concentrations of micro-brewery beer outlets on the 45. Or you can swig a cold can of Poker at any number of cigarrerías which turn into small bars after dusk. And you can walk home – a fundamental part of 15 minute cities.
Food verdict: 10 out of 10. We're spoiled for choice, and there's something for every budget.
A mix of medical services
My local clinic, at 15-minutes, is a busy place with dozens of doctors bookable on-line, a large lab, paediatrics, and some specialist medics. For X-ray, imaging diagnostics and any specialised health I need to go much further away (taxi or Transmilenio).
But I do have two large emergency hospitals and a specialized cardiac clinic all within 10 blocks, and my dentist is 50 metres away. There is a vets ten metres from my front door and even a swimming pool for cats (yes, you read that right) five minutes' walk.
Health verdict: 7 out of 10. For routine and emergency health everything is close by. Other stuff takes time. Don't take your cat for a swim, unless it's a jaguar.
Getting around the barrio
Leafy La Soledad is famed for its pedestrian-friendly Parkway and quiet backstreets, but going any distance across the barrio also involves a battle with bikes, motos, cars and buses compounded by chaotic traffic flow, half-baked bike lanes – often added into busy roads as an afterthought – and total lack of speed controls or respect for red lights. The police themselves add insult to injury by riding their motorbikes on the pavement.
As a pedestrian, you're not safe even on the broken pavements, and forget any plans for a pushchair. If you have young kids, you'll quickly figure out why Colombians carry them everywhere. Wheelchair users have serious trouble navigating clogged pavements and have few ramps available.
Local transport verdict: 4 out of 10. On foot is fine, but like most of Bogotá the barrio needs pedestrianised areas.  
Getting out of town
Contrary to fake news, 15 minute cities do not lock residents in their barrio like some Stalinist Hunger Games. Getting around town – when you want to – should be easier with fewer cars. My barrio is crossed by two main Transmilenio bendy-bus lines and dozens of local bus routes. There are cycle paths – and of course Sunday's famous Ciclovia –  and a new bikeshare scheme that we've given a cautious thumbs-up.
The 2019 Bogotá mobility survey shows that, on average and per journey, a person spends 83 minutes when traveling on the local bus, 78 minutes on the Transmilenio, almost one hour in a private car, and 50 minutes on a motorcycle or taxi. On average there are at least 23 days a year sitting in traffic.
Commuting verdict: 5 out of 10. Transport options are overcrowded, insecure, and frequently jammed and a long-planned Metro system is still a distant dream. I like to bike, but bad weather and worse car drivers can make it a fraught experience.
The verdict: is Bogotá one of the 15-minute cities?
On the plus side, my local barrio has many essential services. Part of this success is down to flexible zoning laws: many buildings are a mix of residential and commercial units. Old houses have switched to offices or light industry, bringing in jobs, and there is tolerance for converting domestic garages into cafés or hairdressers. This helps keep it local.
Already city planners are embracing the theories of Carlos Moreno and it plays a key role in Bogotá's latest Land Management Plan which promises a "city delimited by green corridors, where pedestrian mode is privileged along with environmentally friendly transport". Bring it on.
Meanwhile Bogotá is still a slave to traffic. Seen from the mountains above, a brown haze of contamination coats the barrio and the surrounding city. Proper pedestrian zones are rare, and footpaths are clogged and many just inches from roaring traffic.
Close by run three major highways (two with 14 lanes of traffic), three more major throughfares and dozens more vehicle 'rat runs' with honking taxis and revving motorbikes. The Metro is still a decade away.
One key question is will the 15-minute plan be applied fairly across the city? Poor barrios on the mountains down south are deserts in terms of services, with precarious communities even lacking water and electricity.
For now, at least, La Soledad is somewhat of a privileged island – albeit in a sea of traffic. Bringing those benefits to all of Bogotá is a challenge the city needs to take on.