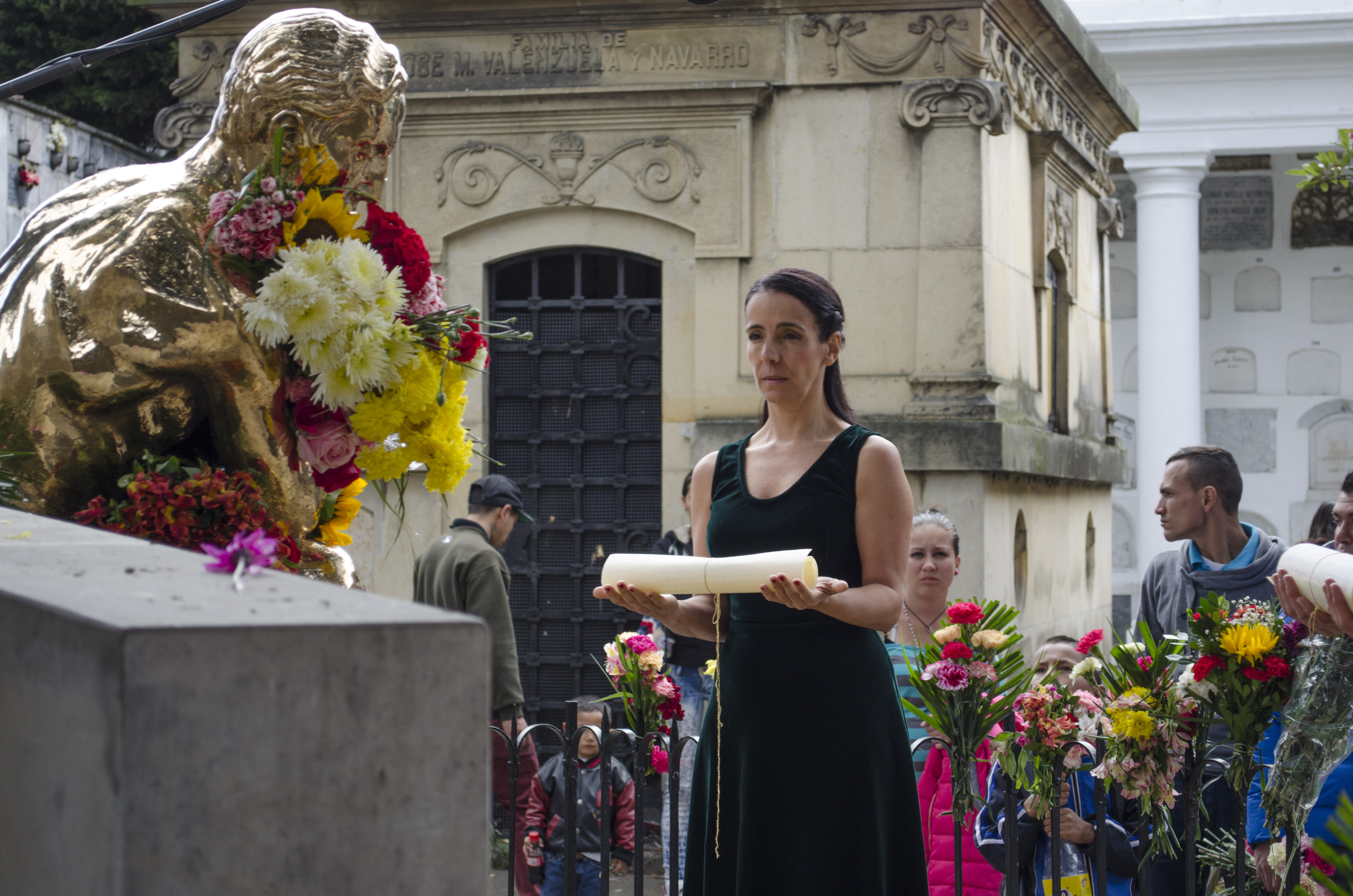 Artists base their project on a German Jewish immigrant who founded Colombia's first brewery.
Amongst the tombs and gravestones of Cementerio Central stands a bronze statue of the German Jewish founder of Colombian brewing giant Bavaria, Leo Kopp. Now a mecca for locals desperate for miracles, it was also the centrepiece for a new project from sound artist Diana Restrepo and visual artist Nina Bendzko.
The art project was made into a radio program and a short documentary, and exhibited last month at Unipanamericana University.
Kopp's statue overlooks his tomb in the extensive graveyard, where long lines of people wait to whisper their deepest desires into his ears.
"He has brought my woman back six times, and now she's left again, so we'll see," said one local in the documentary. Another said he goes to Kopp's statue every day and prays that he can be closer to his children.
Kopp, who immigrated to Colombia in the late 19th Century, opened the country's first brewery and founded the neighbourhood now known as La Perseverancia specifically to house his company's workers.
Restrepo learned about this fascinating life back in 2014, right before she moved to Berlin to do a Masters. She discussed the project with Bendzko and they realised that the difficulty of creating an art piece out of Kopp's story was that it felt like a journalistic piece, not an artistic one.
Featured:The Scientific Brain: An Exploration of how Science and Art meet 
That's when they hit upon the unusual idea of sending messages to each other between Bogotá and Berlin in which they spoke directly to Kopp.
"She (Bendzko) would send me visual letters and I would answer with sound and voice recordings. This was the methodology of the project that we ended up converting into a radio feature and a documentary," Restrepo said at a press conference at Unipanamericana.
Bendzko wrote about her difficulty of finding a place to call home while Restrepo talked about her struggles of living in a foreign country. In their correspondence they also discussed religion and politics.
"(Finding Kopp's statue) seemed marvellous, since as a sound artist I work with memory, and I was looking for that relation between memories and the two cities, Berlin and Bogotá," Restrepo said.
"I play with questions such as 'what does your childhood sound like?' 'What does your neighbourhood or your city sound like at six in the evening and four in the morning?' 'What are the sounds that give identity to your memories?'" she said, explaining her artistic process.
What stood out to her as a sound artist studying Kopp's tomb were, "the doves, the whispers, the resounding cacophony of sound. These were the sounds that I wanted to work with."
These sounds as well as the artists' own words are a focal point of the art project, which bridged the journalistic with the artistic.
Connecting history and multidisciplinary art, Letters to Kopp will fascinate locals and the international community alike. Check out the radio program and documentary on Diana Restrepo's website.